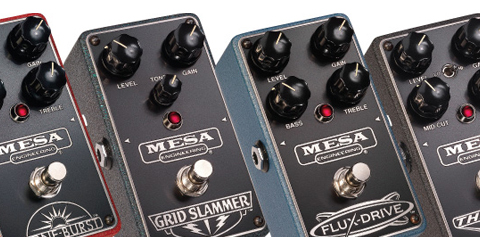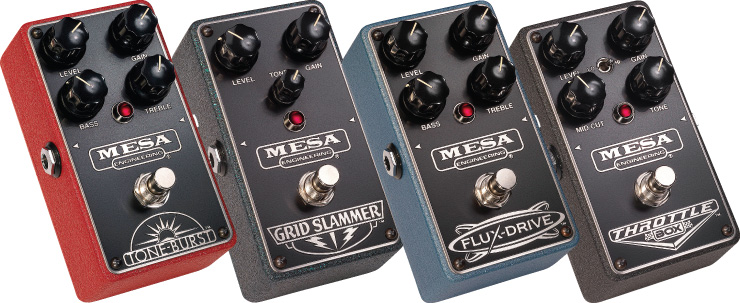 Mesa/Boogie Drive Pedals
Price: $179 (Tone-Burst, Grid Slammer and Flux-Drive); $199 (Throttle Box)
Info: www.mesaboogie.com.
Long a stalwart in the world of guitar amplification, California-based Mesa/Boogie has stomped into the world of effects pedals with four new releases: the handmade Tone-Burst, Flux-Drive, Grid Slammer, and Throttle Box drive pedals are housed in heavy-duty die-cast 2.87″ x 4.77″ x 2.28″ bud boxes with super-thick powdercoat finishes, etched aluminum faceplates, hand-stuffed PCBs, TPDT true-bypass footswitches, and chassis-mounted pots and jacks. Each took its turn between a Gibson Les Paul Standard Plus and a Mesa Rect-O-Verb 1×12 combo.
Lowest of the four on the gain food chain is the Tone-Burst, which has a Level control, Gain control, and active (with center detents) Bass and Treble controls. The Tone-Burst is, for the most part, a clean-boost, though a bit of dirt can be extracted with the Gain control cranked. It can push the front end of an amp into overdrive, but really lives up to its name by adding a "burst" of musical high and midrange harmonics without over-coloring the tone or adding unwanted noise. It's one of those pedals that's tempting to leave on all the time for the punch it adds to an amp's sound.
The metalflake green Grid Slammer, with its basic three-knob setup (Level, Gain, and Tone) and familiar midrange "bump" is Mesa's take on the classic "screamer" circuit. It offers up enough gain/overdrive to act as a standalone distortion pedal for crunchy rhythm work in the clean channel, or as a solo gain/mid boost in the overdrive channel. The Grid Slammer's single tone control is well-voiced and a bit more refined than the classic Screamer's, allowing for a bit smoother overdrive that is still very crunchy with plenty of bark.
The Flux-Drive features Level and Gain controls and active (with center detents) Bass and Treble tone controls much like the Tone-Burst. But, compared to the Tone-Burst and Grid Slammer, the Flux-Drive definitely ramps up the amount of available gain and has a nice raw yet musical quality that produces a thick sustain with lots of crunch and bite. The two-band tone control does a good job dialing in the right amount of attack and punch while not changing the overall flavor of the distortion.
Last but not least, especially when it comes to gain, is the Throttle Box, featuring a Level knob, a Gain knob with a Lo/Hi toggle, a passive Tone control, and a Mid Cut tone control. Make no mistake, this a Mesa product: it has tons of available gain, especially in the Hi setting; a thick, tight sound; and a smooth, well-voiced Mid Cut control for that signature modern scooped sound. The Throttle Box also retains some of that raw, rough quality of the Flux-Drive while adding to its hard and punchy in-your-face sound. For a bit less low-end thump and more of a classic rock tone, the Throttle-Box has an internal boost circuit that can be switched on and off with a DIP switch in the battery compartment.
Each of Mesa/Boogie's new drive pedals delivers pro-quality sounds and is built tough for years of road use. And while all four will contribute to the delinquency of your amp's clean channel and violate its dirty signal with the same legendary quality and attitude that made Mesa/Boogie amps industry leaders, each offers a distinct tone and set of features, making this a lineup that will suit the needs of an array of players.
---
This article originally appeared in VG May 2013 issue. All copyrights are by the author and Vintage Guitar magazine. Unauthorized replication or use is strictly prohibited.
---