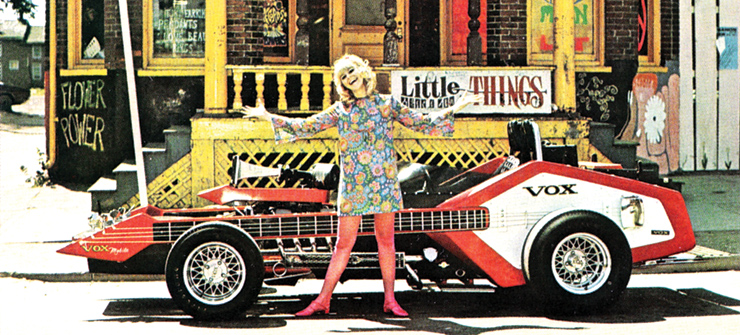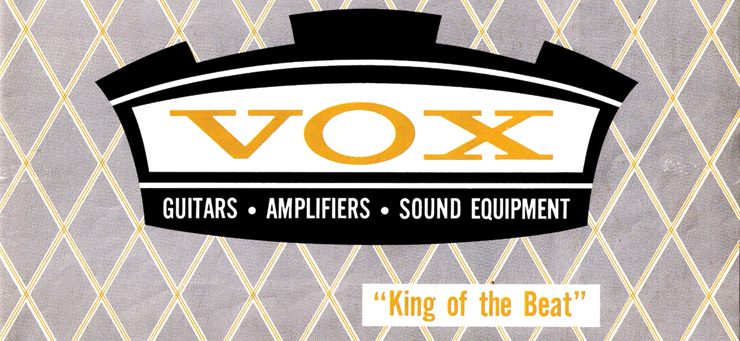 The Vox brand may be quintessentially English, but it made a huge impact in the U.S. Riding in with the 1964 British invasion, Vox even displaced Fender for a time as the land's most desired amplifier. Vox guitars lacked the same impact (the Beatles didn't play them, after all) but were seen prominently in the hands of the Rolling Stones, Hollies, and others. In retrospect, Vox guitars are most often associated with a '60s-/garage-band aesthetic. Fashionable for a time, by the end of the decade, Vox guitars and amps had fallen out of favor along with the Beat Group sounds they provided. Still, the best – or at least best-looking – Vox guitars continue to provide an instant cool '60s vibe (check out the latest Toyota Corolla TV commercial).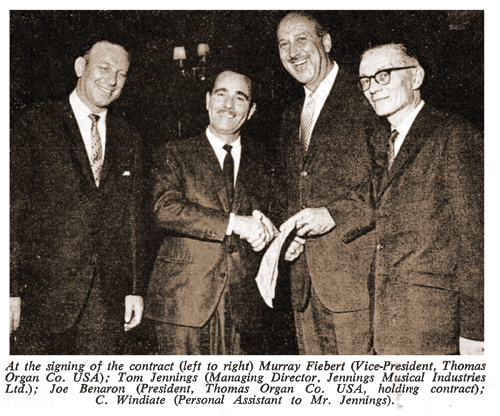 The Vox brand hit U.S. teens like a hurricane with the Beatles arrival, but Vox instruments were initially unobtainable, which added to the mystique! Jennings Musical Industries (JMI), a relatively small company in Dartford, Kent, experienced explosive growth supplying the British Beat Boom with its signature amplification. This runaway success was a double-edged sword; needing capital to build the vast amounts of equipment on order (but not paid for), Jennings had no choice but to seek outside financing. By September of '63, the Royston group (a British electronics concern) had bought a controlling interest from founder Tom Jennings. Amps were the bulk of the business; most Vox guitars were cheap beginner's models, though by the beginning of '64 some professional-quality instruments were in-hand. Royston/JMI had no distribution in the U.S. when the Beatles opened this vast market, but one American company had a foot in the door…
By the summer of '64, Thomas Organ Company was JMI's exclusive U.S. distributor. Like Hammond and Baldwin, Thomas made mostly large, expensive console organs for the upscale home market. These were big business in the early '60s, and Thomas was a major player. If, in retrospect, they seem rather unhip (at least compared to Hammond), at the time, Thomas was building some of the most technically advanced organs of the day. Still, in '64, their big endorser was Mitch Miller; Lawerence Welk was featured in the '65 ad campaign, the spotlight product being an organ with lighted keys showing students which note to hit! They had no footing in the Beat market, not even building small portable units like Vox supplied to likes of the Animals or the Dave Clark Five.

Thomas was actually a relatively young company – founded in 1956 – and by '64 a subsidiary of Warwick Electronics, which was a major builder of portable TV sets. Thomas was an early pioneer in high-end solidstate technology – in '59, the company introduced transistor organs, offering an unusual five-year guarantee. They even sold home organs with a built-in stereo phonograph!
Thomas' gung-ho founder and president was one Joe Benaron, a big believer in aggressive marketing. In '62, the company advised music dealers, "Strong, aggressive merchants are selling Thomas – or should be! Join Thomas now… don't wake up to discover yourself selling against it!" Even so, Benaron was watching its share in the overall market shrink as teenagers everywhere turned to guitars. By late '64, even Piano Trade magazine was running features like "Guitar – The Instrument with the Golden Future!" Benaron, like many in his shoes, wanted a piece of that action!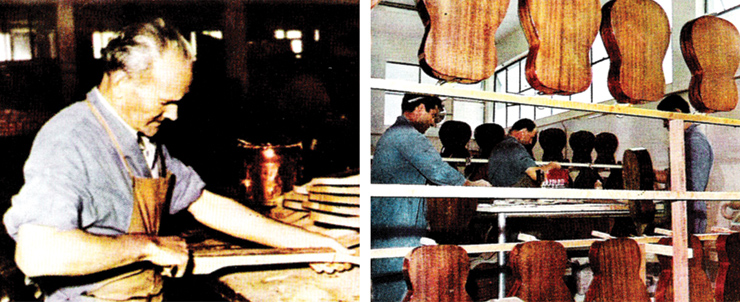 Personally, Benaron had much common ground with Tom Jennings, who also started with electric keyboards. Jennings admired the big "Classy" products Thomas built, and it's been suggested he considered his amps, guitars, and organs to be less-admirable creations despite their success. Jennings was pleased to distribute Thomas organs in the U.K., and in turn Thomas secured exclusive American distribution rights to Vox. At the British Music Trade Fair on August 30, 1964, Thomas placed an order for $1 million worth of Vox equipment; at the time the largest single order for musical merchandise ever made with a U.K. firm. This was followed in mid November by a second order for $1.5 million and, in early '65, with another for $2 million. Add various exports to Europe and the Far East and the situation for JMI looked rosy – on the surface. The challenge came in supplying the product!

Compared to the American market's appetite for Vox, the trickle of amps, guitars, and organs JMI was able to supply was a pinprick. Seeing this, Benaron deduced that exploiting it fully meant not just distributing Vox – he wanted his company to be Vox in America! This eventually led to what could be described as a bait-and-switch operation on a massive scale. Instruments sold under the Vox name in the U.S. became the product of a collaboration between English, Italian, and American concerns, many well-removed from their Dartford roots. Vox amplifiers proved very expensive to import. Thomas gave them English-sounding names like Berkeley, Buckingham, and Royal Guardsman, but soon enough they were actually being built in the U.S. At first, Thomas assembled imported chassis into locally-built cabinets, then began substituting domestic components, eventually the only English-made part was the speaker. Using their transistor technology, Warwick/Thomas re-engineered the Vox tube amps designed by Dick Denney at JMI into something completely different, made in a huge plant in Sepulveda, like Warwick's TVs. In terms of design and construction, these American-made solidstate amps were by no means junk – they have endured better than Fender's transistor efforts – but they were worlds away from the English "valve" amps they were marketed as being equivalent to.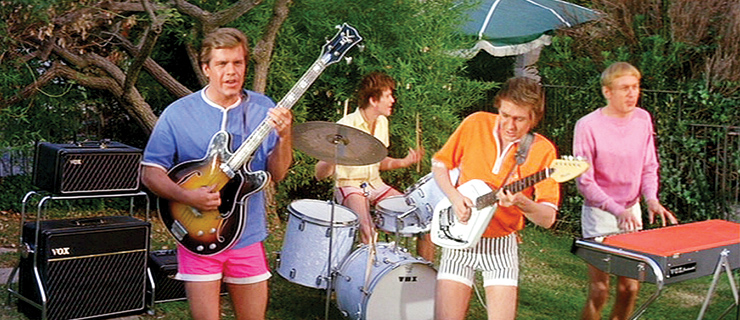 Vox guitars, too, were re-engineered for the American market, but not in Sepulveda. Guitar making at JMI ran a distant second to amplifiers; despite interesting designs, production relied on sometimes-spotty subcontractors. Solidbodies were assembled in the U.K., but JMI tried several Italian guitar builders as sources for plywood hollowbody guitars nobody in England had the facility to make. After working with Welson and Crucanelli, by early '65, JMI settled on the Eko operation in Recanati, Italy. Run by founder Oliviero Pigini, Eko was (according to themselves) the largest and most advanced guitar factory in Europe. It already exported to England and America, and was more than willing to pick up contract work on Vox guitars. In '66, JMI/Royston, Eko and Thomas entered a partnership named EME, to further Vox production worldwide. Jennings, Benaron, and Pigini all had ambitions for the operation, but the goals were not always the same. Eventually, Thomas and Eko essentially cut JMI out of the loop, running their own pipeline from Italy to the U.S., even while the guitars still carried the tag line "Vox – The British Sound." What Benaron really cared about was clearly advertised in June, 1965, to U.S. music dealers: "Vox: The Sound Of Money… The top beat groups have made a lot of money with Vox… so can you!" Vox was sold to the public with slightly less crass slogans like "VOX: The Greatest Name In Sound," "The Sound That Travels with the Stars," "VOX – King of the Beat," and most famously, "Vox: It's What's Happening."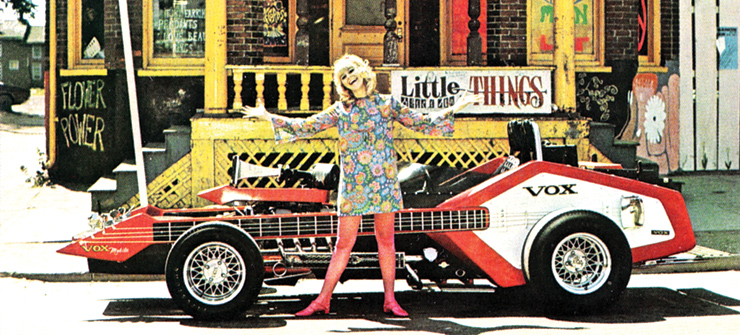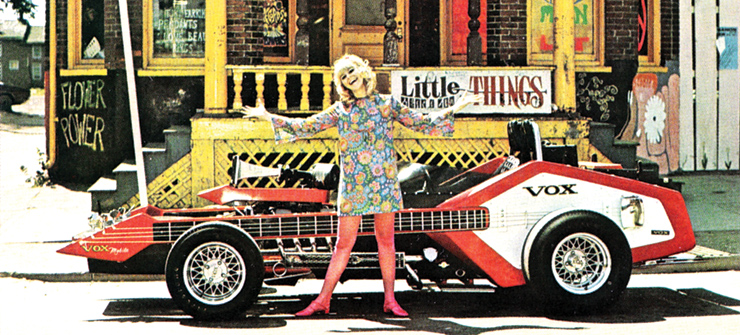 Amplifiers for European sales, and small numbers of guitars, were still made in the U.K., but by the summer of '65, most guitar production shifted to Eko. Practically all guitars imported into the U.S. after the first wave were of Italian origin, though JMI-made budget instruments like the Shadow, Clubman, and Super Ace seem to have been brought over in some quantity as early stopgaps. U.K.-made guitars imported in 1964-'65 can be seen in the hands of some early users, but Italian examples soon predominate. Thomas' early-'65 Vox "King Of the Beat" catalog showed a mix of English- and Italian-made models; by the next catalog, it was all Eko product. The Eko/Vox line was extensive, including distinctive JMI originals like the trapezoidal-bodied Phantom line and teardrop-shaped Mark, alongside others "inspired" by the likes of Gibson's ES-335 and even the Mosrite Ventures model.
Differences between English and Italian interpretations of Vox designs are often small but significant. JMI used at least three subcontractors for guitar necks and results were inconsistent, especially the fretwork. Most JMI necks are one-piece with a rosewood or ebony fingerboard and have a thinner finish, even when the body is swathed in polyester. Eko necks carry heavy poly finishes, but the actual construction and especially fretting are more consistent. Italian necks used maple (originally one piece, later often multi-laminate) with a bound ebony fingerboard and a truss rod adjusted via an easily accessible plug at the body end. This rod was coupled with a metal T-shaped center section under the fingerboard, and has sometimes worked too well over time – some Eko-made Voxes today show neck and fingerboard crack issues where the rod has been overtightened. Still, at the time, the Italian neck seemed a more-reliable improvement. It's easy to tell the difference – Eko necks have "Made in Italy By Vox" in small print on the back of the headstock.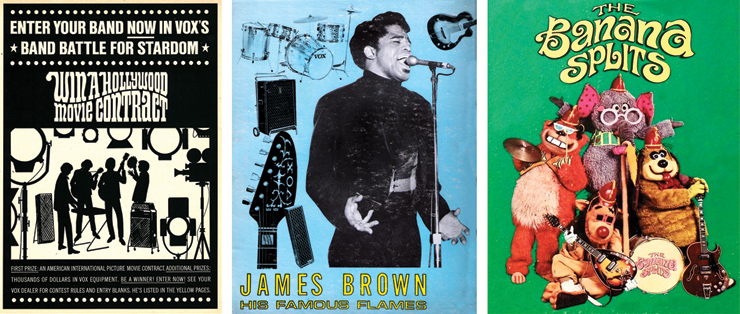 Other problems can emerge as the guitars age. Eko's heavy polyester finishes sometimes crack or check heavily. Unlike JMI versions, the Italian pickguards used an unstable plastic and many have shrunk and warped, though this was not a problem at the time. Much of the hardware was well-made and nearly identical – both used similar Van Gent tuners fitted with stamped metal Vox-branded covers, and Eko copied JMI's bridge and vibrato designs very closely. An important sonic difference was the pickups; Eko-made units look much like their English antecedents, but produce a thinner sound and weaker output. Most Thomas Vox guitars shipped in a distinctive oblong grey case – attractive, light, and handy, but fairly flimsy, as well with a plastic handle that has an annoying habit of snapping off.
Vox had a ready-made teen market, but Thomas still engaged in energetic promotion, sponsoring Teen Fair and Battle Of the Bands events in California. Thomas' blatant exploitation of the newly hip "teen" culture seems somehow equally savvy, crass, and somehow endearing almost 50 years on! JMI's U.K. market strategy of getting gear into the hands of any newly prominent artist proved impossible in the U.S., so Thomas did the next best thing – milking Hollywood connections to get Vox featured on film and TV, sometimes over objections by an endorsee; the Bobby Fuller Four appear in AIP's Ghost in the Invisible Bikini with a full Vox rig – which a Fender-toting Fuller strongly resented. Bands sometimes appeared on TV with a Vox lineup they likely only saw that day! The Gentrys, Beau Brummels, Seeds, Electric Prunes (who recorded a promo for the Vox wah pedal), local faves the Guilloteens, Dino, Desi and Billy, and many other mostly-L.A.-based acts appeared on TV shows like "Hullabaloo," "Shindig!," and "Shebang" with Vox rigs. Garage legends The Standells were sometime Vox endorsers who used their own guitars in their golden movie moment in AIP's Riot on Sunset Strip (with Vox amps) but the other bands in the film (the Chococolate Watchband and the Enemies) both appear using an identical Violin Bass/Mark VI /Bobcat guitar lineup that was likely part of the set! The Who mimed with matching Vox guitars on the Smothers Brothers show – convenient for Townshend's smashing routine! As intended, this exposure gave the impression Vox guitars were in much wider use with major groups than was really true!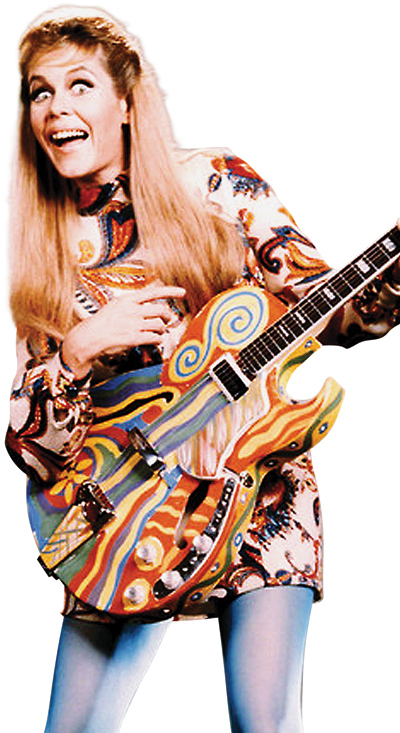 Looking beyond California, Thomas published its own nationally distributed "Vox Teen Beat" newspaper full of propaganda, and expected aggressive promotion from Vox dealers who were encouraged to sponsor local battle-of-the-bands contests and other teen events. The wildest promotional hardware of all was the Voxmobile, built by L.A. customizer George Barris in the shape of a giant Phantom bass. This traveling $30,000 "guit-car" had 32 guitar inputs, three built-in amps, hidden speakers everywhere, and a dual-manual organ on the trunk. Fender somehow missed that idea! For a time, there was even a Vox retail outlet in Hollywood.
Thomas pursued endorsements in the R&B market with Ike and Tina Turner, and most successfully, James Brown, who for a time featured Vox gear on the back of his LPs. "Instruments by… Vox" was an album credit. His band can be seen with Vox lineups in 1967-'68, and it's interesting to speculate what brother James' crack players thought about these relatively flimsy instruments replacing their Gibson guitars and Fender bass!
Another unlikely Vox act was Velvet Underground, the seminal New York cult band. While now considered one of rock's most influential acts, when active they were a commercial non-starter. Still, thanks to the patronage of Andy Warhol, the band received a package of Vox gear in '66, which can occasionally be spotted in use.
Thomas' Hollywood connections entered a surreal phase when Samantha Stevens from TV's "Bewitched" (played by Elizabeth Montgomery) strummed a Vox Apollo with psychedelic paint livery in the 1968 episode "Hippy Hippy Hooray." By September of that year, the fading brand received its wildest TV endorsement, equipping Hanna-Barbera's live-action Saturday morning cartoon stars the Banana Splits! The Vox Ultrasonic and Starstream played by Fleegle and Drooper may have been the last nails in Vox's credibility coffin. Thomas shut the operation down not long after, plagued by a shrinking market, fading sales, and quality issues. From the Beatles and the "World's Top Beat Groups" to the Banana Splits in just five years – the Vox brand had a uniquely strange journey. The aesthetic of electric music changed rapidly, and by the early '70s Vox was as uncool as it had been cool in '64. Still, Vox amps – even some of Thomas' transistor babies – maintain a devoted following that has only grown over time. The guitars have not fared as well, but have an enduring appeal to some players – at least for their visual style. Next month, we'll look at some interesting models from this most varied – and storied – line.
---
This article originally appeared in VG January 2014 issue. All copyrights are by the author and Vintage Guitar magazine. Unauthorized replication or use is strictly prohibited.
---