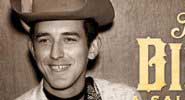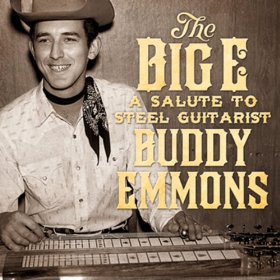 Buddy Gene Emmons stands as one of a handful of pedal steel players who truly advanced the instrument. His innovations as the "Bud" half of Sho-Bud guitars with partner Shot Jackson are just part of it. Emmons was the first pedal steeler to explore bebop and hard bop on his groundbreaking 1963 Steel Guitar Jazz album. That and subsequent solo records inspired generations of steel players, as did his exuberant appearances at steel-guitar conventions worldwide.
As a side man, he worked in the bands of Little Jimmy Dickens, Ernest Tubb, and Ray Price, making some of their hits even more memorable. In the L.A. and Nashville studios, he recorded with many, including Ray Charles, Judy Collins, Danny Gatton, Gram Parsons, and John Sebastian.
Emmons retired in 2007 following the death of his wife Peggy. Feeling Buddy merited real recognition, Steve Fishell, ex-Emmylou Harris Hot Band steel guitarist and MPR Records owner, created a star-studded, Kickstarter-funded tribute merging singers, steel players, and guitarists. It has Buddy's blessing. Profits will benefit the Country Music Hall of Fame in Peggy's name.
Vince Gill's gleeful reprise of the 1949 Jimmy Dickens hit "Country Boy" is explosive, with potent lead guitar and powerful steel solos from Paul Franklin and Opry stalwart Tommy White. In a partial reunion of the Hot Band, Fishell, Harris, and Rodney Crowell revisit the Parsons favorite "That's All It Took." John Anderson reprises Tubb's hit "Half A Mind" with steel by Buck Reid.
Backed by Brad Paisley pedal player Randle Currie, Raul Malo offers a powerful rendering of "Night Life," the 1963 Price hit (written by Willie Nelson) that showcased Emmons as much as Price. Willie, with his own guitar and Mickey Raphael's harmonica, performs "Are You Sure," a ballad he and Emmons co-wrote. Singer Chris Stapleton and the steels of Roosevelt Collier and Fishell take on the 1971 Ray Charles version of "Feel So Bad," which featured Emmons.
Greg Leisz offers his take on Emmons' '70s recording of "Wild Mountain Thyme." Duane Eddy and Dan Dugmore tackle "Blue Jade" and Hank Williams's "Manson On The Hill," staples of Emmons' later live shows. "Buddy's Boogie," a song he wrote and recorded while working with Dickens, gets a roaring workout from Doug Jernigan.
Norm Hamlet, Merle Haggard's steel player, glides through Price's "Invitation To The Blues."
Emmons was so integral to John Sebastian's goodnatured 1970 "Rainbows All Over Your Blues," he was even acknowledged in the original lyric, revived here by Albert Lee and JayDee Maness. The most poignant moment, "When Your House Is Not A Home," features 91-year-old Dickens, a master of ballads, singing his '50s hit with Dugmore and Eddy.
The booklet alone is breathtaking. Fishell provides a detailed Emmons bio, extensive notes on each selection, personnel, rare photos, and a 2010 chat between Emmons and Dickens. This music not only celebrates Emmons by capturing his exuberance and daring, it makes you want to seek out and hear his original recordings.
This article originally appeared in VG's October '13 issue. All copyrights are by the author and Vintage Guitar magazine. Unauthorized replication or use is strictly prohibited.