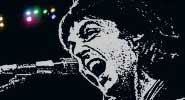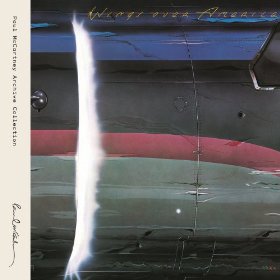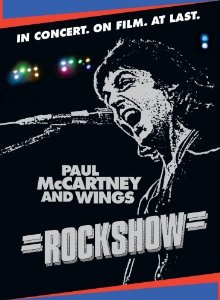 As clearly as the "whole is greater than the sum of its parts" adage has been demonstrated by numerous great bands, it will never keep critics from harping on how each of the Beatles' solo work (essentially "the Fab Four Minus Three") doesn't measure up to their years together. People old enough to have experienced the Beatles should try to examine subsequent solo work on its own, while being thankful that, at least in live performance, there's the added bonus of an occasional trip down Memory Lane.
While not a great band, Paul McCartney's Wings was one of the better bands of the decade of ABBA and the Doobies. Their live triple-album from 1976, Wings Over America, has been reissued in several variations. Non-fanatics can skip the Deluxe Edition box's numbered slipcases, books, and memorabilia tchotchkies and get the two-CD/one DVD Archive Collection of Wings Over America and/or Rockshow, the DVD of an entire concert from the same '76 tour.
An ironic moment in the 75-minute road documentary comes when a reporter asks McCartney if he doesn't think "33 is a bit old for rock and roll." Paul responds, "You come to the show, and you tell me if I'm over my peak after it, okay?" But the self-conscience, "band on the road" style prevalent at the time becomes almost as annoying as Paul's constant mugging.
Rockshow, on the other hand, concentrates on what a good live band Wings was. Denny Laine keeps up with Paul's instrument switching by playing piano, harmonica, bass, and an Ibanez Artwood 6/12 double-neck. And we'll never know how great a guitarist Jimmy McCulloch might have become had he not died of a heroin overdose in '79 at 26. Here, he tastefully handles lead, slide, bass, and an occasional vocal, as on "Medicine Jar." And even when McCartney is doing something as disposable as "Silly Love Songs," listen to the bassline he's playing!
The true throwaway, though, is "Let 'Em In" – fortunately redeemed by such good songs as "Jet," "Hi Hi Hi," "Maybe I'm Amazed" from Paul's solo debut, and, most notably, Laine's thundering "Time To Hide." Alas, the only true classics come when Paul reaches back to do "Winding Road" and a solo acoustic guitar rendition of "Yesterday."
Correction: There is one other classic. Denny Laine takes the piano to give a great reading of the Moody Blues' hit from 1965, their cover of Bessie Banks' "Go Now" – one of the greatest waltz-time rock songs ever.
This article originally appeared in VG's October '13 issue. All copyrights are by the author and Vintage Guitar magazine. Unauthorized replication or use is strictly prohibited.