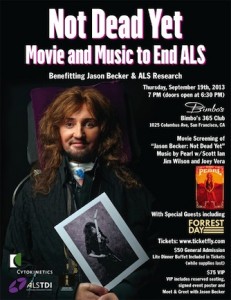 Bimbo's 365 Club, San Francisco, will host a screening of the award-winning documentary "Not Dead Yet," about the life and music of guitarist Jason Becker, along with performances by guest musicians, in a benefit for the Jason Becker Special Needs Trust and ALS Therapy Development Institute (ALS TDI), September 19.
Becker was 20 years old and had recorded two solo albums along with David Lee Roth's A Little Ain't Enough, was voted Best New Talent by Guitar, and was set to tour when he began to feel a "lazy limp" in his left leg. Doctors soon after diagnosed him with Amyotrophic Lateral Sclerosis (ALS). Now confined to a wheelchair and without the ability to move or speak, Becker continues to make music via a computer he controls with his eyes.
Among those who will perform at the benefit are Scott Ian of Anthrax, Jim Wilson of Mother Superior and the Henry Rollins Band, Joe Vera of Armored Saint and Fates Warning, and Bay Area act Forrest Day.
For more information, visit jasonbeckermovie.com and jasonbecker.com.