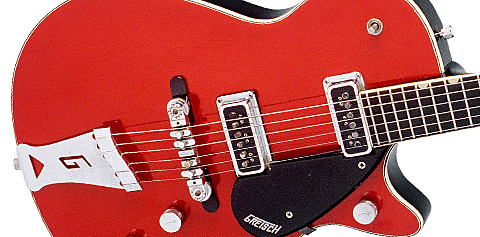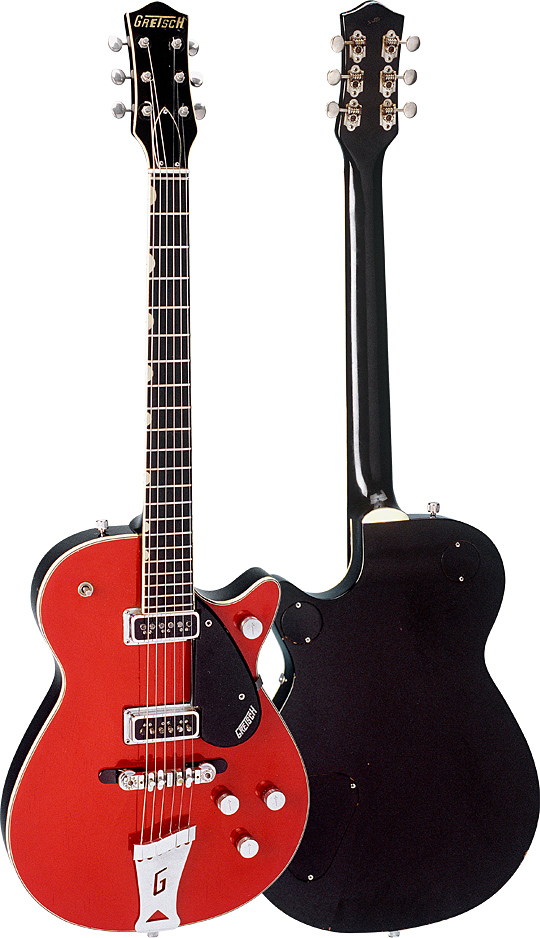 Given the number of jet-related model monikers in Gretsch's 1950s and '60s catalogs, one might get the impression the company built airplanes. There were the flashy "fighters" like the Duo-Jet, Silver Jet, and Jet Fire Bird. Then there were the sturdy, reliable "tankers" represented by laminated archtops like the Corsair and the seldom-seen Jet 21. On the "commercial" side were the Jet Airliner, Jet Mainliner, Jet Twin, Astro-Jet, and the Roc Jet.
The single-cutaway Jet Series debuted in 1953 with the Model 6128 Duo-Jet, finished with a black top. Clearly intended to compete with Gibson's 1952 Les Paul model (whose shape it very closely resembled) the Duo-Jet started as an imitator. However, by '54, Gretsch began to forge guitars that were unique, visually, and had a sound all their own thanks to their DeArmond pickups. At a time when  few guitars were adorned in anything other than sunburst or natural finishes, Gretsch outfit many of its models with dazzling colors and cool-looking appointments. The company quickly outflanked the Les Paul by expanding the Jet Series to include the sparkle-top Silver Jet (Model 6129) in '54 and the flashy Oriental Red Jet Fire Bird (Model 6131) in '55. Next to glittery silver and red, even the gold-topped Les Paul looked a bit tame. Three other instruments without airplane-sounding names were introduced at the time – the Western adorned Round-Up (Model 6130) and Chet Atkins Solidbody (Model 6121) in '54/early '55, and the spectacular white-and-gold sparkle of the White Penguin (Model 6134) in '55.
The Jet Fire Bird first appeared in the company's 1955 Guitars For Moderns catalog. The flashy little semi-solid was the only production-model Gretsch to feature the vibrant Oriental Red top (the only others were the guitars specially built for Bo Diddley). The perfectly contrasting ebony black finish on the back, sides, and neck, combined with the chrome-plated hardware, offered a strong visual statement! Gretsch touted the Jet Fire Bird as being "for the progressive guitarist."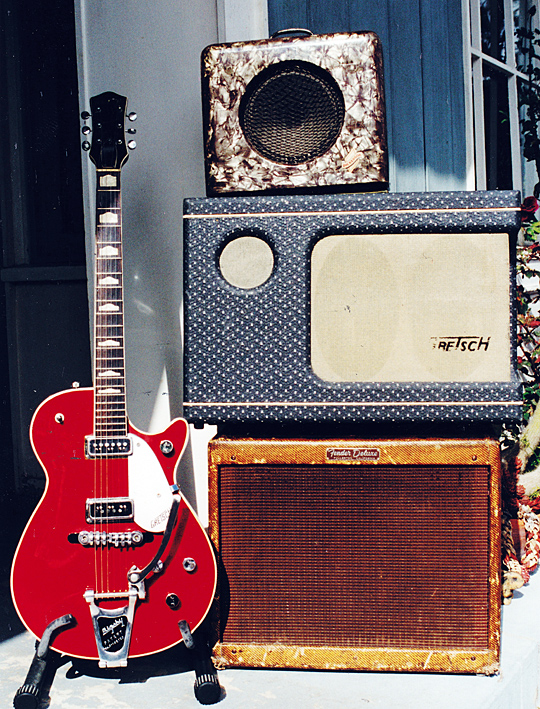 1957 was an exceptional year for Gretsch, in general, and for the Jet Fire Bird, in particular. Our example from '57 is what Gretsch buffs refer to as the "Bo Diddley Jet Fire Bird." Two of its distinct features/appointments are also shared with other 1957 Gretsch instruments and make them especially cool – the open-back Grover tuners with butterfly-shaped buttons, and the Brazilian rosewood fingerboard featuring "humped-back" position markers. Unique characteristics of this version of the 6131 include the Oriental Red top (6131 models from other years appear to have much less pink/red and more of a maroon/red and even burgundy-red-colored top) – and the silver  Lucite pickguard with a pantographed Gretsch logo in black letters (the finish on the 6120 appeared particularly distinctive in model year 1957). Commonly referred to as the "Duane Eddy 6120," its amber-red finish was a vibrant red/orange; 6120s from other years display much less red in their finish. The Bo Diddley version of the Jet Fire Bird was never pictured in Gretsch literature. Diddley, however, did appear with one on the covers of two of his early albums, Bo Diddley and Go Bo Diddley.
The '57 Jet Fire Bird you see here is perched against a matching '57 Gretsch Electromatic Twin (Model 6161) amplifier. Gretsch amps from this period were made by the Valco Manufacturing Company and are very cool-looking units. They're decent-sounding practice amps and probably at their best when used for lap-steel work. The Electromatic Twin is rated at 14 watts and has Gretsch's "wrap-around-grille," a look very much like many radios from this time period. This amp has two 11″ x 6″ oval-shaped speakers, one round "porthole" tweeter, and is covered in Charcoal Gray Tolex with a subtle silverflake pattern that matches the covering on the Jet Fire Bird's case (notice the yellow piping around the top and bottom of the amp). Sitting atop the amp is the perfect finishing touch – a hard-to-find vibrato footswitch.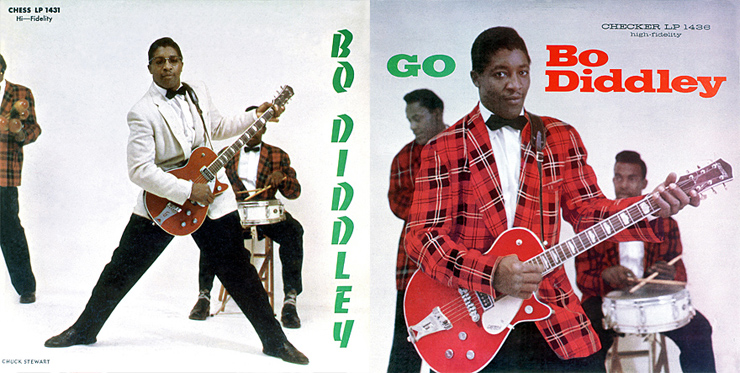 In spite of their great sound and exceptional visual appeal, the original Gretsch Jet Series guitars were produced in fairly small numbers, and sold modestly – not surprising given Gretsch's focus on the hollowbody guitar. In spite of this, a lot of guitarists have flown a Jet during their careers – players as diverse as Diddley, Cliff Gallup, Atkins, George Harrison, Thumbs Carlille, Hank Garland, Billy Zoom, Jeff Beck, Joe Perry, Tom Keifer, and Dan Fogelberg. The next time you're at a guitar show, if you see a squadron of Gretsch Jets, check 'em out. And if there's a cool-looking red one, take it for a test flight.
---
This article originally appeared in Vintage Guitar Classics No. 3. All copyrights are by the author and Vintage Guitar magazine. Unauthorized replication or use is strictly prohibited.
---
You can receive more great articles like this in our twice-monthly e-mail newsletter, Vintage Guitar Overdrive, FREE from your friends at Vintage Guitar magazine. VG Overdrive also keeps you up-to-date on VG's exclusive product giveaways! CLICK HERE to receive the FREE Vintage Guitar Overdrive.
---