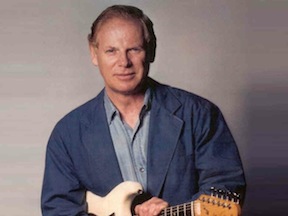 The National Guitar Museum has announced that Vic Flick, the guitarist who played on hundreds of London sessions and is best know for playing the guitar on the James Bond theme, will receive its "Lifetime Achievement" Award for 2013. Flick's work spans four decades of popular music, from movie soundtracks to jazz to rock and roll.
"In 1962, Vic played guitar on the soundtrack to Dr. No – in the process creating the James Bond theme song," said HP Newquist, executive director of The National Guitar Museum. "His sinister opening riff has been featured in dozens of Bond movies ever since, and the popularity of the Bond franchise means that hundreds of millions [of people] have heard Vic's playing, We're honored to be able to recognize his contribution to the guitar with this award."
In announcing the award, the NGM said Flick was so respected in the London session scene that he was recruited to play guitar on the soundtrack to The Beatles' film Hard Day's Night. He was asked to help promote the Fender Stratocaster when it was introduced in the U.K., and performed on albums by Tom Jones, Nancy Sinatra, Herman's Hermits,  Henry Mancini, and others. His work was recognized in 2012 by the Academy of Motion Picture Arts and Sciences. He still makes an occasional public appearance, and in 2008 published his autobiography, Vic Flick, Guitarman.
Flick is the fourth recipient of the the NGM's award, following David "Honeyboy" Edwards in 2010, Roger McGuinn of The Byrds in 2011, and B.B. King in 2012.