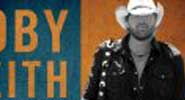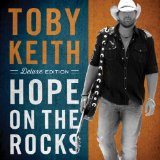 Toby Keith's previous two albums – Bullets in the Gun (2010) and Clancy's Tavern (2011) – were two of his finest, enhanced by first-rate original material, powerful vocals, and restrained, hard-edged production. His skill at writing miniature dramas has served him well and does so again. The title song, a bartender's thoughtful musings on the troubled souls he serves carries emotional clout, bookended by the lighthearted "The Size I Wear," a sly paean to barroom pickups.
The tale of "Scat Cat," a reprobate hellraiser unable to stay out of trouble, holds together nicely, its rocking arrangement enhanced by Eric Darken's slashing guitar. The philosophical "Get Got," by Keith and frequent writing partner Bobby Pinson, cleverly incorporates time-tested homilies about life. The ballads are equally strong. "Haven't Seen The Last Of You," "Missed You Just Right," and the Keith-Scotty Emerick tune "You Ain't Alone" are all pained, passionate reflections on lost love.
He can afford to bypass two of Nashville's three most over-recorded and clichéd current song topics: hot women and beer (the third involves pickup trucks). Unfortunately, "I Like Girls That Drink Beer" and the chugging "Haven't Had A Drink All Day," are Keith and Pinson at their most formulaic. At least the latter has some first-rate guitar from Brent Mason, Kenny Greenberg, and Russ Pahl. But not even Mason, Greenberg, and an engaging Dixieland arrangement can save "Cold Beer Country," which is more beer commercial than drinking song.
Acts at the peak of Nashville stardom, who own their own label and produce themselves, are free to do what they please. Keith uses that freedom wisely and the album's high points prove it. He doesn't need to waste time writing and recording throwaways. Leave that to the many lightweight writers and singers on Music Row.
This article originally appeared in VG's Feb. '13 issue. All copyrights are by the author and Vintage Guitar magazine. Unauthorized replication or use is strictly prohibited.