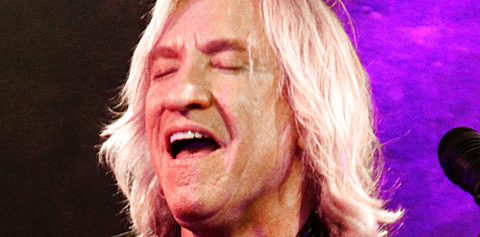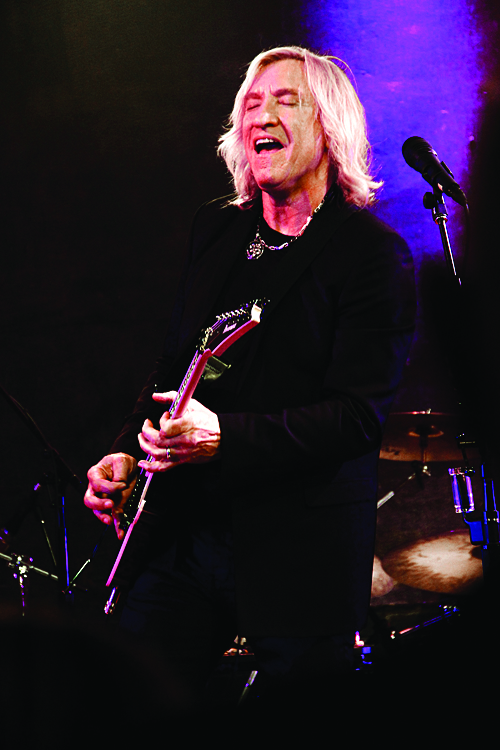 Whether coughing up the #2 talk-box lick of the '70s, kicking the Eagles into overdrive, or wryly expressing his views on subjects ranging from rock-and-roll excess to lawn mowers to a good ol' set of double Ds, Joe Walsh has earned a rep for delivering a message.
The guitarist/songwriter/ producer/actor who gained fame in the James Gang and as a solo artist before joining the Eagles, has just released Analog Man, his first solo album in two decades.
Born in Wichita, Kansas, Walsh's family lived in Ohio and New York City before moving to Montclair, New Jersey, where he attended high school and began playing guitar in bands. He went on to study at Kent State University, where his free time was spent playing in bands like The Measles.
The James Gang gig started in '68, and he soon became star of the show for his innovative rhythm playing and creative guitar riffs. The band scored several minor hits before Walsh bailed in late '71 to help form Barnstorm, which recorded two albums – Barnstorm in 1972 and The Smoker You Drink, the Player You Get ('73). The latter served as the band's commercial breakthrough and included that catchy talk-box solo on its first single, "Rocky Mountain Way," which reached the U.S. Top 40.
After Barnstorm disbanded in '74, Walsh became a true solo act, releasing So What and the single "Turn To Stone." In late '75, he was asked to replace Bernie Leadon in the country-rock band the Eagles. There, his presence lent the group a distinct rock bent, and its first album with him onboard, the 1976 release Hotel California, included two Top 20 hits on which Walsh played vital roles; he composed the famed guitar riff on Glenn Frey's "Life in the Fast Lane" and brought to the band a song called "Pretty Maids All in a Row," which he co-wrote with Barnstorm drummer Joe Vitale.
In the wake of the huge success of Hotel California, the Eagles experienced their share of fame-derived drama, including having members fall into the very traps their songs warned against. The followup, The Long Run, took nearly three years to record and produce – an enormous span at the time. Walsh used the time between to record But Seriously, Folks… and the single "Life's Been Good," which parodied rock stardom. He also recorded "In the City" for the soundtrack to Walter Hill's 1979 cult film The Warriors.
Through the latter half of the '80s and into the '90s, Walsh stayed busy performing with a variety of bands in Australia and the U.S., exploring rock, blues and other styles; his 1994 single "Ordinary Average Guy" was originally recorded in 1990 by Herbs, the New Zealand-based reggae legends.
Analog Man reflects on his life over the last decade. Produced by Walsh and Jeff Lynne, the disc sees him working with co-writer Tommy Lee James and features his brother-in-law, Ringo Starr, on drums for one track.
One of the album's overriding themes is Walsh's battle with alcoholism, which at times kept him away from music.
"I went out and explored [sobriety]. I just didn't want to mess with creative stuff or writing or anything because there were still a lot of triggers, until I had enough sobriety to be able to do music that way," he said. "The other thing that happened was, in 1994, the Eagles decided to get back to work. We did Hell Freezes Over, and have been touring pretty regularly since, been around the world a couple of times. I just never got any momentum going to really go in and do an album."
When did you start a serious run at making the new album?
That was about three years ago. I've been married 31/2 years, and my wife, Marjorie, is the missing part of me.
I have a little attention deficit disorder left over from when I was a kid; I have great ideas, and I get 'em started and I'm excited about 'em. But when it's time to finish 'em up, I don't do so good because by then, I have a new idea. But Marjorie… she's a closer. She has helped me get organized and round everything up. She said, "Look, I really believe in you and you ought to get this done… and by the way, here's Jeff Lynn's phone number!"
That had a lot to do with me focusing on it and getting it done. In the last three years, I've really worked at it and worked with people on it, doing what needed to get done to make a complete statement.
How did the songs come together? Did you sit with a guitar, at a piano, or what?
Well, some are definitely keyboard songs and some are definitely guitar songs. It's amazing for me to watch, too. I don't know what happens. Usually, I'll play guitar for a while and then find myself playing some chords over and over and I maybe get a verse or a couple lines of a chorus. I don't really hear the words right away, but I get a theme, get a couple key lines that are good enough to believe. And I do really well when I write with somebody like Jeff Lynn or bounce it off somebody else. Some songs are real painful births, some just pop out.
The new record offers some social commentary, some politics…
Yeah, a little bit of everything. Well, I've got a lot to say, and rather than write protest songs or radical stuff, I kind of slip it underneath what the song's about. One, "The Band Played," on its surface is a vision of the Titanic going down, but its underlying message is about how we're standing around like ostriches with our heads in the sand, pretending nothing's wrong with the world. Meanwhile, the ship's starting to sink. You know, between the economy and broken government and all, everybody's kind of gotten complacent, putting up with the status quo. Rather than doing anything about it, we're just waiting for it to get better, and that's risky business, because it may not. So I just slipped that message underneath.
I was also thinking about how, even when it was obvious they were doomed, the orchestra on the Titanic went on deck and played until they couldn't play any longer. That really hit me in the heart – and gives me shivers. All of that with the underlying theme of a social statement I thought made a pretty good, complete song.
Does the song suggest any answers?
I don't know, it does suggest re-tooling the government and everything. It's pretty embedded, and that's part of the problem. In touring and stuff I've seen how, between the coasts, it's pretty bleak. It's scary to go play a place like Detroit, because I remember Detroit in the '70s, and it was jumpin'. Now, there's nobody home. It's scary.
So I don't know… I could probably get into a political rant (laughs), but we don't have enough time! I could run for President, but I'd rather answer some of your questions (laughs)!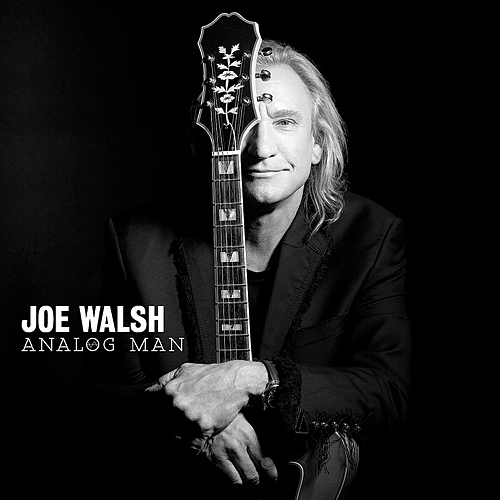 Which songs do you think long-time fans will appreciate most?
I think "Wrecking Ball" came out really good. "Analog Man," I think, is a pretty good Joe Walsh song. "Lucky That Way," though it wasn't intentional, ended up being kind of a sequel to "Life's Been Good," with a little Nashville theme underneath it. I'm especially happy with those three.
Did you do "Funk 50" because there's some sort of expectation fans have when it comes to your music?
That's an interesting story. At the beginning of the last football season, ESPN called me. They have a show called "Sunday NFL Countdown," and it airs Sunday mornings at 9 o'clock – Chris Berman and the guys. They said, "We want some new music and we're James Gang fans, so we love 'Funk 49.' But we don't want 'Funk 49.' Could you write us something like that?" I thought it would be fun, so I dug out my James Gang albums and studied them, and initially, the song was about a minute long, with no words. It was just for the intro of the show, then coming in and out [of commercial breaks].
They used it all last season, and I thought it came out really good. It was too short and needed some words, but I had a good time with it, so I put it on the album. It's still too short – I should've written more words. But at least it's something. And of course, when someone tells you they want "Funk 49," but not "Funk 49," what else could I call it? "Funk 50."
Which guitars did you use on the album?
Well, let's see. There's some new guitars being made, that Mike Campbell from Tom Petty's band introduced me to – Duesenbergs. I have a couple of 'em – a Double Cat and a DTV Outlaw. They're like a Les Paul, but a hollowbody with their own vibrato tailpiece. I've got one of the radical ones, and it's pretty nice. They wind their own pickups, which are great, and record great.
I also used a Gretsch 6120, I've got an old one. Those are great guitars. Something good comes out any time I pick up one of those. I'm superstitious; I think guitars have songs in 'em. I pick one up and something comes out that I hadn't planned on playing.
I also used Les Pauls, a smattering of Rickenbackers, Teles and Strats, and a lot of acoustics – mostly Gibson acoustics.
How about amplifiers?
Amp-wise, I came across a couple good things. The jury is still out about amp modeling and plug-ins and that sort of stuff, but I've plugged direct into the computer and got some okay results. But my favorite amp lately is a Dr. Z Maz 8, which I've been playing for a long time. Mike Zaite really makes some great amps, and they're also great for recording. The Maz 8 is a single EL84 – not two of 'em. And he found these monster EL84s from Russia, one sounds like two! They're really souped-up.
The other thing I found is a little Fender modeling amp called an SM-15. It's got a 10″ speaker. I don't like modeling amps for recording – they sound good in a room, but when it's playback time, they sound digital. So I came out of the headphone jack and went into an ART tube preamp and pushed that pretty hard, then put that into the computer, so the computer actually sees tubes, like a buffer. I had really good luck with it.
Going back to the James Gang days, there's a bit of folklore about how you tweaked your pickups. What were you doing to them?
I'd take the covers off… I went back and forth a lot about whether it made any difference or not, and in the end, I decided it did. I also tried screwing the poles all the way down and bringing the pickup as close to the strings as I could – just a quarter-turn below where it would cause the string to ring.
But you didn't dig into them at all?
No, I didn't re-wire them or anything. Back in those days nobody was, really. Seymour Duncan hadn't surfaced yet, so whatever was out there was what you got!
I always felt with a Les Paul that getting the covers off and soldering a little and getting the pickup right up under the strings gave you the most signal.
This is the first chance we've had to let you tell our readers the story about how you sold Jimmy Page his number one guitar, the '59 Les Paul Standard.
Well, when Led Zeppelin's first album came out and was just starting to get airplay, Jimmy was really known predominately for the Yardbirds. But when Led Zeppelin came over to tour, the James Gang opened for them on five or six shows. It was a hard sell because the only thing anybody knew was the Yardbirds, and that Jimmy had a new band. I got to know him better during those shows, and he told me he was kind of tired of playing Telecasters and stuff, and was looking for a Les Paul. In those days, Les Pauls weren't godawful expensive, they were just kind of hard to find. You had to go into the basements of music stores and pawn shops. I happened to have two, and one I liked better than the other, so I kept my best one and gave him the other, which had a slightly smaller neck.
What did you get for it?
I don't know, 1,500 bucks or something, and I had to fly to New York with it to give it to him, so that was kind of expensive. Anyway, he liked it a lot, and it became, I guess, the one he played on a lot of Led Zeppelin's music. His number one.
Turns out it was a good idea to get him one (laughs)!
---
This article originally appeared in VG August 2012 issue. All copyrights are by the author and Vintage Guitar magazine. Unauthorized replication or use is strictly prohibited.
---