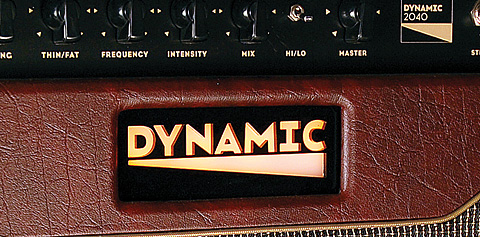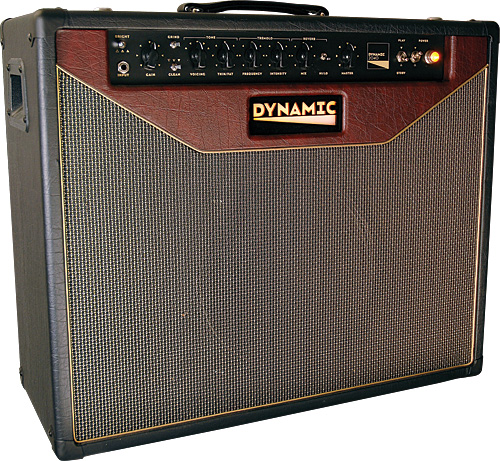 Dynamic Amps 2040 series
Price:  $2,570 (VA Combo)
David Carambula's Dynamic 2040 series of amplifiers consists of three models: Vintage American (VA), Vintage British (VB), and the HG DynaLead. All use class AB single-channel design that can utilize a variety of output tubes, with output reduction, tube rectifier, tube-driven tremolo, spring reverb, welded-aluminum chassis, point-to-point wiring, custom transformers and dovetailed pine cabinets. They sport nicely executed black tolex with burgundy or hunter-green face insets, gold piping, black hardware, and a back-lit logo plate.
Dynamic's standard control layout consists of a single 1/4″ input, three-way Bright switch, control for Gain, three-way Grind switch, three-way Clean switch, five-position Voicing selector, Thin/Fat tone control, Tremolo Frequency and Intensity, Reverb Mix and Hi/Lo controls, Master Volume control and power/Standby switches. The rear panel has a detachable power-cord socket, two test points for biasing, a three-position Power Step switch, a pair of 1/4″ extension speaker output jacks, a main speaker jack and three RCA footswitch jacks, one each for reverb, tremolo and boost.
Typically, the Power Step switch gives full power (about 40 watts) in the top position, half power (about 20 watts) in the bottom position, and 1/10 power (about 4 watts) in the middle position, all dependent on which power tubes you have installed. In addition to the front and rear panel controls, the 4020 has a couple of switches underneath by the power tubes, a High/Low plate voltage switch and a bias switch with some pre-set bias adjustments for different power tubes. By manipulating these switches correctly, you can switch from EL34 power tubes to 6L6s or 6V6s simply by swapping out the power tubes and flicking a switch or two. If a little D.I.Y. biasing is something you can tackle, then you can expand your tube selection to include 6550s, 5881s, KT66s and even KT88s.
We checked out three versions of the Dynamic 2040; a Vintage American combo with a pair of Tung Sol 6L6GCs and a 12″ Eminence Wizard speaker, a Vintage British Head with a pair of JJ EL34s, and a VA head with a quad of TungSol 6V6s. We used the Eminence in the combo to test the heads. Our guitars were a Fender Relic Strat and a Gibson Les Paul Standard Plus.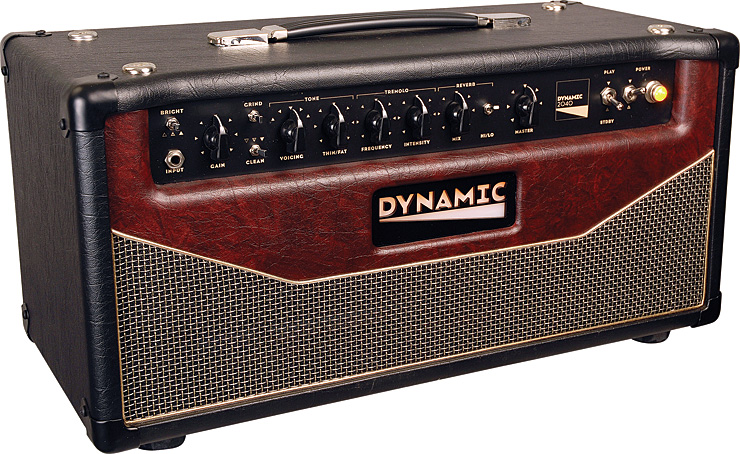 Dynamic Amps 2040 series
Price:  $2,250 (VA)
A quick run through three amps revealed a common thread – a healthy dose of thick overtones. All three had own unique voicing but shared a lively musical tone.
The 2040's five-position Voicing selector offers three positions with midrange notches, a position that engages only the tone stack, and one where the tone stack is completely bypassed. The latter offers the most transparent, natural sound, with the most gain. The first three add subtle midrange with different center points; all are well-voiced, but do reduce gain a bit. The single Thin/Fat tone stack control cuts a fairly wide swath with the low-end – sounding very thin when rolled all the way clockwise, and nice and fat when rolled all the way counterclockwise. It makes quick work of fattening up single-coils or adding snap to humbuckers, especially when used in conjunction with the Bright switch.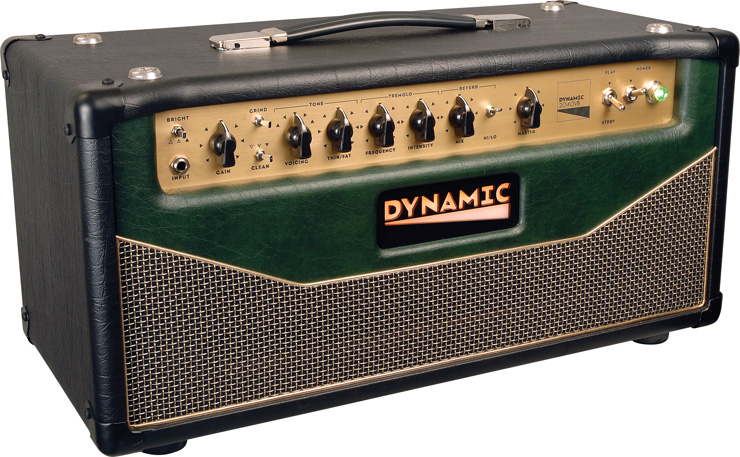 Dynamic Amps 2040 series
Dynamic Amps 2040 series
Price: $2,320 (VB head)
Info: dynamicamps.com
The 2040 is a single-channel amp with an average amount of control knobs, and thus does take a bit of tweaking to learn how they interact. Utilizing the Grind and Clean switches in conjunction with five-position Voicing switch is a bit tricky at first, but once you see how they interact with each other and the single Fat/Thin tone control, it becomes easier to dial in a sound. Though the VA and VB models look the same and have the same layout, they are uniquely voiced; the Vintage American combo sports a bit more open tone with rounder low-end and pulled-back mids, while the Vintage British sports thicker mids, tighter lows, and more bark. The Vintage American head, with the quad of 6V6s, fits nicely between the other two, sporting a classic open sound with more-aggressive upper-midrange. All three have tube-driven tremolo with Frequency (speed) and Intensity controls, producing a vintage-flavored tremolo that can get very intense and deep. The tube-driven reverb circuit has an Accutronics six-spring tank with a Mix control and a Hi/Lo intensity switch that allows for the reverb to either be "surf" deep or just a light ambient wash.
Dynamic's 2040 amps sport great build quality and well-conceived circuits, and all produce excellent "boutique" tone.
---
This article originally appeared in VG January 2012 issue. All copyrights are by the author and Vintage Guitar magazine. Unauthorized replication or use is strictly prohibited.
---