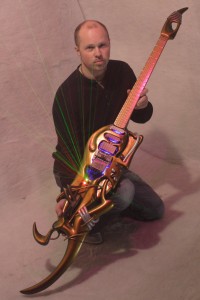 Along with his stalwart Ibanez Jem axes, Steve Vai will be playing his Ultra guitar during an upcoming world tour. Created for Vai as a tribute based on a drawing by illustrator Aaron Brown for the cover of Vai's 1999 album, The Ultra Zone, luthier Alistair Hay built the guitar in his Emerald Guitars shop in Donegal, Ireland. Its body is made from carbon fiber with an extremely non-traditional shape, a finish that changes colors under stage lighting, and built-in lasers. On tour, Vai plays the guitar while performing the title track of the album that inspired it.
"At first I wasn't sure if I should plug it in and play it or crawl inside of it and fly it to Venus, so I did both… at the same time," Vai said of the guitar. "After handling it, it was obvious that it was not just a masterpiece extravaganza of a carving frenzy, but was also a very well-crafted and playable instrument."
Hay said it's very satisfying to see Vai use it onstage. "Steve is truly one of the most creative, accomplished, influential guitarists of his generation, and to see him onstage in front of thousands of fans playing the guitar I made for him… it's a dream come true." Learn more at emeraldguitars.com.