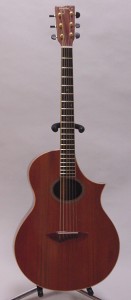 Charles Krug-Peter Mondavi Family Winery is actioning a hand-crafted guitar made from redwood from a historic wine tank. Affectionately referred to as "B.O.B." because it was built with wood at the "bottom of the barrel" of a 50-plus-year-old redwood fermenting tank, the guitar is on display in the Charles Krug Tasting Room. B.O.B. was designed, crafted and donated by David Heitzman of the Napa Guitar Company.
Proceeds will benefit the Music Connection program of the Napa Valley Educational Foundation for children in grades four through twelve. The Music Connection has provided musical instruments and education to nearly 3,000 Napa students since 1997.
The online auction runs through August 31. To view photos of the Charles Krug Guitar, place a bid, or learn more about Charles Krug Winery and the Peter Mondavi Sr. Family, visit charleskrug.com.