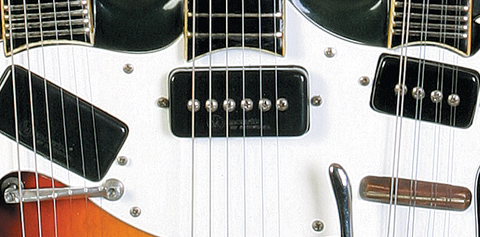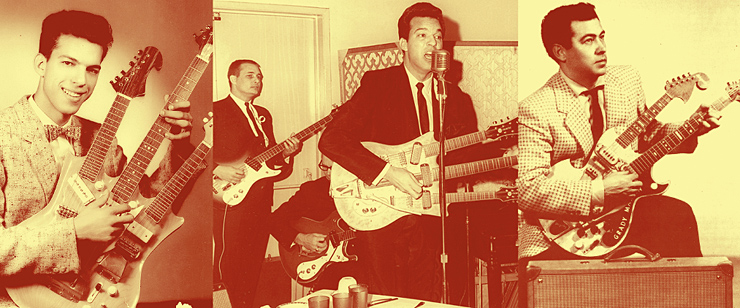 If you mention doubleneck or multi-neck guitars to your average guitar player, the first thing they'll likely think of is Jimmy Page playing his Gibson EDS-1275 with Led Zeppelin, or Rick Nielsen and his floor-length five-neck Hamer with Cheap Trick. But few people, even amongst guitar players, realize that the multi-neck guitar has a storied tradition that dates back nearly 100 years.
Why would anyone play a multi-neck guitar? Well, the answer is supposed to be "Because each neck has a different setup that can be used to get different sounds – i.e. 12-string, six-string bass, mandolin, etc." In reality, though, multi-neck guitar players have always been a different breed – and one thing that can't be denied is the fact that a multi-neck attracts attention – wanted or not! For every legitimate use of a doubleneck (say, Jimmy Bryant switching back and forth between the six-string neck and 12-string neck on "Stratosphere Boogie"), there have been just as many goofballs who've built one with two six-string necks just so they could inlay their first name on the top and their last name on the bottom! Unlike just about every other musical instrument, guitar players have always been willing to do things just for the sake of being different. Have you ever seen a doubleneck violin or a double-throat trumpet? You get my point.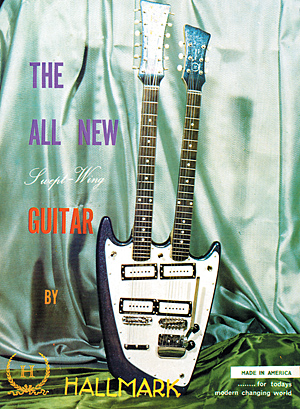 Just where the first multi-neck instrument was built isn't known, but there's no doubt the tradition began with the turn-of-the-century popularity of the harp guitar – a popular form of parlor entertainment, and a musical tradition that's nearly extinct today.
A harp guitar had two necks – one a standard six-string guitar played in the regular way, and another that contained multiple harp strings, or sympathetic "drone" strings meant to be played as accompaniment to the fingerstyle melodies on the regular neck. This came from both the European lute and the zither, which also had several fretted strings and many non-fretted drone strings. When and where the concept was first applied to the Spanish guitar is unknown, but Gibson, the Larson Brothers, Regal, and several other American manufacturers were churning out harp guitars in the first couple decades of the 20th century.
Somewhere along the line, the harp guitar style of playing fell out of popularity, and the acoustic harp guitar mutated. Several examples of multi-neck guitars have surfaced from the 1920s and '30s with two fretted six-string necks (the purpose of which, it can only be assumed, was for different tunings), or in the case of one very special triple-neck acoustic owned by Herman the Hermit, in California, who performed on the "Hometown Jamboree" country music show based in Los Angeles in the late '40s and early '50s) with a custom-made triple-neck from the '30s that had a six-string neck, a 12-string neck, and a mandolin neck. This guitar is now on display at the Country Music Hall of Fame in Nashville.
Whether or not Herman the Hermit's visibility on radio and television in L.A. had anything to do with the next step is unknown, but it's generally accepted that the first electric multi-neck Spanish guitar was a doubleneck built by Paul Bigsby for Nashville studio ace Grady Martin in 1952.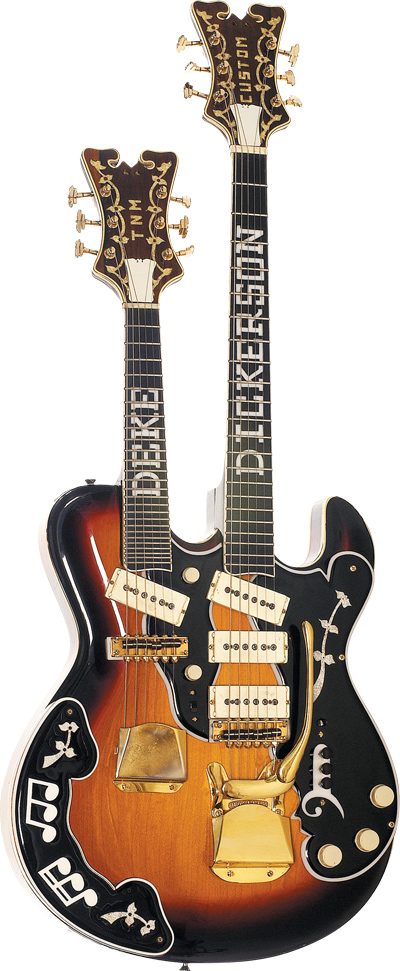 The Bigsby doubleneck was a revolutionary instrument from a man who did revolutionary things on a daily basis. Paul Bigsby, along with designer and player Merle Travis, is generally known as the father of the modern solidbody guitar, building a guitar in 1947 that influenced the Fender Telecaster, Stratocaster, and the Gibson Les Paul in the years that followed. In addition, he mass-marketed the first successful vibrato unit for the guitar, and is also credited with building the first modern pedals for steel guitar. This was just in the field of guitars; Bigsby also was highly regarded for his Crocker brand of racing motorcycles!
Bigsby had already made multi-neck Hawaiian steel guitars for Speedy West and Joaquin Murphy, so for a non-musician, the idea of making a multi-neck electric Spanish guitar probably didn't seem at all weird. It was, more likely, simply logical.
The Grady Martin doubleneck (VG, June '04) had a standard six-string neck on the bottom, and a five- string mandolin neck on top. Although Martin used it on the "Ozark Jubilee" television show from 1952 to '54, and on hundreds of studio recordings in Nashville, the guitar never received much publicity.
The same could not be said about the next evolutionary step of the electric multi-neck. One of Bigsby's apprentices was a gospel musician named Semie Moseley, who in 1954 formed Mosrite Guitars with a preacher named Reverend Ray Boatright.
Semie did some of the fancy inlay work on pickguards and necks for Bigsby, and in fact may have done some of the work on Martin's doubleneck, and he definitely worked on Joe Maphis' Super 400, as well as a Gibson ES-125 for Larry Collins, both of whom played on the L.A.-based "Town Hall Party."
When Moseley struck out on his own, he spent a year making a tripleneck guitar he then played at gospel tent revival shows. It was also his calling card as a luthier. Moseley brought the tripleneck to one of Joe Maphis' shows, and Maphis said if Semie built him a fancy doubleneck, it would be his main guitar. By 1954, Maphis was playing his doubleneck Mosrite on television every Saturday night, giving the guitar enormous publicity and sparking the first bit of commercial interest for Mosrite guitars. A year later, Semie made a doubleneck for Collins, who was half of a brother/sister act called The Collins Kids (and a Maphis protege). Maphis and Collins, with their doubleneck Mosrites on TV, were electrifying, and influenced many young guitar players.
Moseley's doublenecks had a standard six-string on the bottom, while the top neck was a six string tuned an octave higher, which he called an "octave neck." In reality, it was a mandolin scale length with strings tuned like a guitar. Moseley later said that he'd heard Les Paul on the radio and figured he had a "tiny guitar" to get those sounds, not realizing that Les was merely speeding up tape!
In the '50s, Mosrite was essentially a one-man operation, with Moseley making guitars in a shed, using primitive tools. He took custom orders, mostly for gospel and country musicians. One customer was Darrel Jessup, of the "Jessup Brothers Gospel Revival" show, a big-time gospel act on XERF radio in Del Rio, Texas. Jessup ordered an over-the-top tripleneck guitar with a six-string neck, octave neck, and mandolin neck. Truly one of the most radical guitars of all time, this guitar surfaced recently with a story so bizarre it defies belief (see sidebar).
Appearing from left field, also circa '54, was the Stratosphere Twin from Springfield, Missouri. A doubleneck with a 12-string on top and six-string on bottom, the inventors of the Stratosphere used a tuning system for the 12-string neck that enabled guitar players to play harmony twin lines on one neck; a system that sounded great, but with a not-so-slight drawback: it required players to completely re-learn the guitar!
Predictably, the Stratosphere Twin sank without a trace, though West Coast studio ace Jimmy Bryant used it to great effect on two songs – "Stratosphere Boogie" and "Deep Water" – both released on Capitol in '54.
Today, the only player who has mastered the Stratosphere tuning system is T.K. Smith, who plays a Stratosphere Twin in his various L.A.-based country-jazz groups such as the Bonebrake Syncopators and the Smith's Ranch Boys.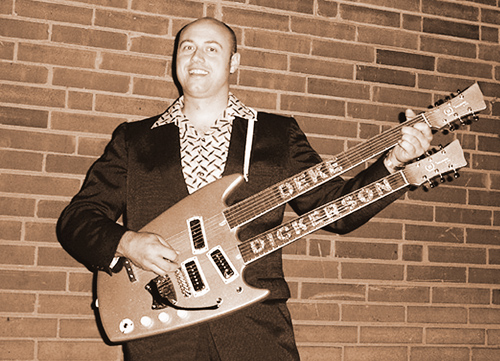 It's interesting to note that Gibson was the only major guitarmaker to make its own doubleneck, but not until 1958, and only in very limited quantities. Danelectro also jumped on the bandwagon, with a near-useless model with a six-string neck on the bottom and four-string bass on top. Few were sold. Notable players that used the early Gibson doublenecks were country-jazz virtuoso Jimmie Rivers and bluesman Earl Hooker. The Danelectro had to settle for Stan and Dan, a little-known teen act that left behind one memorable album cover!
Other than Gibson and Dano, the multi-neck phenomenon was a West Coast underground revolution taking place in small workshops and garages on a one-at-a-time, custom basis, with brand names such as Kremo-Kustom, Bartell, R.C. Allen, and others in the '50s and '60s.
One notable example involved a teenage Moseley apprentice named Terry MacArthur, who lived in the San Fernando Valley in 1958-'59. Moseley was working out of a shed in Granada Hills, just a short distance away from Mac-Arthur's house. Though MacArthur was in high school, he did a lot of work at the Mosrite shop, helping with various custom guitars and learning the tricks of the trade.
It wasn't long before MacArthur started making guitars himself. Completely obsessed with the Mosrite-Maphis school of thought, he built at least two doublenecks at Mosrite, both based on the Maphis blueprint. Only one survives today, and next to Maphis' and Collins' original Mosrite doublenecks, the TNM Custom doubleneck is the only other example of the early Mosrite style to survive (most, like our tripleneck, were revamped by Semie in the '60s or '70s, or simply fell apart). Considering it was built at the Mosrite shop, with Moseley offering hints and suggestions, the TNM Custom is the first cousin of early Mosrites.
When Moseley moved to Bakersfield, California, in the late '50s, he brought a truckload of lutherie influences with him, and soon Bakersfield became the custom guitar center of the universe for most of the '60s.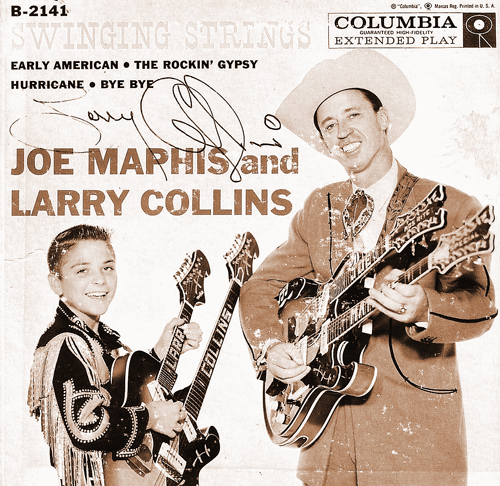 Due to demand, Moseley made a number of custom doublenecks, but only a handful were the large-bodied "full gingerbread" versions like the one belonging to Maphis. Most were plain solidbodies with pickups and hardware from his singleneck models. Early Mosrite doublenecks had the octave neck on top, but as the folk-rock scene took off in the mid '60s with the popularity of groups like the Byrds, the 12-string grew in popularity, and Moseley started mass-producing a doubleneck with a 12-string on top.
Other Bakersfield luthiers got into the act. Bill Gruggett (VG, February '97), who has been building guitars for nearly 50 years, began making custom doublenecks in the late '50s. He worked for Mosrite throughout the '60s, but left to work for the Hallmark Guitar Company.
Hallmark was a short-lived collaboration between Joe Hall and Andy Moseley, both of whom worked for Mosrite. They brought Semie's sense of left-field genius, and based on a bat-wing body shape designed by a car designer contracted by Bob Bogle of the Ventures, began making one of the legendary obscure guitars, the Hallmark Swept-Wing. Including, you guessed it, the Hallmark Swept-Wing doubleneck!
Hallmark made only a few Swept-Wing doublenecks, including one for "the Doctor," lead guitarist for the Mamas and Papas, but the newly reborn Hallmark is again making Swept-Wing single-necks and doublenecks (reviewed in VG, April '04). New president Bob Shade has even made a new doubleneck featuring an LED light show in the necks!
As the '60s drew to a close, so did the guitar boom spawned by Elvis and Beatles, and many smaller manufacturers like Hallmark and Mosrite went bankrupt. As the '70s began, only one doubleneck guitar was in production – Gibson's solidbody. Enter Jimmy Page and the modern history of the multi-neck guitar.
In the world of heavy rock and roll, Page loomed large and the multi-neck guitar would always have a place. Significant players included the aforementioned Nielsen, as well as Cheap Trick bassist Tom Peterson, fusion guitarist John McLaughlin, over-the-top metal guitarist Michael Angelo (who played an unforgettable four-neck guitar with all four necks going in opposite directions), and many of the popular rock guitar players who dabbled with the doubleneck, including Eddie Van Halen, Richie Sambora, Alex Lifeson of Rush, Jimi Hendrix, and others.
Of course, the tradition left behind by Joe Maphis, Grady Martin, and Larry Collins is kept alive today by a group of dedicated vintage doubleneck guitar nuts. As long as there are musicians who dare to be different, it will have a place in the guitar world.

Is more more?
A rare Mosrite tripleneck surfaces
In the mid-1950s, an enterprising young man named Semie Moseley was attempting to make a name for himself as a luthier and gospel guitarist. One of the most ambitious and original guitar builders of his time, Moseley learned his craft at Rickenbacker, where he was eventually fired for working on his own designs. This led to a stint with Paul Bigsby, where he made necks and worked on custom inlay and finishing work. When his tenure with Bigsby ended circa 1954, Moseley found himself on his own, with nowhere to build guitars.
He was taken in by neighbor, preacher Reverend Ray Boatright, who let him use his garage and Sears and Roebuck tools. Moseley felt so indebted to the reverend that he named his new company Mos-rite, combining their last names. Some of the very first guitars Moseley made in Boatright's garage were multi-neck guitars.
Moseley took his new tripleneck to country and gospel shows, hoping to get musicians interested. The first famous artists to use Mosrites were Joe Maphis and Larry Collins, both regulars on the "Western Ranch Party" TV show.
These early multi-neck Mosrites employed luxurious features like decorative plexiglass-plate pickguards, armrest, and jack plates, with a variety of inlay work.
Moseley also specialized in an exquisite sunburst finish that would become his trademark.
When Moseley appeared in person, he'd always play his personal tripleneck. Moseley's brother, Andy, says there were less than 10 triplenecks ever made, and Semie's personal triplenecks were destroyed when the Mosrite factory burned down in the '80s.
Fast forward 50 years…
A phone call from a very excited Mosrite enthusiast named Carter Granat, who tells me that an original Mosrite tripleneck has surfaced at Blue Angel Music in Florida! Signed and dated in the control cavity, "Semie Moseley, 1957," its owner is Doug Carroll, who brought the guitar in for a bit of setup.
So, how did Mr. Carroll come to possess the instrument? Funny you should ask… In the 1950s, a famous evangelist named J. Charles Jessup led a gospel group called the Jessup Brothers. They would travel the country, leading huge tent revival shows, and like many evangelists of the day, they were wealthy. Jessup was an incredible guitarist and ordered the tripleneck from Moseley in 1957.
Carroll, age 10, was asking for a guitar for his birthday, and thought if he was lucky, might get one of those cool Montgomery Ward guitars from the catalog. When his father, heard this, he contacted Jessup, as he knew Jessup was looking to part with his tripleneck. The elder Carroll was also well-off, financially, and decided to surprise little Doug with what he thought was the Cadillac of guitars! Prior to passing the gift to young Doug, the guitar (which was originally blond in color) was sent to Moseley to be equipped with new pickups, pickguards, and a new premium sunburst finish! Also, the fretboards were sprayed over with black lacquer to hide Jessup's name inlaid in the boards.
To say that young Doug was surprised is a given, and because he had never had a lesson in his life, it confused him! Never mind the fact he could barely hold it up because it weighed in at over 20 pounds. Feeling dwarfed by this monstrosity, he felt the best thing to do was tuck it under the bed. The guitar stayed there almost 30 years until he decided he'd like to have another go at it. He took it to be re-strung, then decided it might not be the best guitar to learn on, so he put it back under his bed and instead opted to try one of the new Hallmark Swept-Wing single-neck guitars.
It all begs the question, "Is more more?" That's for you to decide! – Bob Shade
Bob Shade is a luthier and Mosrite expert. He is also head of Hallmark Guitars, hallmarkguitars.com.
---
This article originally appeared in VG's April '05 issue. All copyrights are by the author and Vintage Guitar magazine. Unauthorized replication or use is strictly prohibited.