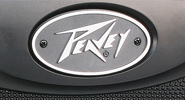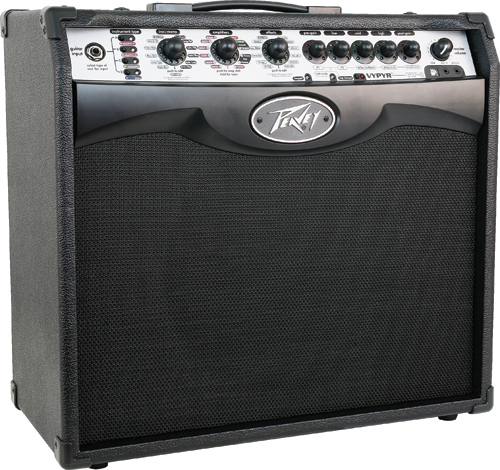 Peavey Vypyr VIP2
Price: $199.99
Contact: www.peavey.com
For more than 40 years Peavey's ongoing evolution while building guitars, amps, and pro audio equipment has attracted some big names in the music industry. Adding to their substantial amp roster is their latest offering in the category of modeling amps. Peavey calls the Vypyr VIP 2 "The world's first Variable Instrument Performance amplifier." It's a live-performance rig and USB-compatible recording amp that enables guitarists to plug in an electric guitar, acoustic guitar, or bass. It also offers some of the most widely used guitar effects and amp simulations.
With Peavey's TransTube analog circuitry, the VIP 2 features 36 onboard amp models (including six bass models and six acoustic). It also has 36 different effects, 10 of which are instrument models, and real-time global reverb and delay controls. (A Looper requires a Sanpera or Sanpera II foot controller.)
The instrument input has a bank of four button-accessed presets: Electric 1, Electric 2, Acoustic, and Bass. Users can save settings by holding the button until the LED stops blinking.
In addition to bypass, the Inst/Stomp encoder knob has Acs 1/2 (acoustic 1 and 2), 12Str/7Str (12-string and seven-string), Res/Sit (resonator and sitar), Vio/Syn (violin and synthesizer), and Bari/Bss (baritone and bass) settings. Stomp functions include Tsc (overdrive), Fuzz, Slap (slapback delay), Slice (fast or slow on and off settings), Uvb (rotary speaker), Rmd (ring modulator), and Wah (auto), as well as a vibrato and analog (clean) boost.
The Amplifiers (amp encoder) knob accesses amp models. Each has three channels: low gain, medium gain, and high gain. The amp models are British (British classic combo), Butcher (British classic stack), Classic (Peavey Classic series), XXX (Peavey XXX), 6534+ (Peavey 6534+), 6505+ (Hi-gain), Budda (Class A low-wattage combo), Twn (Classic California Clean), Trace Acoustic (acoustic guitar amp), Ecous (Peavey acoustic guitar amp), Trace Bass (bass amp), and Peavey Bass.
Farther down the panel, the Effects knob offers Tremolo, Octaver, Phaser, Rot. Spkr. (rotary), Reverse, Pitch Shftr (pitch shift), M.O.G. (Monophonic Octave Generator), Flanger, Comp, Env. Filter (envelope filter), and Chorus. The Pre-Gain knob doubles as an editor for Parameter 1 of the selected Stompbox or Effect. The Low encoder knob controls the low EQ adjustment and doubles as an editor for Parameter 2 of the selected Stompbox or Effect. The Mid encoder adjusts the mid EQ and controls the number of delay repeats. The High encoder fine-tunes the high EQ and the delay level. The Post-Gain controls the individual preset volume as well as the amount of reverb. Last, there's a Master Volume, Looper indicator, Tap Tempo button for delay, a USB record out, an Aux input, and an out jack (headphones or record).
Armed with a Fender P-Bass, a boutique "superstrat," and a Breedlove acoustic, it was time to get busy. At 40 watts, this 1×12 combo is light, loud, and sturdy. Punching through the presets elicited Van Halen crunch, Edge-like affected cleans, rugged blues tones, and an assortment of synths, reverse guitar, and chimey 12-string patches.
The quality of the tones was inspiring. The air moves like it does through a raging Peavey 6505, but the amp models and the effects offer an experience similar to hearing those sounds coming through a studio monitor. Gig-wise, all these features are overkill (though it's still a solid amp for small to medium venues), but just right for recording. Acoustic guitars came alive with nifty EQ settings, and in electric guitar mode, amp tones were consistent regardless of volume level. The bass presets were perfect, and although the 12-string simulations left something to be desired, they can be used in other creative ways.
The resonator is realistic, the baritone patch is gratifying, and the violin and synth will lead to long-term noodling. All sounds were easy to edit, and the computer easily detected the VIP 2 as a recording device. The USB port can also be used to download firmware updates.
The VIP 2 is a sweet recording amp for electric, acoustic, and bass. The amp models are close enough, and the quality of effects and recording functionality make the VIP 2 tremendous fun at an affordable price.
---
This article originally appeared in VG October 2013 issue. All copyrights are by the author and Vintage Guitar magazine. Unauthorized replication or use is strictly prohibited.
---