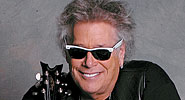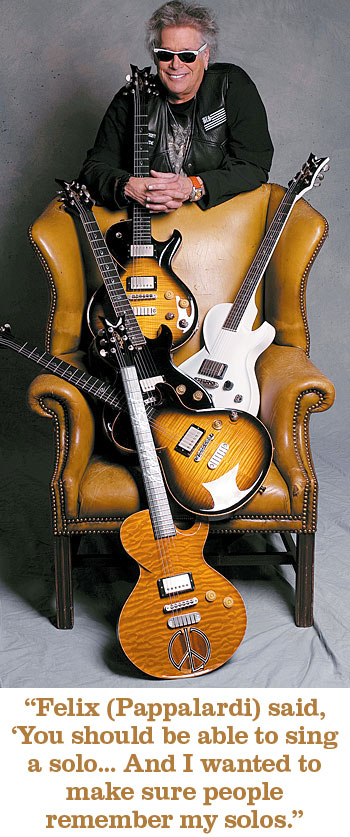 Upon first viewing you'll notice that The Sound and the Story is different. The new video from guitarist Leslie West stands apart from other instructional guitar DVDs in that, while West is more than happy to show how to play some of his classic songs and discuss how he learned to play, his gregarious personality is on prominent display.
"That's why I did it!" he laughed. "I looked at a lot guitar videos, and in order to get someone to watch, you've got to get their attention. So I thought I'd put some funny stuff in there."
That "funny stuff" includes a wealth of one-liners that genuinely tickle the funny bone. In one bit, West the "guitar teacher" talks with student/"son" Zakk Wylde. The exchange is obscene, but very funny. In another, West conducts a tour of the Dean factory, where his guitars are made. As he runs the viewer past the ins-and-outs, he manages to cut off his hand (in a theatrical sense). It might sound a bit juvenile, but it adds a unique zest.
Of course, the heart of the disc has West sitting down, talking about his playing. The segment wasn't scripted, but it contains a wealth of information and entertainment.
"Troy, the guy who did the tablature, was there, and he did a great job. If I'd pick up on something, he'd ask follow-up questions."
As you'd expect, he gives the lowdown on Mountain's signature tune, "Mississippi Queen." West says there was no big trick to its pounding guitar part. "When Corky (Laing, Mountain drummer) and I wrote it, he had these words, and I just said let me see 'em. I came up with that riff and the chords and that was it."
West also breaks down his soloing style and how he wrote other Mountain tunes. Long known for his melodic soloing, he says his style was born of necessity. "You know what it was? I couldn't play fast. Felix (Pappalardi, Mountain producer and bassist) said, 'You should be able to sing a solo. It's like a song within a song.' And I wanted to make sure people remember my solos. I didn't want to get to a part of the song where it was just time for a solo. In a lot of songs, the solo has absolutely nothing to do with the rest of the song. It's just a bunch of notes!"
Citing Eric Clapton's work with Cream as extremely influential, he calls Keith Richards early Stones work "Great… Because his solos were so raw, but they made so much sense. The riff from 'Satisfaction' might be the greatest riff ever." For rhythm guitar, he loved the work of Pete Townshend, and actually had a chance to work with him when The Who were recording Who's Next.
"They did the original recording in New York City. We had the same agent and I got a call that Pete wanted to know if I wanted to play guitar. I said, 'Well, they already have a guitar player.' But he said they didn't want to overdub. I was a nervous kid, but it was quite the experience." West's parts didn't make it onto the album, which was re-done when The Who went back to England, but they can be heard on subsequent reissues.
Guitar fans will enjoy seeing West go to the Dean factory and explore how they make his and other guitars. His signature guitar has a peace sign design element that matches an earring he wears. He didn't realize until after the fact they managed to sneak something else in. "I have the earring and I wanted them to put it in the guitar. Just cut out a spot in the wood, and in the ebony goes the mother-of-pearl. My fiancée at the time looked at it and said, 'Did you see it was your initials?' I didn't!"
Dean made 10 of the guitars and sold them all at a NAMM show. They also make a production Leslie West model, and West plays both versions onstage. Long-time fans will remember West for his use of Gibson Les Paul Junior guitars during the early days of Mountain. He remembers them fondly as "…a tree with a microphone." He also remembers a Gibson Flying V from which he took the neck pickup, leaving an empty cavity. "People would ask, 'Where's the pickup?' And I'd just say, 'This isn't a guitar. It's an ashtray.'"
Another key part of Mountain's early sound came by happy accident. "I opened up some boxes from Sunn, thinking they were guitar amplifiers, and my heart sank because they were P.A. heads. But I had no choice but to use them. The great thing is it had four mic inputs and a master input. So that's how that preamp sound started."
Today, West uses amps made for him by Budda, and is particularly fond of their simplicity. "The heads are so efficient. I use the 45-watt on stage, and I can't even turn the master up past 3 or 4. The tone is superb. It's just got a push/pull for distortion. It's only got about six knobs on it."
While West may not always get his due as being an influential rock guitarist, this DVD shows him to be a great player and student of the instrument.  He hopes it'll help some younger players develop their playing. "It's like, I used to love Reggie Jackson. But if somebody gave me Reggie Jackson's bat and glove, I'm not gonna hit and throw like him. Still, I can watch him and learn how he goes about his business."
---
This article originally appeared in VG April 2010 issue. All copyrights are by the author and Vintage Guitar magazine. Unauthorized replication or use is strictly prohibited.