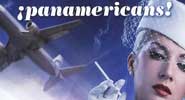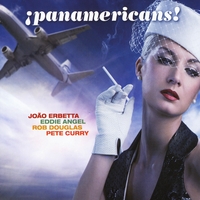 If you're a member of Pan-Americans, "among others" is part of your resume – in terms of bands you belong to as well as instruments (and roles) played in them.
The band's ad hoc leader is Joao Erbetta, singer/guitarist with Sao Paulo's Los Pirata and producer and composer for TV and videogame soundtracks. The CD was recorded at L.A.'s Powow Fun Room, sonic laboratory for Pete Curry, who has played lead with the Halibuts, bass with Los Straitjackets and Davie Allan, and drums with the Torquays and Deke Dickerson. On bass is Rob Douglas, formerly with Everest and Chuck Prophet and producer of the way-cool Joe South Tribute Album. And guitarist number two, Eddie Angel, is a charter member of Los Straitjackets in addition to stints with the Planet Rockers, Neanderthals, and Ronnie Dawson – among others. (As if that weren't enough multi-taskers, Ron Dziubla adds sax, organ, and melodica on a few tracks.)
The supergroup's debut culls Brazilian songs from the '70s all the way back to the '30s. "Baia," written by Ary Barroso (composer of the standard "Brazil"), is named for the Brazilian state Bahia and was featured in the 1944 film The Three Caballeros. It has an African-Brazilian feel, corresponding with the region's music and culture, and Pan-Americans' rendition is a bit smoother than the Mickey Baker version that inspired it. "Baiao," on the other hand, is named for a rhythm from Northeast Brazil, and has a funky, Booker T. groove.
Erbetta plays the songs' heads (beautifully stating the Jobim ballad "Ligia," for instance), while Angel takes most of the solos. Their soloing duel on "Americanizada" could be a Chuck Berry/Dick Dale cutting contest.
Equal parts rock and easy-listening, this could have fit nicely between Al Caiola and the Shadows in the golden age of "electric guitar" vinyl.
This article originally appeared in VG's Mar. '11 issue. All copyrights are by the author and Vintage Guitar magazine. Unauthorized replication or use is strictly prohibited.