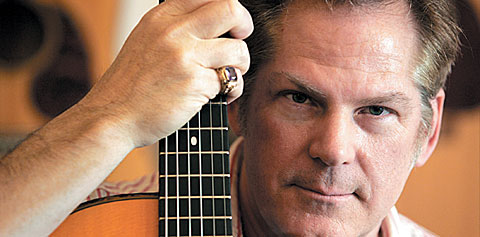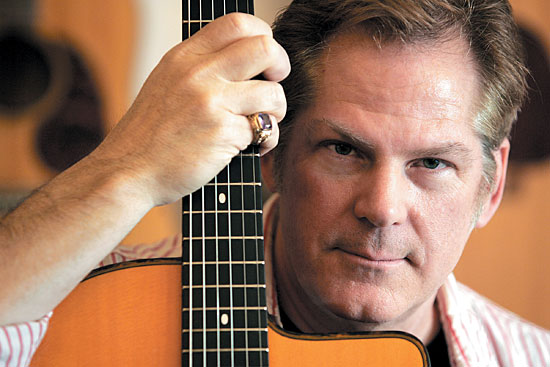 Call it a "Gypsy jazz wall of sound." John Jorgenson's new album, Istiqbal Gathering, features the master guitarist backed by the full Orchestra Nashville – strings, woodwinds, brass, even percussion. The result would make Django Reinhardt himself envious.
For Jorgenson, it all came naturally.
"Recording solo guitar with a full orchestra is very different than playing with a quintet," he explains. But with his background in classical music, combined with his experience playing jazz, Jorgenson was uniquely suited to the project. "All my musical training as an orchestral bassoonist and clarinetist helped me to be able to follow and lead the conductor,Paul Gambill."
From the Desert Rose Band to the Hellecasters and Elton John, Jorgenson has proven himself a uniquely gifted multi-instrumentalist. Still, this CD posed new challenges.
"Tempo is a really big issue when dealing with so many musicians with different challenges to playing in tempo together," he said. "So choosing and holding the right tempo between the soloist, conductor and orchestra players is a challenge. Also, repeatedly playing technically demanding passages can be a test of stamina and mental focus!"
The album leads off with Jorgenson's stunning three-movement "Concerto Glasso," followed by two pieces heightened by the strings of the Turtle Island Quartet; think Duke Ellington combined with Hector Berlioz, flavored by a spicy Eastern European Romany vibe.
The power of Jorgenson's composition and guitar is made all the more glorious by the orchestral backing. He recommends this "wall of sound."
"It's an amazing, fantastic feeling to be part of such a large body of talented, skilled people all coming together with the intention of creating something powerful and beautiful. Also, to hear a melody that I composed somewhere off by myself in private being played by such a large ensemble can be overwhelming."
Selecting the right guitar sound to work with the orchestra was a special task.
"There are two guitars that seemed to dominate these recordings. I used my prototype Gitane DG300 signature model. When setting up for the recording, I brought four guitars with me – the DG300 14-fret oval-hole, DG320 14-fret D-hole, Dupont 14-fret D-hole with sound chamber, and a '39 Selmer 14-fret oval-hole. I played the same passages on each guitar into three mics – a Neumann, RCA ribbon, and Royer ribbon – and then went into the control room to listen to the different guitars. I asked the engineers not to tell me which one I was listening to, and I chose the DG300. The final sound was a combination of the mics."
On the final, title track, Jorgenson trades melody lines and harmonies with Alexander Fedoriouk's cimbalom and David Davidson's violin to create a musical journey back in time and space. For the track, he was inspired by a special Selmer-style guitar. "I played a beautiful guitar that was built for me by Dave Hodson, the late, great U.K. luthier who I first met in Samois many years ago. It's a six-string version of the Eddie Freeman Selmer, which is normally a four-string with lighter bracing. It has a big, rich sound, well-suited for solo playing."
Throughout, Jorgenson was as selective about his mics as his guitars. He relied on his vintage RCA ribbon mic and a Sony C38 large-diaphragm condenser mic run through a Groove Tubes Vipre preamp. He also used an onboard AT Pro70 mic, which he explains was "…mixed in a little for some controllable 'woof'."
The ribbon mics were ideal for the acoustic jazz guitars. "I found the tones were very natural and balanced, and I had little to no EQ'ing to do. I guess this was a 'less is more' situation, and the outcome is the most live and natural-sounding of my CDs."
Jorgenson also approached both composing and soloing in a different mindset when working with the orchestra.
"Knowing the intention of a piece is to be performed by an orchestra definitely takes my mind in a different direction when creating a piece," he says. "The improvisational element is lessened, and the form and development of themes takes on more importance, as does the orchestration and overall arc of a three-movement piece, like the 'Concerto Glasso'."
Writing for cimbalom was also a new experience. Jorgenson's co-composer on Istiqbal Gathering, Carl Marsh, got a chart of the instrument's string layout so they could see what was technically possible. "Carl created the beautiful cadenza, and I was able to refer Alexander to various things he played on his own CD to create the other parts."
For Jorgenson, the Istiqbal Gathering project with the Orchestra Nashville signifies several dreams coming true.
"I really thought that After You've Gone [from 1988] would be my only album in that style, and recorded it mostly to sort of recap what had been going on musically in my life for the previous six years. I had no idea at all that the interest in Django and his music would grow to the point it is now, which has given me the chance to tour full-time playing Gypsy jazz!"
---
This article originally appeared in VG May 2010 issue. All copyrights are by the author and Vintage Guitar magazine. Unauthorized replication or use is strictly prohibited.