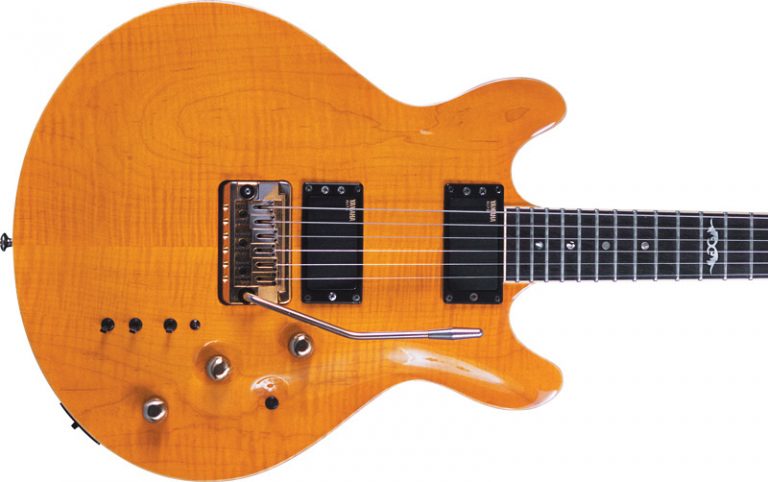 Some years back, an insurance company promoted itself as "the quiet company." While they probably wouldn't like to hear it, in many ways that description fits Yamaha guitars.
Whether you say acoustic or electric, Yamaha is almost never the first name that leaps to mind. Nevertheless, since the mid 1960s, Yamaha has been quietly turning out excellent acoustic and electric guitars. Some had startlingly wonderful designs, many had innovative features, and some may be regarded now as classics. But virtually all of the better-grade models have been made with exceptional quality.
One guitar that answers all these encomiums is this 1989 Yamaha Image Custom.
Much of the time, the people behind striking guitar designs like this are anonymous. But in the case of the Yamaha Image, we know whodunit. His name is Martyn Booth, and today he makes custom guitars.
Booth's interest in guitar began in the early '60s, when at age 14 he wanted a guitar but couldn't afford one. So he built one in his dad's workshop – "little more than a toy," as he tells it. Over the next few years, he borrowed friends' guitars and returned them with much improved setups. By the late '60s, he had achieved his dream of being in a band (a prog-rock outfit Booth describes as the "promising but never quite made it" type). The band gave up trying to make it big in 1975, and Booth needed to find a paying job. A friend worked for a Norlin/Gibson distributor in the U.K. and helped him land work there as a repairman.
The idea that would become the Yamaha Image began in 1980, when Gibson introduced the 335-S, its solidbody take on the ES-335. Booth was not impressed, and started work on his own version. Time passed, and by '87, Booth was working for the Yamaha organization in the U.K. Yamaha was looking for an upscale guitar to complement its venerable SG line. Booth dusted off his solidbody 335, and the Yamaha Image was born… well, in the U.S. it was the Image. In the U.K., the name was already taken, so it was called the MSG (Martyn's Solid Guitar). It had a mahogany body with a carved maple cap and glued-in mahogany neck. Scale was 25", top binding was maple, and finish options were blond, cherry, and orange sunburst.
The MSG/Image guitars were made in three grades. The Standard had twin humbuckers, rosewood fingerboard, and a stop-tail with strings running through the body. The Deluxe had an ebony 'board and RM Pro double-locking vibrato.
The Custom, shown here, had a Brazilian rosewood fingerboard and the latest technology from Yamaha's Japanese labs; pickups were Hybrid Integrated Pickup System (HIPS), with active/passive options, the vibrato was a then-new needle-bearing type with a small thumbwheel on top for adjusting spring tension, and instead of a cumbersome locking nut, it had Gotoh Magnum Lok tuners with a screw-down shaft that locks the strings in place.
In addition to the active/passive option (with its mini-toggle with LED), controls include a three-way mini-toggle, volume, midrange boost, and passive tone controls. Two other mini-toggles serve as coil taps. Active mode basically consists of a power-boost function, which can give nasty overdrive distortion depending on the amp and settings. There are more versatile tonal arrangements, but this does give a lot of color.
One of the coolest features of the Image Custom is a line of LED dot markers running along the top edge of the fingerboard. A little switch where the jack normally would be turns on this groovy feature – so cool! Also worth noting is the wide fingerboard and jumbo frets, both nice if you like them.
The MSG/Image debuted in '88. The following year, the headstock shape was altered a bit and the Volume knob moved on the Standard and Deluxe models. Collectors often refer to these versions as Mach 1 and Mach 2, respectively. The line ended in 1991 or '92. Prominent Image players included Alan Murphy (Go West, Kate Bush, Level 42), Barry Finnerty, Bireli Lagrene, Mick Box (Uriah Heep), Captain Sensible (The Damned), Andy Powell (Wishbone Ash), Mick Abrahams (Jethro Tull, Blodwyn Pig), and Scott Gorham (Thin Lizzy). Gary Moore apparently got one fitted with EMG pickups, but he seems not to have been impressed.
Booth left Yamaha in 1990 to start his own shop. In 2002, he resurrected the design, trimmed it down a bit, refined some features, and it's now available as the Martyn Booth Classic and Signature. His output hovers around 50 per year.
We don't know whether the MSG/Image guitars are rare birds. Demand for them remains high, and few show up on the market. They appear to have been more popular in the U.K. than in the U.S. They were expensive and appeared at a time when tastes were changing – it was not a "heavy metal" guitar, and it certainly wasn't an instrument to be wielded by Nirvana.
Nevertheless, the Yamaha Image is another fine example of a superbly made guitar that has gone quietly unnoticed except by devoted fans. Quietly, that is, until you pick it up, throw on the fingerboard LEDs, and shove that switch into active overdrive!
---
This article originally appeared in VG May 2010 issue. All copyrights are by the author and Vintage Guitar magazine. Unauthorized replication or use is strictly prohibited.