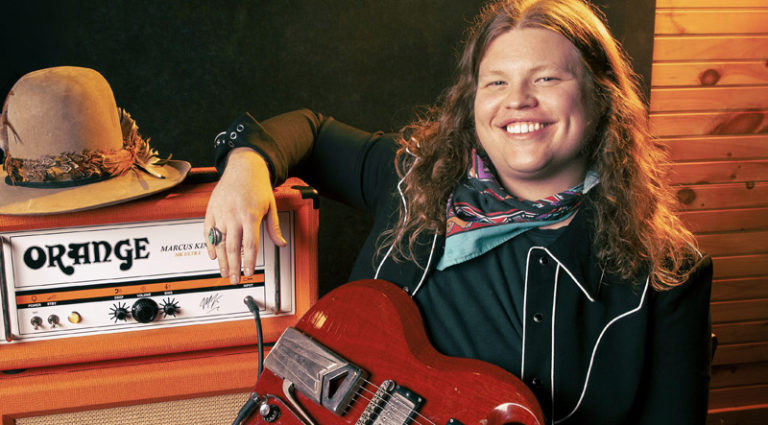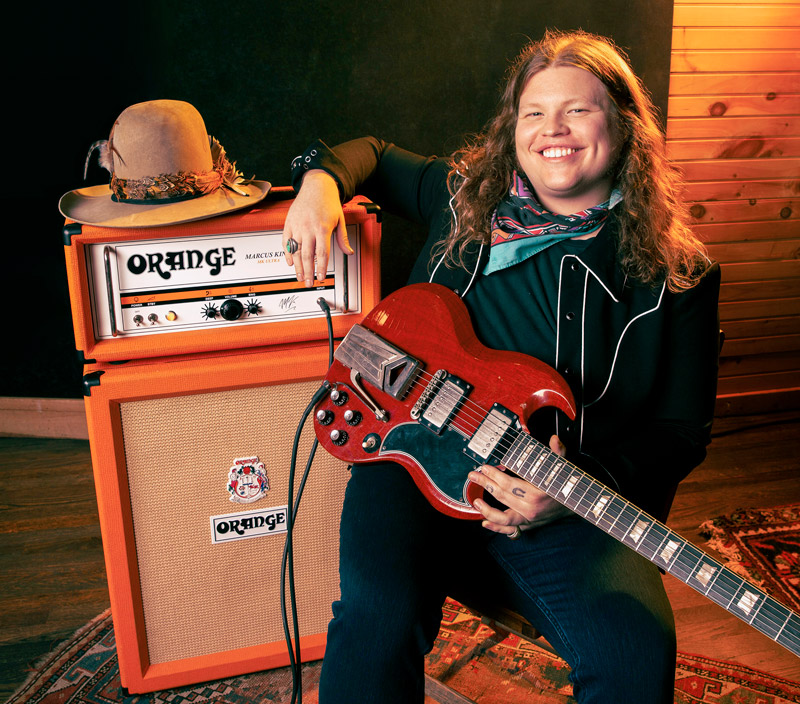 Marcus King is a guitar slingin' powerhouse barnstormer. Unlike most contemporary pop music – heavy on production, low on everything else – King's new album, Young Blood, propels music fans back in time to a world of meaningful lyrics, saucy grooves, clever arrangements, and cowbell. Dan Auerbach (VG, October '19) returns as producer with a purposefully different recording approach. Drummer Chris St. Hilaire, bassist Nick Movshon, and rhythm guitarist Andrew Gabbard keep the ship rock-steady and tight while King's impassioned vocals and commanding guitar style put asses in the seats.
Young Blood is more than just another blues-based rock record packed with guts, grit, and guitars – it's a sonic diary of a man struggling with the burdens of existence, mental health, and the courage to confront them. It's intense and muggy, but King took it upon himself to guide VG readers gently through the swamp.
Young Blood is heavy and dreamy, but tight.
It sounds tight because it was tight. Those cats stuck to me. I have a tendency to veer off, but Chris and Nick are bad motherf***ers. As far as the mixing, we didn't want much reverb; we wanted to hear everyone in the room, so that's what went into the mix. It's not so much what we did to the record as what we didn't do. We didn't want to muddle it up. We were really happy with the way the band sounded, and wanted people to hear that, not the capabilities of whoever was mixing and mastering it.
The music has a classic power-trio feel. How are you pulling off guitar riffs live with vocals?
A lot of that pressure was taken off when we hired Drew Smithers to join the group. He helps with a lot of the rhythm-guitar parts. He's even able to handle some of the pedal-steel parts from my older records, which makes it sound a lot bigger. On the record, there were two guitar players – Andrew Gabbard played rhythm because we wanted a panned sound to make the record feel full and live. We didn't want to overdub too much. He played live with me in the room, and Drew does it onstage now. That makes it easier for me to be frontman, singer, and guitar player.
There are always challenges and upsides to everything, but we have a seven-piece group and our horn players both double on percussion. There's more percussion on the record than one might think – congas, tambourines, shakers…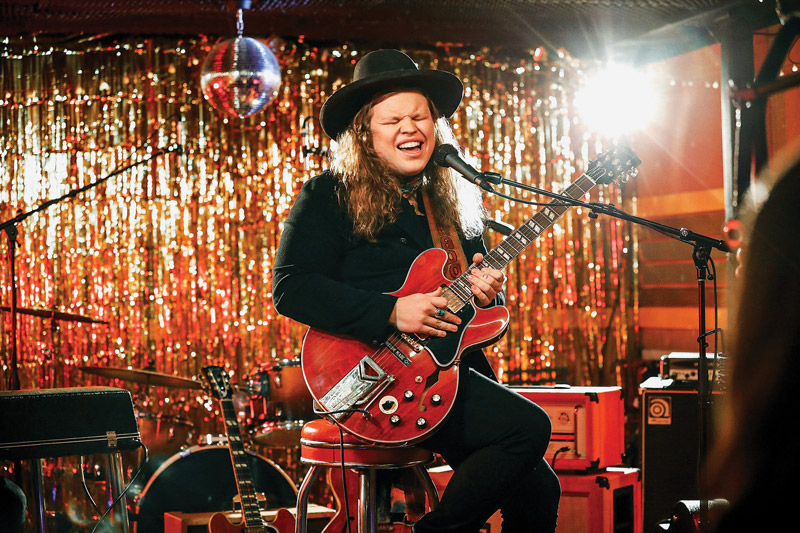 Cowbell…
Yeah (laughs), we have cowbell, of course. All the parts are there, and it's never a bad idea to put Hammond organ on something.
Was the plan to strip down the sound compared to your last album, El Dorado?
Yeah, we wanted the listener to feel like they were in the room. So that's how it was mixed, and there's not a lot of after-the-fact production. We worked hard to capture the moment, and I feel confident we did. The old-school power trio feel was a real big idea for us – it's one of the biggest inspirations behind wanting to do Young Blood like a real power-trio arena-rock record.
You worked with producer Dan Auerbach again. Whose idea was that?
I kind of drummed it up. Originally, I was going to tour as a trio. During the pandemic, we'd gone out and done some trio shows, and field-tested some of the songs I was writing. I ended up changing my mind as far as personnel goes, but realized I was able to do a lot more with more guys. Me and Dan talked about it; he really liked the idea and we really loved the idea of working together again. This time around, it felt a lot more comfortable and natural.
You have a deep emotional connection to these songs.
Before each [recording] session, we had a [writing] session that was really like therapy; I would talk about what was going on with me on that particular day, and luckily, we were working with writers who were really listening to every word carefully.
I was having a really difficult time dealing with a lot of heartbreak s**t and personal stuff. I was not doing great, but it limited itself to a really creative space for me. That's really the only way I've ever known how to write, anyway. For me, the real challenge is writing a happy song.
One of the writers was Desmond Child. What was it like to collaborate with him?
Desmond is one of my favorite people. He's unapologetically Desmond all the time. I like that trait – people who aren't afraid to be themselves all the time. I really admire that in people. Desmond has a very big personality, and he's a legend for a reason. He's so good at what he does, and we had a great time writing together. I fidget a lot, and he got frustrated that I kept clicking my pen. So, he took my pen away. Otherwise, we got along famously.
It's one thing to write a song by yourself, but to be vulnerable in front of other people while doing so is a whole other thing.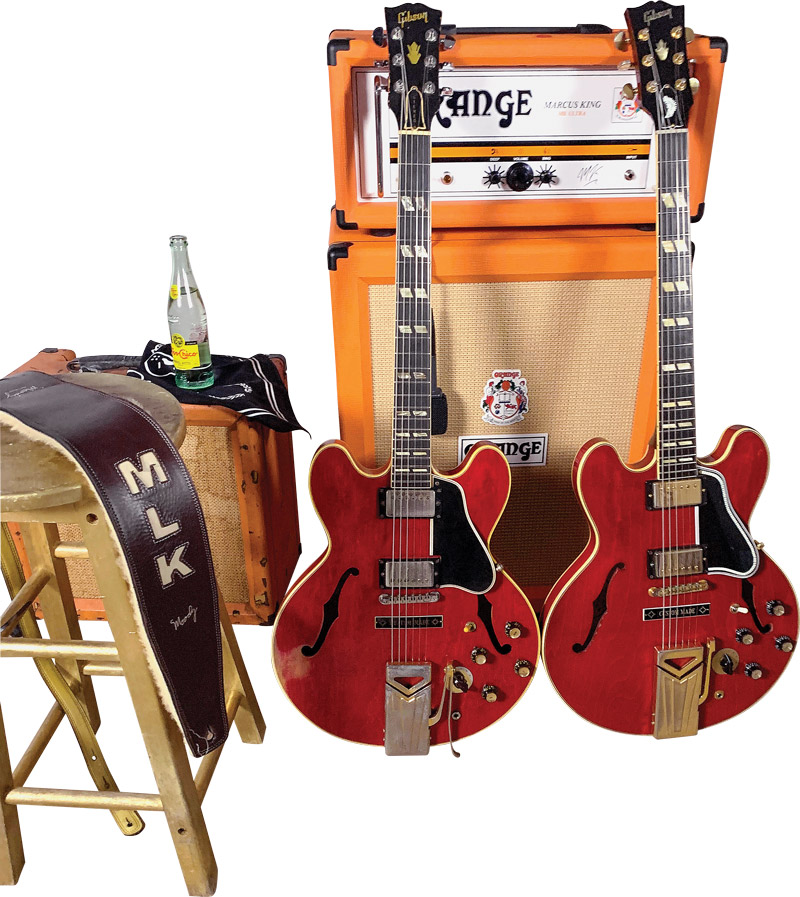 I think I was in a stage in my life where I just didn't want to be alone, so I'd always have people over at the house. Or, I'd always be out doing something. In that way, it lent itself to the project. I didn't want to write these songs alone. It would have just driven me further to the edge. I'm really happy with the way we approached it, not to mention that the writers we brought in were such prolific cats that it really helped me say what I needed to say.
"Rescue Me" has so much stuff pouring out of it.
It really is an outcry. When you listen, I want you to draw your own conclusions or apply them to yourself however you can. Everybody has a moment in their life where they feel like, "Somebody f***in' help me. I'm spiraling out." When you're in a tailspin, you don't really care who's going to help you, just hoping for whatever is going to make you feel better than you do right there. That's what I was feeling when I wrote it.
You seem comfortable singing about your struggles.
Mental health is one of those ingredients that's always volatile. You mix it with anything and chances are the whole thing is going to catch fire. Likewise, mental health struggles without combining them with a healthy lifestyle, steady meditation, therapy, and positive things will always set the room on fire. But sometimes you learn the hard way.
It sounds like you and Dan have great chemistry in the studio.
We get on really well, and I think that's why we work so well together. He just sends me out there and tells me to do what I feel, and he hits the "Record" button. With each record, it seems more and more seamless. We wrote everything within a month and recorded the album in six days.
Was there a lot of physical separation in the studio?
We were all in the same room, with the exception of drums so they wouldn't bleed too badly. Dan and I shared the same vision – we wanted this record to be as up-close and personal as we could get. The chemistry of the musicians was there immediately, so we just needed to just put a mic in the room and go. We tracked the vocals while I played guitar. It was challenging, especially with riffs, but it happened really naturally. There were only a couple of overdubs.
The fuzz solo on "Aim High" is simply killin'.
Thanks, I appreciate that. I used a Tone Bender on that. It was either that or a Tru-Fi Colordriver. My main gear was Dan's '59 Les Paul Standard, which is a wonderful guitar – really special. And, I used a secret weapon, which is one of my studio amps. It's an old Gibson with tremolo, not very big; somebody rebuilt it in the '60s, and it's been through the wringer. It's an Army green plywood box – ugly (laughs) – but it's my favorite studio amp. It sat in my dad's side room for years. He asked if I had any use for it and I said, "Uh, yeah. I got a lot of ideas (laughs)." I used it on every song as the control variable. We'd put it in the chain with an AC30 or an old Supro from the '60s and some spring reverb tanks. We cranked them up, always going stereo. I had a direct feed going into the Gibson the whole time.
Did you use guitars other than the '59?
I used my signature Gibson ES-345, and Gabbard and I both used a Banker Excalibur for that chunky rhythm sound. I also played a 12-string and a '69 Black Beauty I named Gizmo.
For the guitar solo on "Pain," which pedal did you step on?
It would have been the Tone Bender or Colordriver. I'm not much of an effects guy – I have some on the road, but don't really use them. I love a Univibe, and sometimes I'll use my MXR Reverb for spacey effects to add flavor to the fusiony sections of the set. I use the Colordriver for fuzz, and they make a great tremolo called the Ultra Tremolo that I use on the road.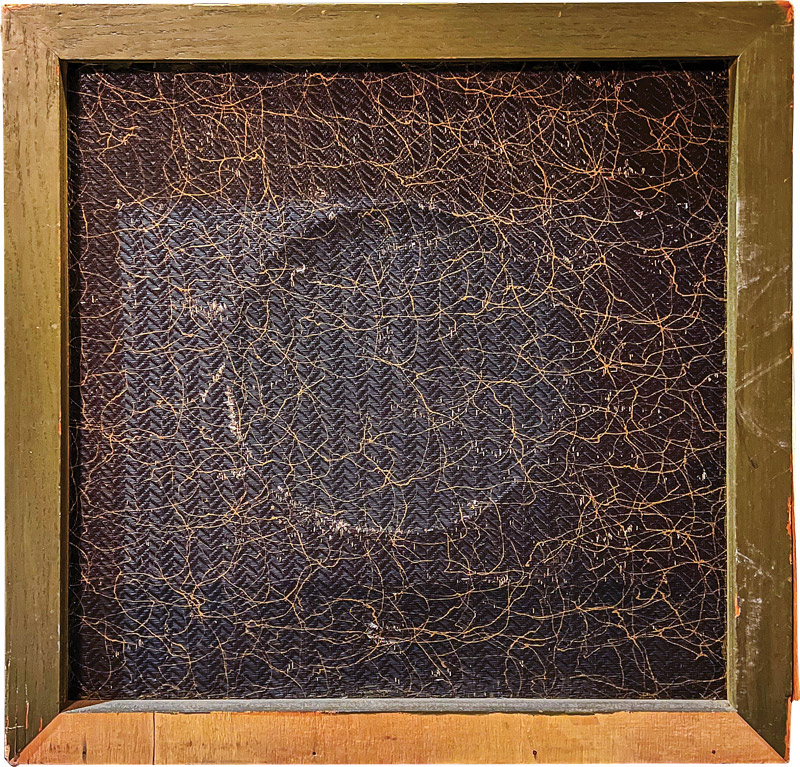 What's in your live rig?
I have my Orange signature head – the Marcus King MK Ultra. It's a 50-watt with Tone, Volume, and Bass. It's got 6L6s and the circuitry is really similar to a British-made Super Reverb, with more oomph. Orange did a fantastic job with that head. I wanted a slant 8×10 cabinet, and they were happy to oblige, so both Drew I play through one of those, and next to that I have a 2×15. In the States, I have a 2×15 Bassman cab with a Dual Showman on top. I replaced its output transformer with one from a brownface Twin, so it has a lot more power.
I'm also using a Clean Boost from MXR, and a Tube Screamer. When I get really nuts, I'll use the Colordriver. Other than that, I'm using an MXR Univibe and a couple other bells and whistles that don't get clicked on as much.
How about guitars?
I have a really great Firebird that Gibson made a few years ago. It's the Custom Shop Eric Clapton 1964 Firebird. Gibson was kind enough to let me hold on to one. I always have a Les Paul with me, whether it's Gizmo or another one I've been playing lately. I also have my red Tele, which is a reissue. When I do fly dates, I always bring reissue stuff. Right now, I have my red Tele and my 345. My signature ES-345 is the first prototype of the one that Jim Willard made. It was the only one made in the Memphis factory, so it's really special to me.
There's some bitchin' slide on "Rescue Me." Do you have guitars set up for that?
No, I always play standard. However, in order to make it as swampy as we could, I added a little wah on it, which gave it a pretty cool vibe.
That track has a lot of humidity.
That's a fine way of putting it. We certainly wanted to make it as humid as possible.
Were there any challenges traveling through Europe in the spring and early summer?
Not necessarily. I feel at home on the road. It can sometimes be challenging, but I'm used to it.
What's the live show like?
We keep it different and fresh every night. Folks don't want to hear us play the same thing every night, and we would certainly get bored with that. So we keep it fresh, and we're always adding new ideas to the tunes – add horns to something and see if it works. We're not afraid to try something.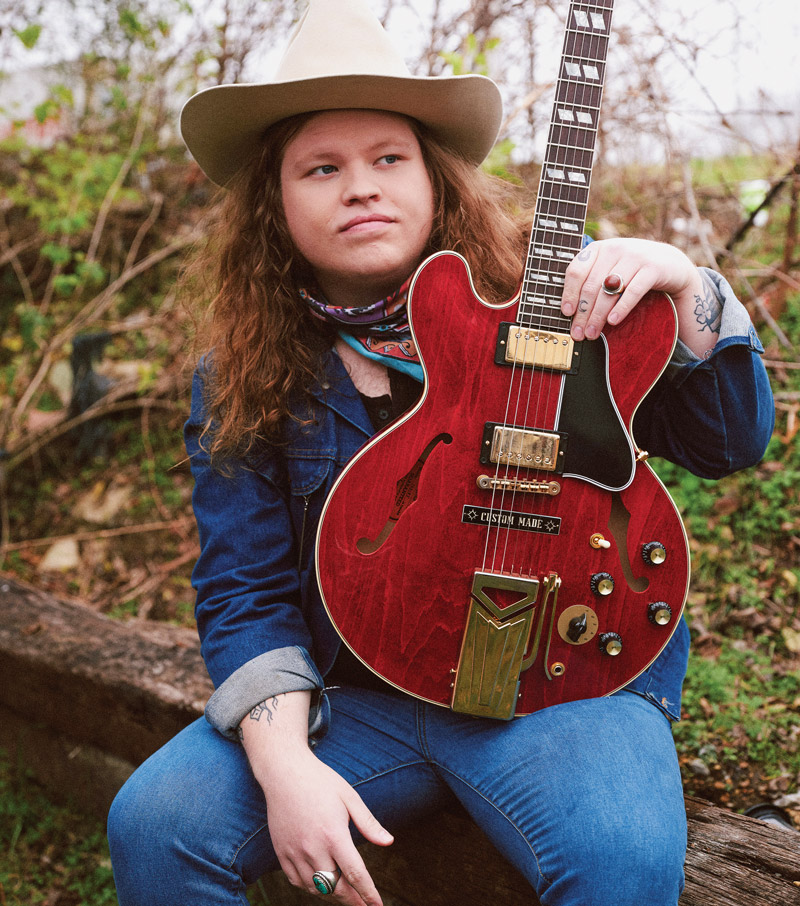 Your back-catalog is so strong it must be hard to narrow down songs.
We write a guide each night, but whether we stick to it or go off course depends on audience participation and how much we're feeling it from the room. Sometimes we find ourselves in interesting territory. I don't like being locked into one thing or another. We have a group that can change speeds at the drop of a hat. We work well together in that way; we're able to go into something completely different. We have a setlist for if we aren't feeling any reciprocation, which isn't very often, thank God. There are certain things that work well for the show.
What are your plans for the near future?
I'll be working on the next album. That's pretty much it. Writing about everything and keeping busy on the road. We're on a really big U.S. run. I love being able to share the stage with my friends and mentors. It's always a treat. I know what music has done for me, so if I can, in any way, contribute to music that can help people or contribute to people's mental health growth, I'm honored to take part in that. No matter how lonely you feel, there's always someone who will be there for you. Often, it's a record. There's always a guest amplifier in my trailer.
---
This article originally appeared in VG's October 2022 issue. All copyrights are by the author and Vintage Guitar magazine. Unauthorized replication or use is strictly prohibited.