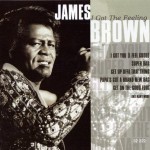 While a generation may remember James Brown as a soul star who fell on hard times, or as a man whose death has led to a tabloid-ready story of a fight for his estate, this three-disc set brings back the man who was a legend not only for his talent, but for his work in the black community.
The set consists of three DVDs. The first is the documentary The Night James Brown Saved Boston. It tells the tale of April 5, 1968, the day after the assassination of Martin Luther King, Jr. Brown's scheduled concert in Boston was almost canceled, but it was eventually agreed to show the concert live on television, the hope being folks would stay indoors that night and Boston wouldn't burn, like most other big cities in the U.S. The plan worked, and the documentary talks with most of the political and business principals. We also hear from members of the band. Full of great news footage from rioting, speeches from the likes of president Lyndon Johnson, and the concert, which was shown on the local PBS station, the film is fascinating as it sets up the complexities of Brown and tells what other folks were thinking. Extras include extended interviews.
Disc two is the concert as it was broadcast. Simply put, it is amazing. We see a master at work as he reveals why performers ranging from Prince to Michael Jackson to John Mellencamp to Chris Brown copped moves from J.B. Vocally, his unearthly screams are astounding. Brown's vocals are often distorted because the producers simply weren't savvy enough to know how to handle his style, but that never detracts from what your eyes behold. Brown's control of the band is a sheer delight; they're as tight an ensemble as was ever assembled. Guitarists will love watching Jimmy Nolen on "Get It Together," where he shows how he helped create the basis for most of the funk guitar work that has followed since. Brown tells Nolen, "Give me a little Wes Montgomery," and Nolen delivers. It's an amazing segment.
The hands-down high point of the show happens when the crowd starts to get antsy. Brown handles the situation with amazing aplomb, as a potential powder keg is quickly diffused as the concert wraps up. There is some overlap between discs one and two, but it's great to see the whole show.
Disc three is a concert from the Apollo in '68. Unlike the Boston show, it was shot in color, but it's hampered by the overuse of psychedelic effects that apparently were used because this show was a television special. The set list is different, highlighted by a stunning "It's a Man's, Man's, Man's World." Extras include J.B.'s classic performance at 1964's "T.A.M.I. Show" and two Paris performances from '67 and '68.
This is more than simply a piece of musical history. It's American history, and it's as important as any cultural event of the last 50 years.
---
This article originally appeared in VG's Oct. '08 issue.  All copyrights are by the author and Vintage Guitar magazine.  Unauthorized replication or use is strictly prohibited.
---