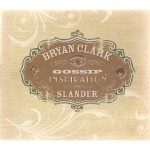 After hearing a couple of minutes of Gossip, Inspiration & Slander, one's first reaction might be, "Who is this guy?"
Bryan Clark was nine when he was given a guitar, and by high school, he was playing in rock bands. The summer before his senior year, he attended a Berklee College of Music guitar camp and realized, "if I was going to do this (guitar) as a career, it was going to require some serious effort."
He proceeded to earn an undergraduate degree in music, as well as a masters and doctorate at the University of Southern California. At U.S.C., he discovered bluegrass while listening to the Ricky Skaggs' albums Ancient Tones and Bluegrass Rules, saying he was, "blown away by the level of musicianship. There was so much akin to jazz with all the improvisation going on."
Gossip, Inspiration & Slander is a self-produced double CD with one disc dedicated to acoustic music while the other is all electric. The acoustic disc features a veritable pantheon of Nashville's best, including Casey Dreissen on fiddle, Chris Pandolfi on banjo, Matt Flinner on mandolin, Bryn Bright on stand-up bass, and Clark on all the guitar parts. It combines eight Clark originals with two well-worn instrumental standards, "Blackberry Blossom," and "Bill Cheatum." On these two war horses, Clark demonstrates he has something new to say. His acoustic guitar playing is awesome – clean, precise, and musically inventive. To say he can keep up with the likes of Dreissen and Pandolfi is an understatement. The eight Clark originals display a facility with both lyrics and melodies that rivals any songwriter currently working in bluegrass. His song "Midnight Kisses" combines especially clever visual imagery with a chorus that is more addictive than a box of chocolates.
On the electric CD, Clark plays every instrument except rhythm guitar and bass on one cut. All the songs are also Clark originals, with two versions of his song "Angelyne." The acoustic CD frames it in a swing/hot-picking arrangement while the electric rendition shows how far he can push the song into R&B inflected country, complete with background singers and syncopated handclaps. Clark's singing and guitar playing easily rank with the top big-name country stars like Keith Urban and Brad Paisley. He's simply a monster player, songwriter, singer, and a musical force of prodigious talent who deserves attention.
---
This article originally appeared in VG's Jun. '09 issue.  All copyrights are by the author and Vintage Guitar magazine.  Unauthorized replication or use is strictly prohibited.
---