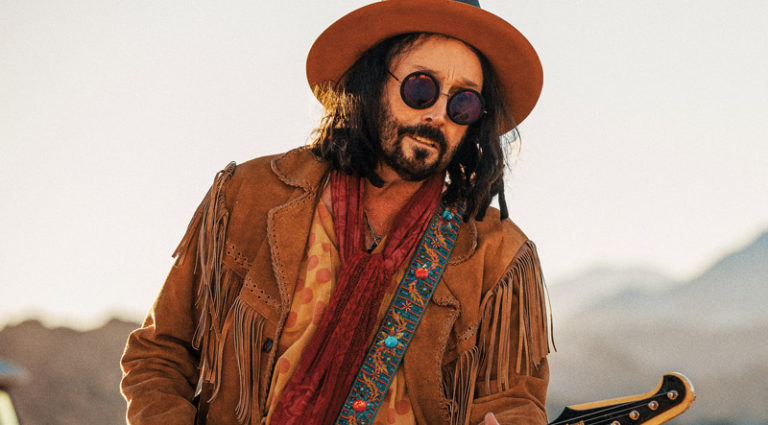 On External Combustion, Mike Campbell pours on the boogie, pens spellbinding ditties, and leans into a live sound. With ancestral links to his former band, Tom Petty and the Heartbreakers, his quartet, The Dirty Knobs, spike L.A. rock and roll with psychedelia and rockabilly. The groove-laden swagger of this album should come as no surprise since Campbell's discography looms large as a hit-making guitar craftsman.
How do you do that thing you do?
When you love something, it usually turns out pretty good (laughs). External Combustion is a continuation of Wreckless Abandon with some similarities. I wanted to keep the live kinetic approach in the studio, some of the solos, and the vocals live on each take. There's some exploratory writing with the lyrics here and there, but The Dirty Knobs is a live band, and I wanted to keep that going.
It seems to have come together because of musical chemistry rather than a master plan.
A lot of that is because of our producer, George Drakoulias. He's done both records and has a keen ear for picking songs that fit together. I write a lot of different types of songs – always have. The Dirty Knobs is a specific type of groove, so he was very helpful going through the songs and saying, "Forget these 20, but these other songs fit the band very well – we should focus on these songs."
Heartbreakers keyboardist Benmont Tench plays on "Lightning Boogie."
We call Benmont "The boy with the boogie-woogie brain (laughs)." He's really got that down. There's something about John Lee Hooker, who invented that feel. It's an infectious feel and permeates a lot of our music, I hope. We cut the track while Benmont was out of town. He came back in at the end of the record and was gracious enough to come over one night and play on that song. He did a great job.
Live, your guitar solos are very fat-free – no noodling.
Thank you (laughs). Sometimes I do think we noodle, but we try to keep it to a minimum. I grew up in the '60s with all those great bands with guitar parts. They weren't noodling – they were playing parts within the song. I was always enamored with that, so that's where I got it from. With The Heartbreakers, that's the kind of band that we were.
What went into recording slide for "Brigitte Bardot?"
That was a Danelectro six-string bass tuned to a wacky low C. I only played on two strings, but it had a tone that was really cool – a lot thicker than a guitar. I thought it came out really good. I have an amp that Duesenberg Berlin Amplifiers made for me that's modeled after a Fender Princeton, but a little beefier. It's a one of a kind, with an extra gain circuit. I have it close-miked under the speaker with a condenser mic to pick up room ambiance. I don't need much reverb because the room is doing it all.
How about other guitars and effects?
The guitars change depending on the mood or what the song calls for. I ended up using my '59 Les Paul most of the time. I don't take it on the road, so I use it as much as I can in the studio. I'm not really a pedal lover, but I have a few – a Way Huge Camel Toe and a Line 6 DL4 Delay I can pre-set for long delay or a rockabilly thing. It also has a reverse delay, which is a cool effect.
Tom Petty fans will appreciate the band's similarities to The Heartbreakers.
I was a big part of the sound of that band. I made a conscious effort with The Dirty Knobs to filter out as much of that as possible. I've succeeded to an extent, but it's just in me. It's the way I play. I think the vocals at times are trying not to sound like Tom, but we have the same cadence and the same accent in places. I'm trying to find my own voice, and I think I am. I take it as a badge of honor because The Heartbreakers were a great band. But I don't want to do a Junior Heartbreakers. The Dirty Knobs are a little edgier and more boogie rock and roll. The Heartbreakers had their sound, and some of it is always going to slip through because that's who am and what I am.
---
This article originally appeared in VG's August 2022 issue. All copyrights are by the author and Vintage Guitar magazine. Unauthorized replication or use is strictly prohibited.;
---