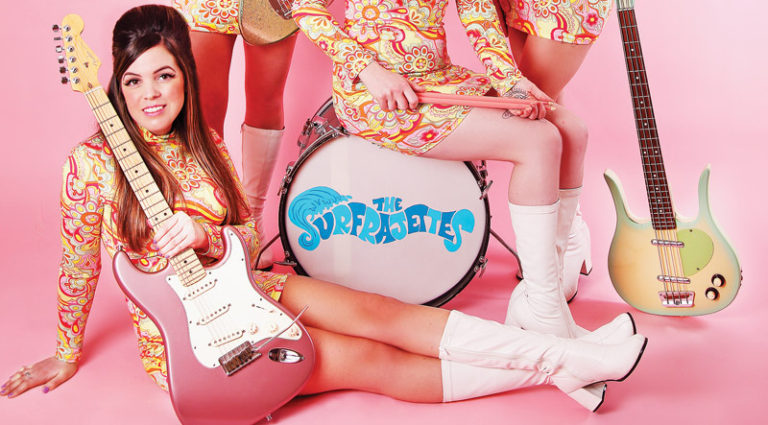 The Surfrajettes delight their fans with the perfect wave of jangly guitars, kooky kitsch, and '60s fashion. After several years touring and releasing singles, their first full album, Roller Fink – a mix of originals and carefully picked covers – has finally rolled ashore. VG caught up with guitarists Shermy and Nicole to talk about their surf planks, reverb tanks, and twangy tones.
What makes the Surfrajettes sound different from a thousand other instrumental bands?
Shermy Freeman: I think we've always tried to write and play what we actually like, versus trying to fit into the "surf" box.
Nicole Damoff: Also, our focus isn't really on shredding solos. We mostly care if the song is good and if it has a melody that will work as an instrumental.
Who plays what on the album?
ND: That's me in the left speaker most of the time. The divvying up of guitar parts happens pretty organically. One of us will say, "Hey, I have this melody or these chords – can you add something to go along with it?" It develops from there.
SF: At this point we also know what everyone's style is and what our strengths are, so parts are pretty much a no-brainer. Also, I'm in the right speaker and our production team has cooked up a secret stereo recipe that sounds extra dreamy.
One cool aspect of "Roxy Roller" is how that chord part is the lead part.
ND: We based our arrangement off of Suzi Quatro's version of the song. I'm playing the background rhythm, which I believe is the keyboard riff in Quatro's arrangement. But it translated quite well to a surfy, palm-muted guitar part.
"Surfer's Slide" has some fancy pickin' and a beat that's ready for a dance party.
ND: That's Shermy doing the fancy picking. We also added a harmony line over the main melody in one of the verses, which is one of my favorite parts about that song. It's a really fun one to play, it's so catchy.
SF: I discovered the original by Richie Allen & the Pacific Surfers a few years ago, and knew it would be a ball to cover. The picking is tricky, for sure.
"Train Kept-A Rollin'" has been covered countless times. How did you make it your own?
ND: We made it our own by adding a ton of reverb, of course. I've loved The Yardbirds' version for years, and our arrangement is almost a direct copy. It's got one of the best guitar riffs of all time and is one of our favorites to play live – we usually close our set with it.
SF: It's definitely a banger and fan fave. My favorite part on the recording is Nicole's "choo-choo" bends.
Blondie's "Heart of Glass" seems like a perfect surf jam. How did you stumble on that idea?
SF: When we first thought of the roller skating concept for the album, our bass player, Sarah, told us how she used to have "Heart of Glass" on vinyl as a kid. She rollerskated around her basement to it. It was fun to pay homage to that.
ND: Initially I wasn't really sure how well it was going to work, but now it's one of my favorite tracks on the album. We kept the disco feel with the bass and drums, but the guitars are pretty dreamy and surfy.
The Surfrajettes are a super-tight band. How do you coordinate parts so you're not stepping on each other's toes.
SF: Everyone is conscious of what others are playing. Additionally, if we do need to play the same chord in a section, we do different inversions, or octaves. Each player needs their time to shine.
ND: Yes, we're good at listening to each other and being aware of how each of our parts should complement the others. Thankfully, there's a lack of ego in this band, and we're all good with sitting back when the song calls for it.
What gear did you use on Roller Fink?
ND: My Strat is the only guitar I used on this album, played mostly through a Fender Excelsior amp. The reverb came from my EHX Canyon pedal. Our guitar tones remained pretty consistent throughout the sessions.
SF: I used my Creston Electric Creature guitar, Fender Excelsior, and SolidGoldFX pedals for reverb, compression, and delay. I also have a '64 blackface Fender Reverb Tank. In the studio, we're also lucky to have use of an original stereo EMT 140 plate reverb from the '60s.
You gotta have reverb for surf, but what's the sweet spot? Is there a point where it's too much?
ND: If there is indeed a point where there's too much reverb, we haven't recognized it yet.
SF: I always double-check to make sure mine is maxxed.
---
This article originally appeared in VG's July 2022 issue. All copyrights are by the author and Vintage Guitar magazine. Unauthorized replication or use is strictly prohibited.