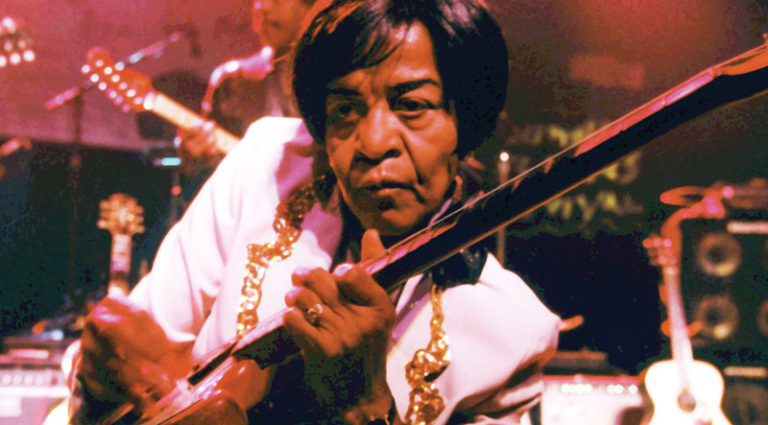 It doesn't happen often, but I still encounter people who think the blues is strictly sad music. I tell them to listen to Hound Dog Taylor's joyful "house-rockin'" blues. Or when guitar players assume that Jimmy Reed's variation is dead simple, I quote Billy Gibbons from the January '19 VG cover story. "I hate it when I hear people talk about blues being mindlessly simple, just three chords," Rev. Willy stated. "Then you really listen to Jimmy Reed, and it's three gazillion chords."
I've lately heard four captivating releases as different as night and day, demonstrating just some of the blues' many hues.
Ryan Lee Crosby studied Indian and African music, but was also mentored by Jimmy "Duck" Holmes, in the elder's Bentonia style of blues, emanating from that part of Mississippi. On Winter Hill Blues, Crosby's droning pulse is often hypnotic. "Was It The Devil?" and "Going To Bentonia" are sung falsetto, recalling the town's native blues legend, Skip James, while "Institution Blues" rocks a new wrinkle on the oft-used riff from Jimmy Cobbs' "You Don't Love Me." Crosby's distorted electric is backed by drums and bass, while "Slow Down" is played solo on acoustic 12-string.
"Wish I Was In Heaven Sitting Down" has been recorded by artists ranging from Fred McDowell and R.L. Burnside to Charlie Parr and Lisa Mills. Crosby delivers a fine lap-slide version, most reminiscent of Rev. Robert Wilkins' recording.
Nashville studio stalwart Kenny Greenberg has played Music City sessions from Toby Keith to Donny and Marie Osmond. But he's also colored outside the country lines, working with Joan Baez and Etta James, Bob Seger, and Buddy Guy. Blues For Arash began life with Greenberg writing soundtrack music for a film that didn't materialize. When it didn't see the light of day, he thought the music would make a strong solo album on its own – and a wise decision it was.
"The Citadel" showcases Greenberg's electric slide (on a '62 SG or DePinto Galaxie) – equal parts blues and Middle Eastern, atop a quasi-African rhythm. Juldeh Camara of Robert Plant's Sensational Space Shifters plays one-string West African fiddle on "Nairobi, Mississippi," in call and response with Greenberg's resophonic bottlenecking and fellow Space Shifter Justin Adams' percussion underpinning. But the straight-up shuffle "Just Because I Can" lands back on familiar ground, in what Kenny accurately describes as "sort of Elmore James meets the Fabulous Thunderbirds."
The two vocal tunes, "Memphis Style" and "Ain't Got Me," spotlight deep-voiced Wally Wilson, Greenberg's collaborator and co-producer. It's a safe assumption that Greenberg's would-be soundtrack would've provided evocative music for the film that wasn't, but it stands tall as a self-contained album.
Beverly "Guitar" Watkins passed away in 2019 at the age of 80, but thankfully not before the Music Maker Foundation, which helps artists in need with living and medical expenses as well as gigs and recordings, produced her first solo album, Back In Business. But her career went back to the '50s, when she was hired by Atlanta-based Piano Red while she was still in high school. In 1962, as Dr. Feelgood & the Interns, Red recorded "Mr. Moonlight" with Watkins on guitar – to be covered by the Beatles two years later.
Known for playing guitar behind her head, Watkins gets plenty of bite out of a Fender Mustang on the live In Paris. Her singing ranges from a growl to soft and mellow, as on "Melody Cruise," a reworking of "Mr. Moonlight." She will be sorely missed.
Full disclosure regarding the next album: I was hired to write liner notes for Strange Time Blues by HowellDevine, and I confess I'd never heard of the trio before – rather embarrassing since this is their fifth outing. Two previous efforts were, in fact, released by the Arhoolie label. Its legendary head, Chris Strachwitz, remarked that their pitch was the first in years that he listened to from beginning to end, and artists singing the San Francisco-based group's praises include Bonnie Raitt and Elvin Bishop.
Collectively, guitarist/vocalist Joshua Howell, drummer Pete Devine, and upright bassist Joe Kyle, Jr. fall somewhere between country blues and electrified jug-band, between Chicago blues and jam-band. For instance, "East St. Louis" starts with the bottleneck riff from Fred McDowell's original version, backed by brushes before Devine picks up the rhythm and Kyle alternately plucks and bows; it's a study of theme and variation, of dynamics.
There are covers of Muddy Waters ("Long Distance Call"), Blind Boy Fuller ("Untrue Blues"), R.L. Burnside ("Long-Haired Doney"), and Rev. Robert Wilkins' "That's No Way To Get Along," a.k.a. "Prodigal Son." "When The Levee Breaks" ignores Led Zeppelin and goes back to the source, Kansas Joe and Memphis Minnie.
But like some topical blues classics, Howell's somber "Smoke" deals with the wildfires in California, and the instrumental "Strange Time Meltdown" combines funky beats, jazzy harmony, and even a wah pedal. It dispels any "retro" pigeonhole, just as the blues evades monochromatic brush strokes.
---
This article originally appeared in VG's July 2022 issue. All copyrights are by the author and Vintage Guitar magazine. Unauthorized replication or use is strictly prohibited.