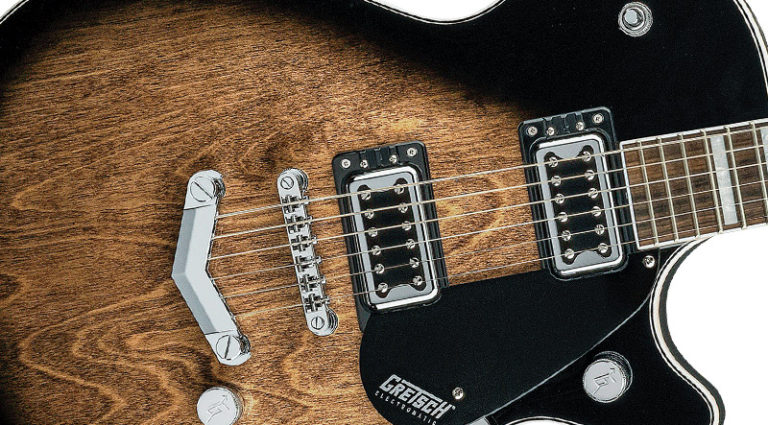 In the days before seven- and eight-string guitars, the easiest way to go low was to grab a baritone guitar. Radio waves and film scores of the '60s were filled with examples of the middle sister of the guitar family – from surf to country to cinematic Westerns.
A rebirth of sorts is in session, and Gretsch's G5260 Electromatic Jet Baritone fits nicely into the traditional role of a baritone, but also offers something for the more-modern role of the baritone – metal. The balance is tricky, but Gretsch has found a pleasing middle ground.
Loaded with Gretsch mini humbuckers (they're not given a clever name), the Jet is remarkably versatile. A little delay and reverb do a serviceable job of re-creating the spaghetti Western-sound; add some tremolo and you're surfing. The mini humbuckers don't seem to have the output to really match the drive of a modern metal sound – some experimenting is likely in order.
With a 29.75″ scale length, the G5260 actually matches up with the Bass VI scale instead of the typical baritone. Out of the box, the .014-.072 strings tuned B to B feel a little stiff. There's room for lighter strings – and there's also room to go very low with the factory gauge. Our tester handled G to G tuning without issue.
The setup was comfortable; fit and finish on the mahogany body/maple neck were impeccable, with nicely manicured fret ends. And while its price is mid-range, it certainly doesn't look, feel, or play like a budget instrument.
One downside of the mini humbuckers is that the options for replacement are limited or require a rout. Another potential hang-up is the extra-long scale length, which may present a learning curve. And at nine pounds, this guitar isn't hefty, but it's definitely a bit of a chunk.
On balance, Gretsch has done a fine job of producing an affordable, versatile, and stylish baritone that can be appreciated by a wide swath of players looking to go low.
---
This article originally appeared in VG's July 2022 issue. All copyrights are by the author and Vintage Guitar magazine. Unauthorized replication or use is strictly prohibited.