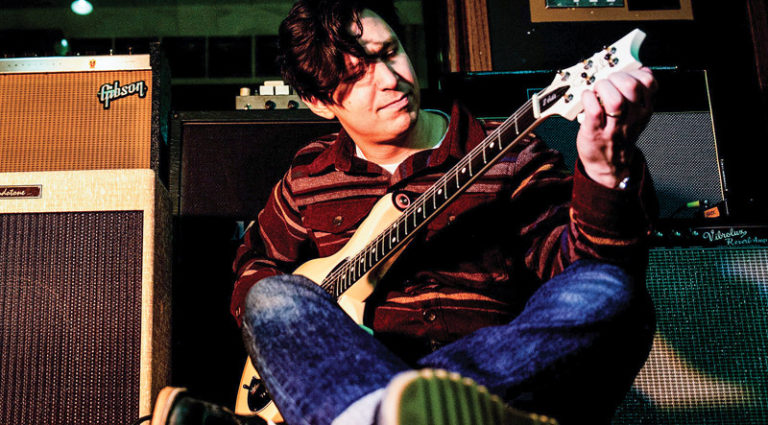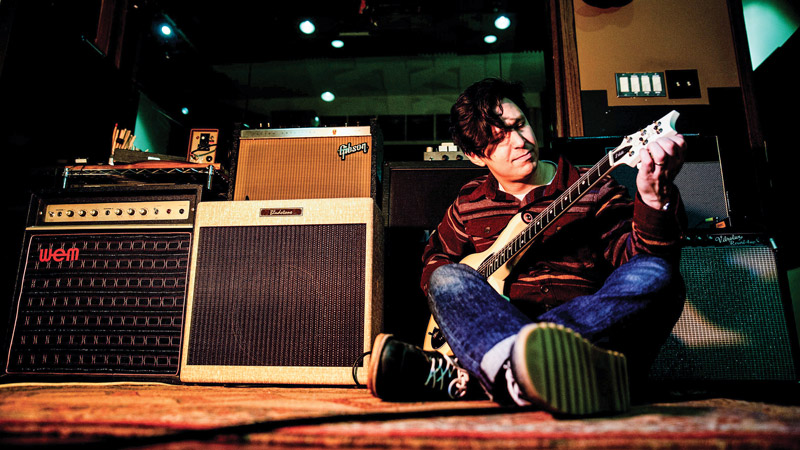 The Isle Of Man, which sits in the middle of the Irish Sea, measures 15 by 30 miles. The quaint Manx country's claims to fame are the annual TT motorcycle races, the largest working waterwheel in the world, and being the birthplace of the Gibb brothers before they moved to Australia and became the Bee Gees.
Then came Davy Knowles, who Peter Frampton called "the gunslinger guitarist of the 21st century." Following two albums with Back Door Slam, which he formed at age 15, the 35-year-old blues guitarist and singer/songwriter's third solo effort, What Happens Next, ranges from the self-described "chugging low-end riff" of "Heartbreak Or Nothing" (think Bad Company) to the acoustic melodicism of "If I Ever Meet My Maker."
Growing up in such a small country, what type of music were you exposed to?
Like most kids, you have to have a host. My dad played guitar a little – folk things. But I heard his British blues records like Peter Green's Fleetwood Mac and the "Beano" album by John Mayall with Eric Clapton. It was Dire Straits that did it for me. I think "Sultans Of Swing" was kind of the epiphany. Mark Knopfler's playing was so melodic. You couldn't separate his voice from the guitar; it weaves in and out. The sound was so magical. I didn't use a pick for the longest time because I wanted to be Mark Knopfler.
My older sister, a wonderful music fan, too, introduced me to the Laurel Canyon kind of songwriters like Joni Mitchell and Crosby, Stills And Nash. But I was listening to acoustic folk by Bert Jansch, John Renbourn, and Davey Graham. I feel they're overlooked – that whole style. Paul Brady is another; he's known for songwriting, but if you try to learn his style, you'll find it's full of this Irish ornamentation.
What about older American blues players?
Absolutely, especially country blues like Mississippi John Hurt and Mance Lipscomb. A lot of the folk guys back home… if you listen to Ralph McTell, all of that bluesy American folk is there. He's fantastic.
Was there much live music for you to see?
We didn't really get big acts, but I think the local music scene on the Isle Of Man is exceptional. The pub scene was bustling, and there were great musicians of every kind. If you wanted punk or blues, too. I was into loud electric-blues guitar like Bluesbreakers and Cream, which seemed very exotic and American and far-off. If something's right in front of your nose, like traditional music and fiddle tunes were to me, you kind of dismiss it. Then I heard Rory Gallagher, who absorbed all of that. I don't think he'd studied it, particularly; it was part of his DNA. He was playing these real aggressive guitar parts, but there was something undeniably Celtic in the inflections and the triplets he leaned on. It sounded to me like a jig or a reel, but in this wild electric-guitar moment. It was a revelation. I didn't realize that was possible to marry these two worlds together. I learned to appreciate my own culture.
What are your main guitars and amps?
I love the PRS Vela. It's kind of a cross between an SG and a Telecaster, and it's a dream come true, working with the people there. Their instruments are spectacular.
I've never been much of a gear hoarder. Everything has to really serve a purpose or it gets moved on. I have a '66 Telecaster – one of those things I can't put down. There's a certain thickness to the notes, which sounds strange when you're talking about a Telecaster, but that's the best word I can think of. My first real electric guitar was a made-in-Mexico Telecaster I still have and love.
I own two amplifiers. Bludotone made a signature model because I used one of their Dumble-y things. It's a 30-watt combo, a little bit spikier than a Dumble, with a Celestion Creamback 12. The other amp is a PRS two-channel, 50-watt head. It's in my home studio, for songwriting and demos, because I can get lots of different sounds out of it.
On the new album, was it a conscious effort to not have a lot of long solos?
Yes, I feel like I've explored that on previous albums. And sometimes I get sick of hearing myself (laughs). I wanted things to be more concise and to the point. I've always felt like a guitar solo is totally useless if the song you're playing it in is crap. You've got to prioritize what's more important; showing off how well you've practiced, or is it a piece of music? Eric Corne, the producer, is not a traditionalist – not, "Let's make it sound like it was recorded in 1970." He's got a modern edge, and that's what we wanted. He did a cracking job.
Live is a different animal; it's "Let's see where it takes us."
---
This article originally appeared in VG's July 2022 issue. All copyrights are by the author and Vintage Guitar magazine. Unauthorized replication or use is strictly prohibited.