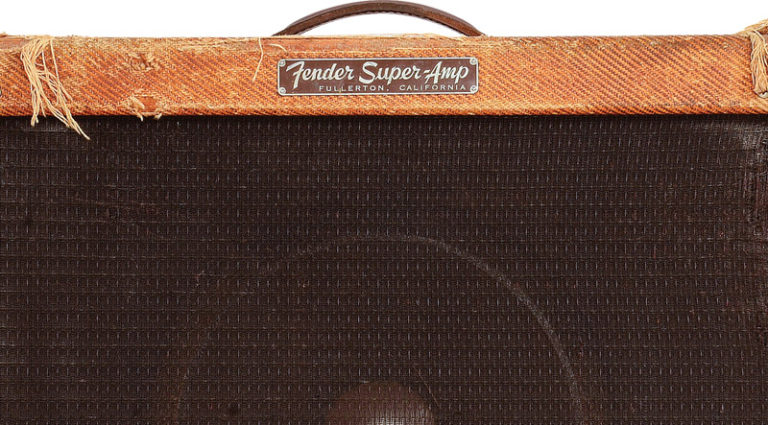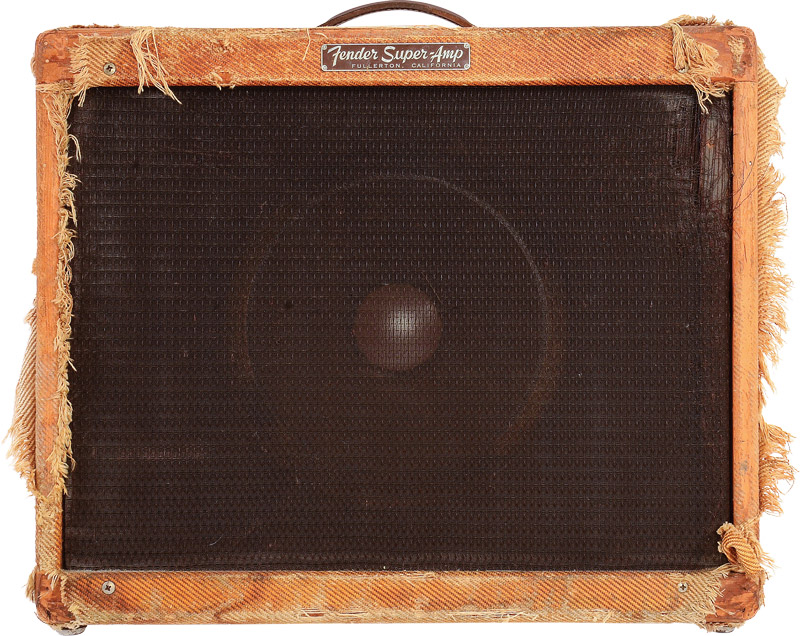 Plenty of vintage amps have made it into these pages on their own merits. But when a hallowed creation also has a fun artist-related history – like this road-worn 1957 Fender Super Amp formerly owned by Dwight Twilley and used by his lead guitarist, Bill Pitcock, IV – It adds a dimension to the tale.
Legend has it the 2×10″ Super was Leo Fender's personal favorite combo during the tweed era of the mid/late '50s. The combination of two (or more) 10″ speakers sure has proven a sweet partnership for Fender's vintage circuits, in several combinations, and the Super also hit a format that was just right for many players: compact enough to be portable, powerful enough to cut it on larger stages. That, and it proved perfect for attaining that cranked-tweed sweet spot for rockers in later years when the excessive volume of a 5F6-A Bassman or a Twin was to be avoided. So, what happens when you pull that essential 2×10″ complement and stuff the amp with a single, more efficient and more powerful 12″ Altec speaker?
"Rick Potter told me, 'This is the best amp I've ever heard!'," says this Super's current owner, John Southern, relaying the edict of the late amp tech when he worked on it in 2001.
Southern and Twilley attended high-school together in Tulsa, Twilley a senior in 1970, when Southern was a junior, playing in local bands that shared many musicians from the same crowd. As Twilley headed west to L.A. chasing the success he'd eventually attain, Southern followed his own stars, kept playing, and hung on in Tulsa. Drawn to amp collecting, he found a good local tech in Potter, who worked on Twilley's amps when the star was back in town.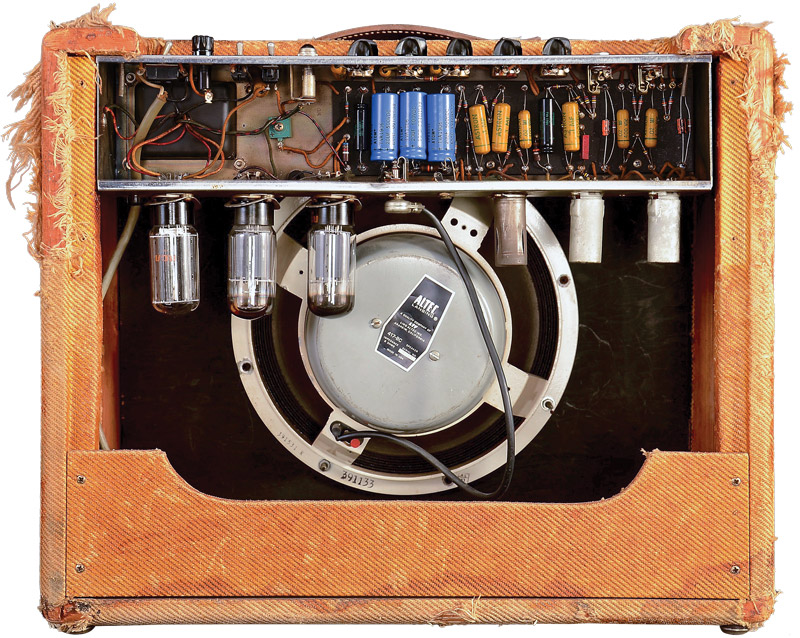 "One day, I was at Potter's when he was putting filter caps in Dwight's Super, and when he said it was the best-sounding amp he'd ever heard, to me that meant the worst-sounding – distorted, heavy metal rock-and-frickin'-roll monster sound. All my amps had been Twin Reverbs and Super Reverbs back in the '60s, when we were trying to get rid of natural distortion in an amp. This one did not get rid of any distortion… and Potter told me Twilley was wanting to sell it."
Southern worked out a price with the artist, and upon handing over the cash was given a letter by Twilley verifying his ownership and mentioning some of the recordings the amp had been used on, including "Scuba Divers," "Jungle," and Twilley's 1984 comeback hit "Girls." The latter featured Twilley's pal and former Shelter Records stablemate Tom Petty on the call-and-response vocal in the chorus, and also launched a popular video in MTV's heyday – likely thanks to the subject matter.
The amp is a doozy of a road warrior, with severely frayed tweed on the finger-jointed, solid-pine cabinet. The result is an "off-the-shoulder" cowboy fringe look in a 65-year-old combo that many would re-cover in a heartbeat; but let's be thankful its owner opted to leave it as-is, and retain its bountiful visual character.
"When I picked up the amp, Rick looked at me seriously and said, 'Leave it alone!'," Southern said. "I knew what he meant. It was raggedy and I liked my amps pristine. But I kept it as it was."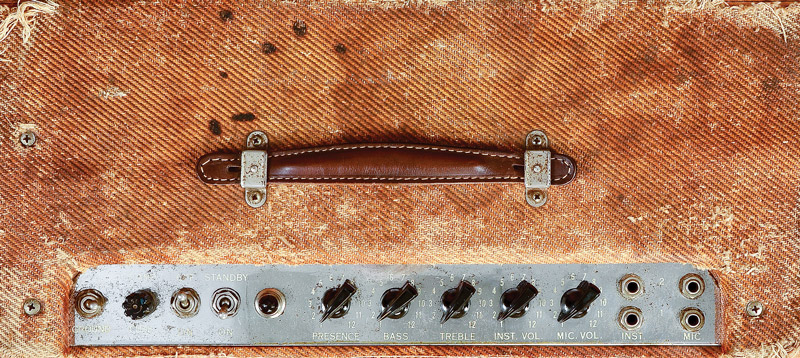 All that being said, the amp still boasts a lot of originality in places that really count other than the aforementioned swapped speaker and the electrolytic capacitors that were replaced just before Southern acquired the thing – a necessity to keep any worthwhile old tube amp in functional condition. In addition to the cabinet, the chassis carries the original Triad transformers and majority of the prized yellow Astron signal capacitors.
Given the 5F4 Super's power-to-size ratio, one or both of the original Jensen P10R or P10Q speakers often bit the dust under higher output loads. This could have been what led to the replacement speaker in this amp – with one fully capable of handling the amp's output, and more – or a previous owner might just have made a sly calculation about the combo's potential with a more-potent speaker onboard. Given its relatively small output transformer compared to the 5F6-A Bassman, dual-6L6 Supers of this era only put out 28 to 35 watts. But that was enough to shred either Jensen when pushed hard, with the P10R of the '50s usually rated at 12 watts and the P10Q at 15 watts, yielding 24 to 30 watts per pair. Yikes.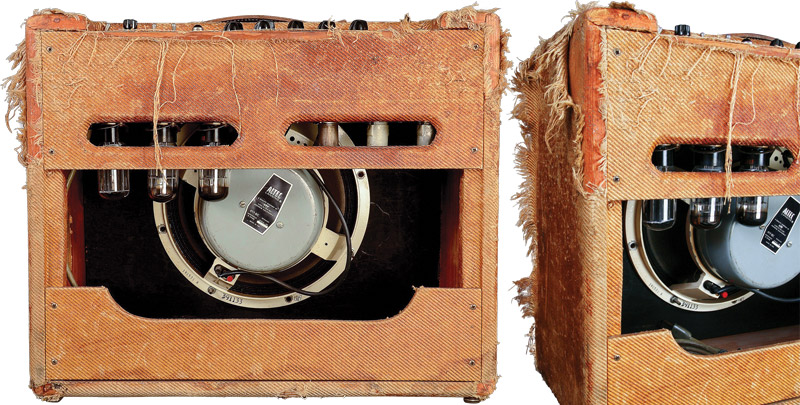 The speaker that took their place here is a 12″ Altec 417-8C with a hefty alnico magnet, a driver rated at 70 watts of power handling and easily able to weather the storm. It's also considered one of the greatest guitar-amp speakers ever made, used by Jerry Garcia, Carlos Santana, and other high-wattage guitar stars. That being said, it's also a relatively efficient, high-fidelity speaker compared to the traditional units found in vintage guitar amps, and makes a crisp, bold, and loud presentation of the juicy tweed goods delivered by the Super.
"I've turned it up to about six and a half, and that was akin to standing next to a jet engine," says Southern. "With the Altec, the amp is deep and punchy, with a lot of natural sag and compression – and tons of sustain. The amp dares you to try and blow that speaker, but I'd need gun-range ear protectors to crank it to 12."
Southern has a pair of '57 Jensen P10Rs and a custom-made 2×10″ baffle with the correct tweed grille to replace the oxblood on the replacement, but hasn't yet had the heart to mount it. And if he did, how long would they survive?
---
This article originally appeared in VG's June 2022 issue. All copyrights are by the author and Vintage Guitar magazine. Unauthorized replication or use is strictly prohibited.