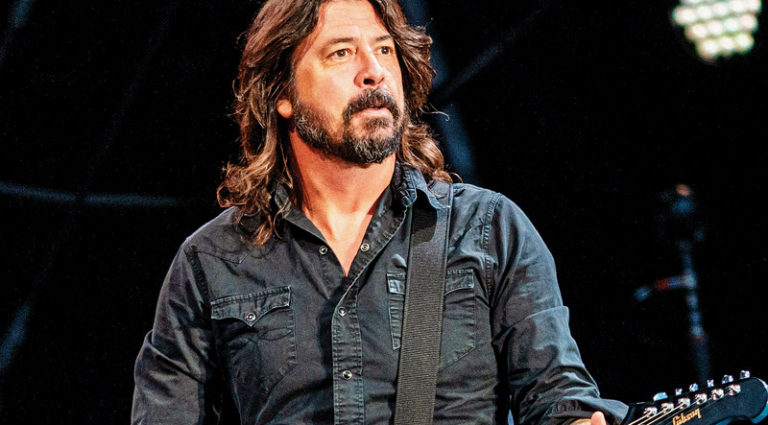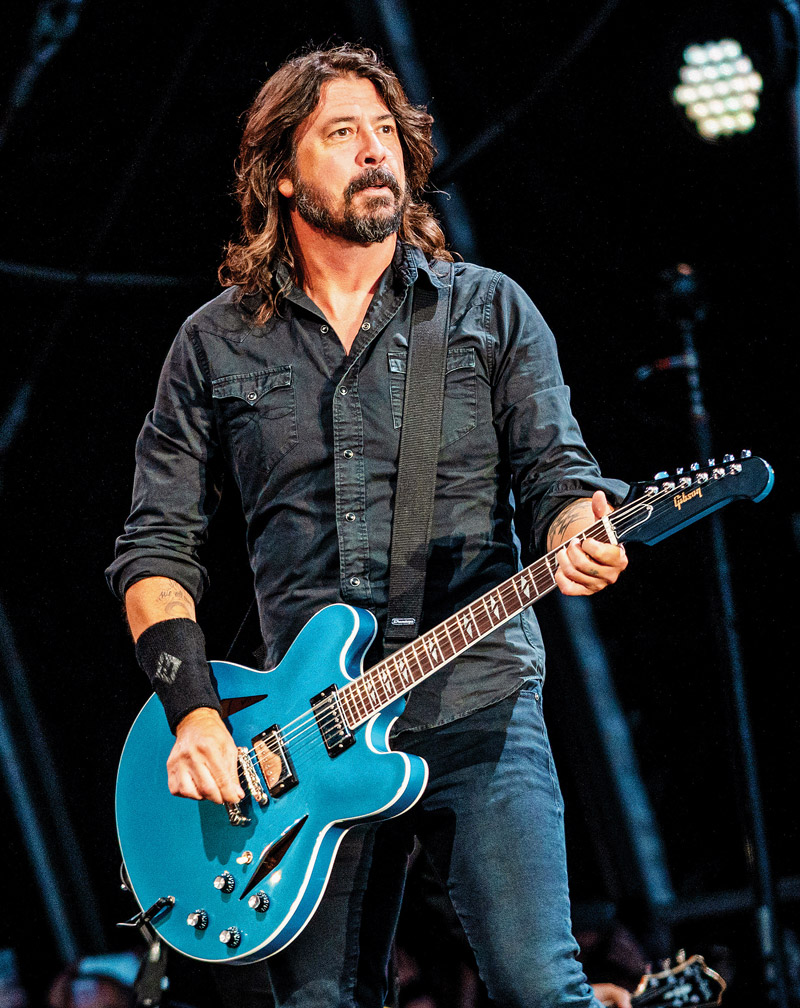 "Alternative rock" – more descriptor than genre – was a reaction to hair bands, technical excess, and pop-metal formulae. It was the sound of the pendulum swinging the other way.
Emerging from punk, college, and "indie" realms, '90s alternative rock celebrated grunge, nu-metal, Britpop, skate punk, emo, and their offshoots. Straddling the lines that separated disparate styles was Dave Grohl, drummer for Nirvana and a singer/composer/guitarist whose Foo Fighters presented the alternative to the alternative, lent it pop cred, and became definitive.
David Eric Grohl was born on January 14, 1969, in Warren, Ohio, and raised in Virginia. He played trombone at age seven, picked up guitar at 10, and by the mid '80s was active in the Washington, D.C. hardcore punk scene; his first band, Freak Baby, found him on guitar, then drums. Influenced by Neil Peart and John Bonham, he grew into a formidable self-taught drummer, playing and recording with local acts Mission Impossible and Dain Bramage. Word reached Iggy Pop, who invited a 17-year-old Grohl to drum with the Stooges. He soon after joined the D.C.-based Scream then subsequently sang and drummed on two studio albums and two live albums, touring Europe in 1990. Several of his originals graced Fumble. He befriended Buzz Osbourne of the Melvins, who brought Kurt Cobain and Krist Novoselic to a Scream show. Dave joined Cobain and Novoselic in Nirvana in time to play on their second album Nevermind. He caught the alternative bug at the '91 Lollapalooza festival, crediting Perry Farrell with inspiring him to pursue the style in addition to punk, metal, and classic rock.
In Nirvana, Grohl blossomed as a songwriter, collaborating with Cobain on "Marigold" and contributed the guitar riff to "Scentless Apprentice" on In Utero. During a three-day session in '94, with Cobain absent, he and Novoselic recorded four songs that would later be presented by Foo Fighters – "Exhausted," "Big Me," "February Stars," and "Butterflies." Plagued with chronic depression, Cobain had by that time turned to heroin and other drugs. On April 5, 1994, he died from a self-inflicted shotgun wound.
After Nirvana, Grohl played drums briefly for Tom Petty, including a spot on "Saturday Night Live," but declined to join the band. Nonetheless, with Petty, he cemented the perception he was a solid and versatile pop/rock musician.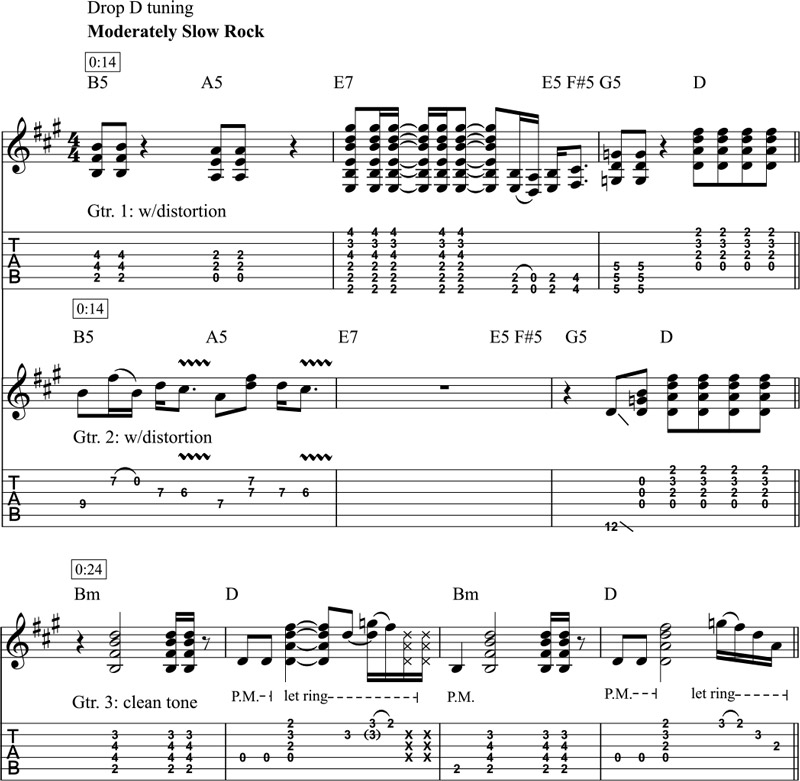 This example from "Hey, Johnny Park!" presents three distinct guitar parts exemplifying the layering in Grohl's orchestral approach. Two distorted guitars in Drop D tuning comprise a solid pop-rock groove in measures 1-3. Note the drum-inspired delivery and mix of power chords and dominant-seventh sonorities of the rhythm-guitar part (Gtr.1). A distorted but melodic lead theme (Gtr. 2) is juxtaposed over the heavy backing. Both converge on the D chord in measure 3 to set up an abrupt change of dynamics from forte to piano and a thinner texture. In measure 4, a clean-toned guitar at a much lower volume defines the verse with simple spacious strums and light arpeggiations.
Alone in his Virginia home studio, he began writing and recording songs, later aided by Barrett Jones at Seattle's Robert Lang Studios. Ultimately, they produced a 15-song demo on which Grohl played every instrument except a guitar part on "X-Static" (which was by Greg Dulli of Afghan Whigs). The project, dubbed Foo Fighters after a secret World War II UFO force, initially handed out to friends, began a bidding war before Gary Gersh, Nirvana's A&R rep and then president of Capitol, signed Grohl to the label. A professionally remixed version of the demo was released in July '95, with "This Is A Call" and "Big Me." Grohl formed an official band with rhythm guitarist Pat Smear, bassist Nate Mendel, and drummer William Goldsmith. At the behest of producer Gil Norton, Grohl played drums on most of the second album as well as handling lead/rhythm guitar and vocals, causing Goldsmith to depart and be replaced by Alanis Morissette alumnus Taylor Hawkins for parts of The Colour And The Shape. Released in May '97, this official debut was an international success and remains their biggest seller, flaunting the hits "Monkey Wrench," "My Hero" and "Everlong," all of which cracked the Top 10.
There Is Nothing Left to Lose (1999), recorded under a new contract with RCA, was the first to completely feature Hawkins accompanying Grohl and Mendel. Documenting greater melodicism, experimentation, and varied textures, it received a Grammy for Best Rock Album, starting a string of Grammy wins for One By One (with guitarist Chris Shiflett and guests Brian May and Gregg Bissonette), Echoes, Silence, Patience & Grace, Wasting Light, and the double-album In Your Honor stretched further into the trademark juxtaposition of distortion-laden hard-rock numbers and gentle acoustic songs, and included guests John Paul Jones, Norah Jones, and Josh Homme.
Foo Fighters' musical evolution and commercial success prevailed right up to the 2021 album Medicine at Midnight, their 10th studio recording and final with Hawkins, who died March 25, 2022.
INFLUENCES
Grohl cites numerous influences including the Beatles, ABBA, Led Zeppelin, Queen, David Bowie, Alice Cooper, the Knack, Bay City Rollers, punk bands like Black Flag, Flipper, Bad Brains, and various '70s glam-rock acts.
STYLE
Grohl's guitar parts function largely as extensions of the music rather than exhibitions of prowess. Though he can fill the traditional role of lead guitarist, he's more likely to use solo spots as textural interludes ("Everlong," "My Hero," "Love Dies Young") or opportunities to re-orchestrate riffs and expand the song's reach ("Best of You" and "Times Like These") or showcase other guitarists (Smear, Shiflett, and Kaki King). Foo Fighters music is unified through his credo of crafting simpler, infectious hard-edged rock with power chording, chiming guitar layers posed on distorted backdrops, textural contrasts, memorable hooks, and thoughtful story lines addressing cultural concerns. He enjoys great sonic diversity within this environment, moving effortlessly through the tones and intentions of melodic rock, post-grunge, power pop, metal, folk, disco, thrash, and punk idioms, sometimes within a song.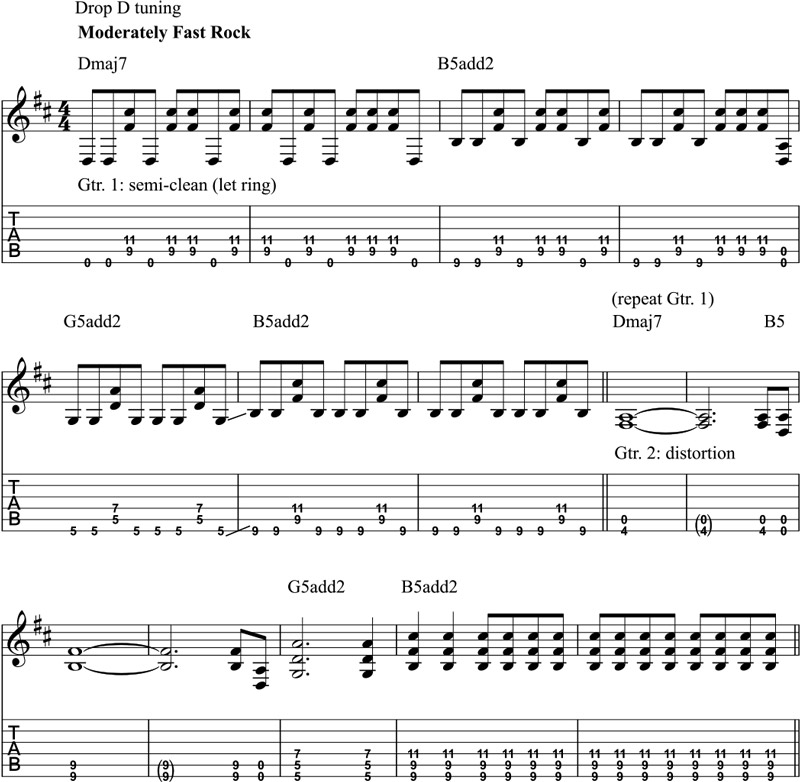 Dave's application of Drop D tuning lends a deeper quality to "Everlong." The intro reveals another aspect of his guitar orchestration. Guitar 1 sets the mood with an unusual seven-bar theme riff of quintal chords (voiced as fifth intervals) played with a semi-clean sound. Note the internal syncopations in the eighth-note pattern and atypical Dmaj7 color employed for a "pretty" effect on the tonic chord. Guitar 2 answers with a distorted part of simple sustaining dyads and power chords.
Eschewing '80s excess, he epitomized the minimalism of grunge and punk, paring arrangements down to rhythmic basics, dynamics, timbral variety, and pop-song structure guided by pop-tunesmith instincts. Moreover, throughout the Foo catalog, his drummer mindset translates to guitar resulting in possibilities unknown to most pickers; he thinks rhythmically, uses space dramatically in figures ("Monkey Wrench"), and employs dynamics in extreme terraced form – sometimes in a single phrase – and sectionally to distinguish song sections. That creativity extends to guitar layering and orchestration epitomized by the guitar parts of "Headwires." He composes unconventional but catchy riffs, often highlighting odd intervals, chromaticism or an unusual dissonant chord, and favors the texture and artistic weirdness of added open strings. The effect is reminiscent of historic pieces like The Who's "I Can See for Miles" and Van Halen's "Ain't Talkin' 'Bout Love," where jangly lead parts decorate power chords. Consider the pre-chorus riff in "The Pretender," which developed as a demo with a droning lead line of fretted notes and open-strings in eighth notes posed against a space-conscious "kick drum" rhythm part. Similar strategies are employed in "My Hero." Another aspect of his orchestration approach finds him playing important rhythm figures and counterpoint lines as octaves instead of chords in "Everlong," "Learn to Fly," "Times Like These," "Rope," and "Breakout."
Dave's guitar style references the spirit of classic rock mannerisms a la the Beatles, Who, Led Zep and others. "Walking After You" sports restrained melodic lines and sliding parallel sixths recalling Help!-era textures, while the fifth-dominated chord sounds in "Everlong" reflect aspects of The Police and new wave. "Big Me" has a country pop/rock mood that wouldn't be out of place on an Eagles album, and "The Pretender" opens with an eerie arpeggiated guitar line hinting at "Stairway to Heaven" mixed with the harmonic ambiguity of "She's So Heavy." Myriad orchestral power-chord sounds (percussive palm-muted, metallic sustained and resonant, rhythmically punctuated and laced with atonal false harmonics) propel "All My Life." The phased guitar and vocal intro in "Breakout" suggest late-'60s psychedelia before lapsing into Grohl's modern power pop. Similarly, "Love Dies Young" harnesses a galloping metal power-chord groove intertwined with melodic rock pre-chorus and money hooks. He occasionally uses Drop D tuning, as in "Hey Johnny Park," "Everlong" and "Monkey Wrench."
ESSENTIAL LISTENING
Foo Fighters Greatest Hits gathers tracks from six albums. Foo Fighters, The Colour and the Shape, There Is Nothing Left to Lose, and Wasting Light are recommended for a deep dive.
ESSENTIAL VIEWING
Notable performances online include live shows from 2021 (L.A. Forum and Madison Square Garden), 2022 (Lollapalooza), and 2008 (Wembley). Also worthy are interviews with Grohl discussing equipment, songwriting, and studiocraft.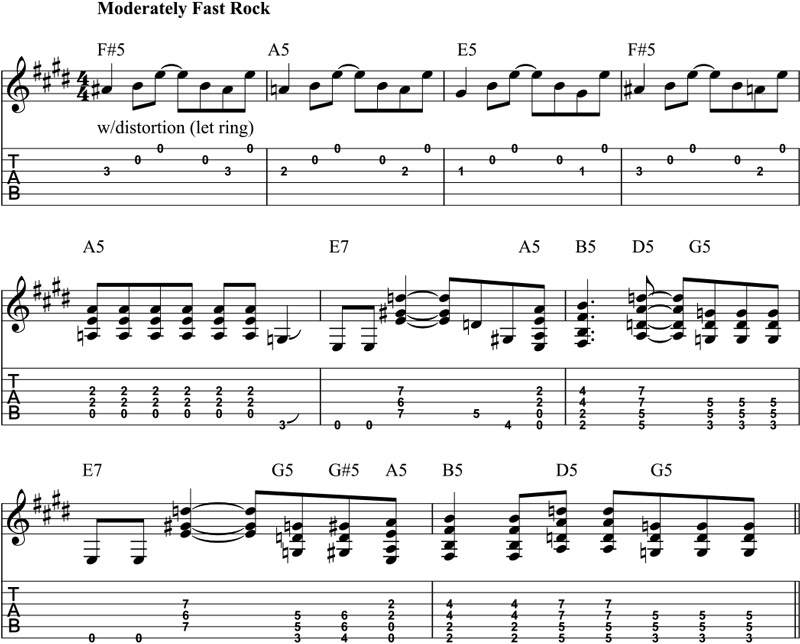 Grohl's penchant for layering is demonstrated in this excerpt from "This is a Call." A chugging power-chord figure in driving eighth notes (expressed in chord symbols) is complemented by a simple jangling though distorted theme in the higher register. Note the sustaining open strings and chromaticism (like a repurposed blues guitar cliché) in measures 1-4. In measure 6, a second riff of dominant-seventh and root-fifth power chords dominates. Check out the inversions used for A5, B5, and D5 voicings – the same type Hendrix used for the heavier effect in "The Wind Cries Mary." Great minds?
SOUND
Grohl favors a mid-'60s Gibson Trini Lopez Standard he purchased in the early '90s, drawn to its diamond-shaped sound holes and Fender-like headstock. His original red one and a second Pelham Blue are the sound of Foo Fighters, and they evolved into the DG-335 signature model with a stop tailpiece replacing the trapeze. Dave has augmented his arsenal with various Gibsons including a black Explorer (main riff of "Headwires" with AC30 and Memory Man), Gretsch Duo Jet (chorus of "Headwires" with AC30 and Rat distortion), SG Standard (in dropped-A tuning for the middle section of "Headwires"), RD Standard, tobacco sunburst Les Paul Standard, white Les Paul Custom, and Les Paul Dale Earnhardt. He has also played a Gretsch White Falcon, '72 Telecaster, Dan Armstrong plexiglass, and Washburn Dime 333 Dimebolt (in side projects Tenacious D and Pick of Destiny). His main acoustic is a Gibson Elvis Presley Dove. Dave strings his electrics with a modified D'Addario EXL 115 set with heavier low E and A (occasionally Dean Markley strings), and sets the action higher to withstand his aggressive attack. He uses a cigarette lighter for slide.
On early Foo Fighters records, Grohl relied on a 100-watt Marshall JCM800 stack. By There is Nothing Left to Lose, he employed a Vox AC30 with 2×12 cab for clean and edgy sounds, and Mesa/Boogie Maverick, Heartbreaker, and four-channel Dual Rectifier Road King 100-watt head with 4×12 (live) for overdriven parts. For live shows, he sometimes turned to a tweed Fender Twin or Custom 100 head. After Wasting Light, his amp array included a 100-watt Fender Tonemaster head and Hot Rod Deluxe.
In early Foo Fighters, Grohl favored a ProCo Turbo Rat distortion pedal, then added a Boss DM-2 analog delay and MXR Micro Amp by the second album. He later preferred the vintage Rat. In the new millennium, he used an EH Deluxe Memory Man (with AC30 for "Breakout") and Q-Tron, Dunlop Heil Talk Box, MXR Phase 90, Boss DM-2 analog and DD-3 digital delays, Xotic Effects EP Booster and Whirlwind A/B selector.
---
Wolf Marshall is the founder and original editor-in-chief of GuitarOne magazine. A respected author and columnist, he has been influential in contemporary music education since the early 1980s. His books include 101 Must-Know Rock Licks, B.B. King: the Definitive Collection, and Best of Jazz Guitar, and a list credits can be found at wolfmarshall.com.
---
This article originally appeared in VG's June 2022 issue. All copyrights are by the author and Vintage Guitar magazine. Unauthorized replication or use is strictly prohibited.