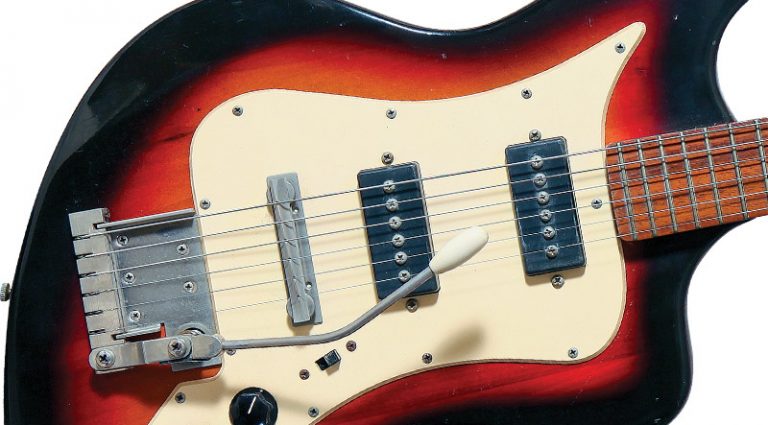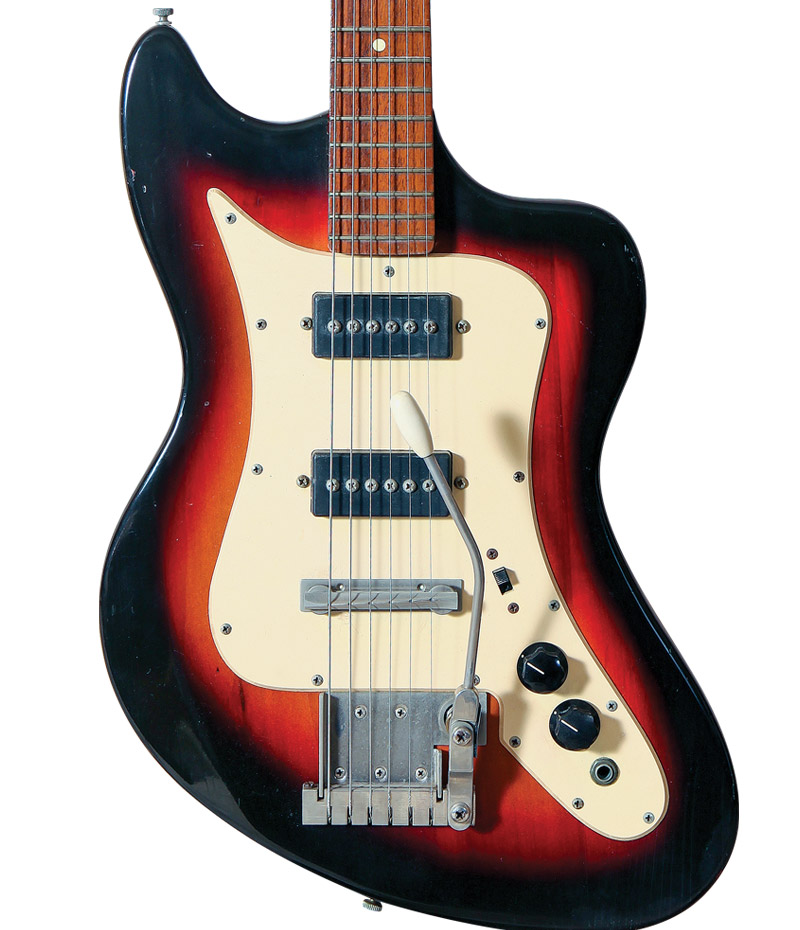 Despite what many enthusiasts believe, there has been only one really significant "lawsuit" that defined a class of guitars – Norlin v. Elger, 1977 – but there have been plenty of other minor legal skirmishes that shaped guitar history. A mere threat may have kept Murph Guitars from becoming a household name.
In 1965, when Patrick Murphy (1920-2009) began Murphy Music Industries, going into the guitar-making business seemed like a no-lose proposition. Following the end of World War II, American soldiers returned to a prosperous landscape filled with jobs. Factories that had tooled to support the war effort converted to producing consumer goods. The new civilians got married and began producing kids. Lots of kids. This was the post-war "baby boom" that commenced in 1946. And one thing you can say about babyboomers was they liked guitars.
Murphy was born in Springfield, Illinois, but grew up in Detroit. He had served as a mechanic in the Pacific Theater and settled in San Fernando, California; he and his wife had five children, Mike, Terry, Tim, Patty, and Noreen. While Murphy did not play music, his children did. In 1963 or '64 one of their guitar teachers, Jim Gurley, suggested Murphy should build guitars and have his children promote them. As a mechanic, he was comfortable around the requisite machinery. This was the genesis of Murph Guitars.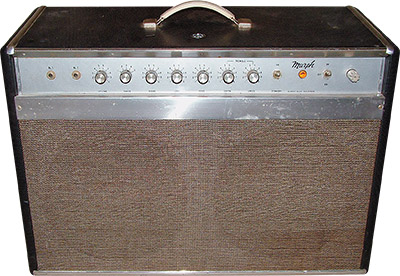 Murphy and an engineer named Rick Geiger assembled the equipment mostly by attending auctions, then set up operations at 1817 First Street, opening in February, 1965. Murphy had intended to call his guitar York, but the brand was already in use, so he settled on Murph. After Murphy and Geiger had a falling out, production was delayed until late '65; Murphy Music Industries had as many as 22 employees (including his entire family) and turned out 50-some instruments – sometimes more – a month.
Jim Gurley's original concept had been realized. Murphy made guitars and his children played in a neighborhood combo, The Murph Juniors. Later, they formed a family act called The Murphys, with some local success.
Murph solidbodies featured three-piece poplar bodies and three-piece Eastern maple necks, though in early '66 that changed to a single piece. They had adjustable truss rods, rosewood fretboards and bridges, Kluson Deluxe tuners, vibratos sourced from C.A. Götz (in Germany), and single-coil pickups made by Murph himself (they have a great mid-range response, great for surf tunes).
Murph's most popular model was the hot-rodded Jazzmaster copy called the Squire. Murphy's wife, Mary Jane, supposedly designed the guitar, which came as the I-T (one pickup, vibrato), II-T, bass, and 12-string. Finishes offered were red, white, blue, Candy Apple Red, and sunburst.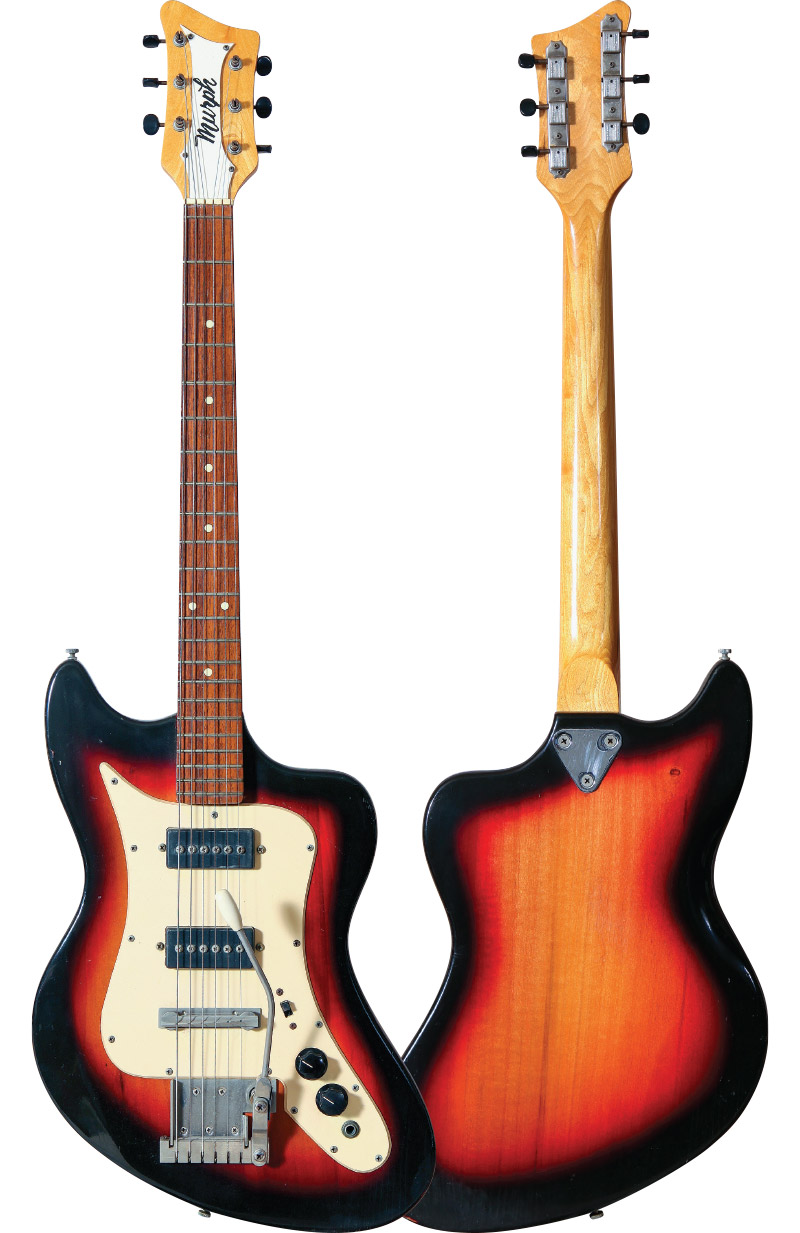 There are other differences that correspond to production changes including a more-squared heel that replaced the larger/rounded original, and a more-pointed tip on the truss cover compared to the earlier/straighter tip. However, almost all Murphs had a serial number stamped either on the heel or neckplate. These are date-encoded beginning with the year – 5 or 6 for '65 or '66 – then followed by a sequential production number.
The Squire does not exude a truly professional air, though they had swell necks – not so slim as a Magnatone, but pretty slim for the era.
Murph's primary output was in Squires, but they had big dreams and made a number of small batches and prototypes of others. Perhaps its most famous model was the heart-shaped Satellite guitar and bass (and prototype "Baby" Satellite for kids) designed by Gurley, who'd become their salesman. These came as six-strings, 12-strings, and bass, in '66. The Westerner was a Squire covered in sparkle vinyl! The Mark II Squire (late 1966) changed the slider pickup-selector switch for a three-way toggle. In mid '66, 25 special models were made for the Califone company, which built PA systems for schools.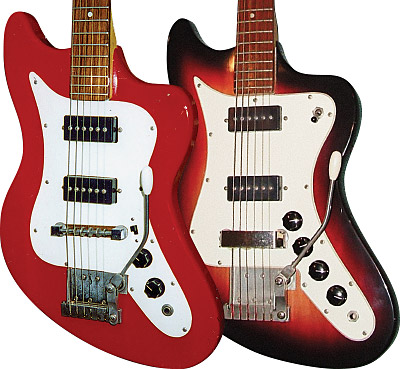 Several semi-solid Squires were made, while other (very) limited models included a Gemini hollowbody, a single-cutaway Continental IV, Tempo I and II, one acoustic guitar, and a solidbody Squire banjo. Murph even sourced an amplifier line from a company in Phoenix, initially tube but later solid-state. Their most curious feature was something called "Splattertone."
Are Murph guitars rare? They were produced from mid '65 (or later) through, at the latest, April of '67 – 20 to 22 months. Doing the math, that means fewer than 2,000 were made, the vast majority being Squires.
In '66, Murphy took a batch of instruments to the summer NAMM show in Chicago, but he didn't bring back many orders. He did catch the attention of Sears, who wanted to sell Squires as Silvertones. However, they'd already spent their allotment and bought only 25.
Unfortunately, about the only thing Murph did accomplish at NAMM was drawing the attention of Fender, which had just been taken over by CBS, whose lawyers sent a letter to Murphy claiming he was infringing on the patent that covered the Jazzmaster and Jaguar. Sound familiar?
Murphy could not afford to take on CBS/Fender, and in March or April of '67, Murphy Music Industries filed for bankruptcy. Murph would not become a household name.
---
This article originally appeared in VG April 2021 issue. All copyrights are by the author and Vintage Guitar magazine. Unauthorized replication or use is strictly prohibited.
---