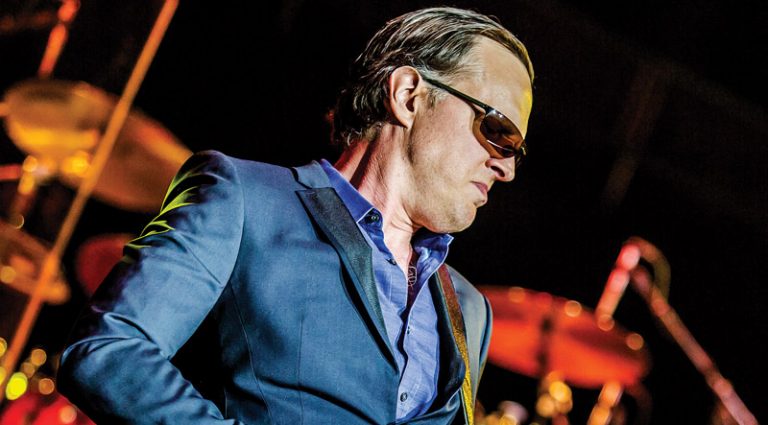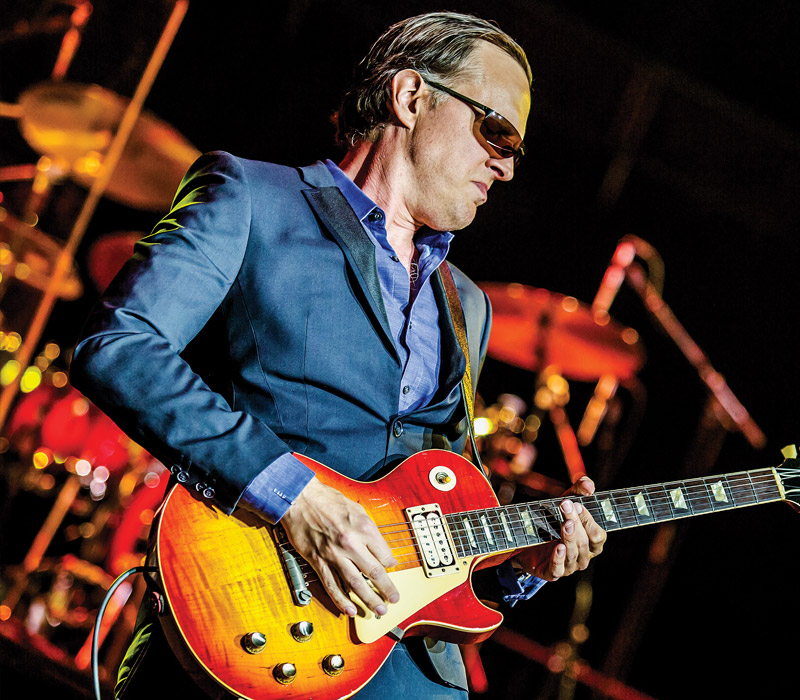 The British effect on American blues is undeniable. From the wicked guitar stylings of Paul Kossoff and Mick Taylor to the supernatural resonance of Peter Green and Gary Moore, the British have pushed the envelope.
Joe Bonamassa's latest record pays homage to those blues-based axe slingers across the pond. Royal Tea was recorded in London at Abbey Road Studios. With assistance from former Whitesnake guitarist Bernie Marsden and Cream lyricist Pete Brown, it's packed with tales of doomed love affairs, cinematic ballads, and pentatonic fire.
You've always had a passion for British blues-rock. Was Royal Tea easy to make?
We decided to go to London to see if being in the town influenced our sound. That was our mission statement. We hatched the idea at a Ginger Baker session about a year prior. I had just come out of a long-term relationship and had some axes to grind. This is always good for songwriting because I had something to say. The songwriting process didn't bust my balls as much as it normally does, but getting everyone there functioning enough to record an album's worth of music seemed much more difficult than it normally is. It felt like we were cursed. I was ill for a while with some upper-respiratory thing that was odd. But, we persevered.
The title track has a mammoth guitar sound. What were you using?
What I use all depends on my level of boredom or skill. When you see me using the Fender amps, it means I need to hone my chops a little bit more, because they're a little more forgiving. If I stick the two Dumbles in with the two Twins, it means I can play. They're painfully direct and honest. On Royal Tea, I used two Twins, two Dumbles, and a reverb tank miked in a small room. The orchestra recording in the next room asked, "How many guitar players are in that next room?" I don't record at low volumes, I record full tilt just like I play live. The guitar was a Zemaitis from 1977 – non-metal top, so it has a flamey thing. It was custom built and is a double-cutaway. It's an odd-looking fellow, but it kills. I used that and a wah.
What is it about British blues that appeals to you?
I love the fact that these young kids in London, with a lot of competition, discovered the blues through Alexis Korner and John Mayall… and wanted to get to California. That and the naiveté of it all. It was fiery and dangerous. For a lot of us suburban white kids, that was our gateway to discovering who wrote "I Ain't Superstitious"; "Who is Robert Johnson?" "Who is Willie Dixon?" I heard the Jeff Beck Group before I heard Howlin' Wolf and Guitar Slim. Then I went back. "Oh, there's Muddy Waters!" That's what has always intrigued me about British blues. It was a scene that encapsulated American culture in London, imported back to us, which was hiding in plain sight. They had that snarky thing, but they also cut tunes with Little Richard. They amped it up, and they became rock and roll showmen. You watch Mick Jagger emulate Tina Turner, Rod Stewart do his Sam Cooke routine, and you can hear the context in "I Ain't Superstitious" or "Let Me Love You Baby." They're borrowing bits and pieces from everything. 
Your documentary, Guitar Man, gets very personal. Do you regret sharing so much?
If you're going to do a documentary, you have to get personal. You have to be honest. You have to disclose your fears, your vulnerabilities, and your flaws. If you nip-and-tuck everything, it ends up being propaganda. Whether you like me or not, know that if this idiot can make it, you can too. Just figure it out. It's hard work, perseverance, and a willingness to bet on yourself. If you don't bet on yourself, how are you going to convince anybody else to bet on you?
I hear guys say, "I worked in the entertainment business for years, and nobody reached out to me." Well, what are you going to do about it? Nobody reached out to me! My manager and I not only had to bust open doors; we had to build them. Not everybody's journey is the same, but that's how it happens. 
You're an expert in gear acquisition. Any advice?
If you only have $1,000 to spend, find the cleanest, newest Hot Rod DeVille and spend the rest on a Mexican Strat or a Squire. If you start off with a $990 Strat and a $10 amp, you're not going to move any air. You're not going to sound good. I can plug a $150,000 guitar into a s***ty amp, and it's going to sound s***ty right off the bat.
---
This article originally appeared in VG April 2021 issue. All copyrights are by the author and Vintage Guitar magazine. Unauthorized replication or use is strictly prohibited.
---