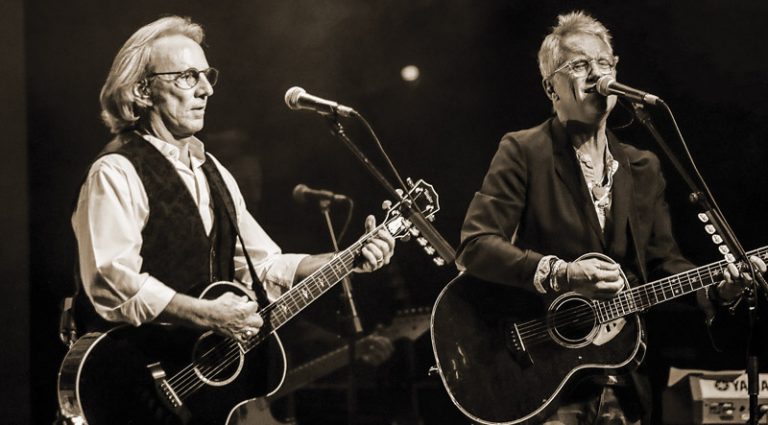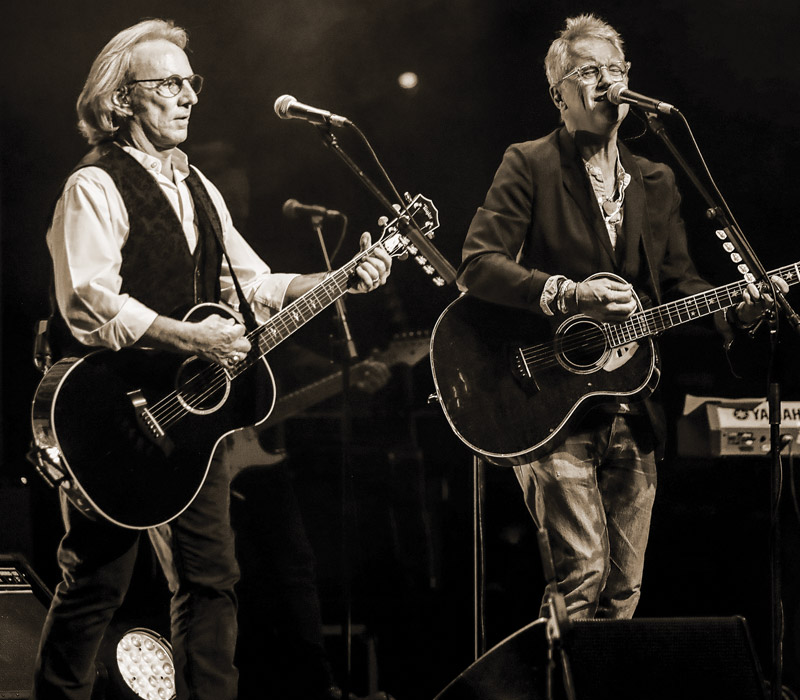 Few bands warrant a career-retrospective box set, let alone two. Then again, most don't keep going after 50 years. America is an exception. Their new eight-disc collection, Half Century, compiles archival material including alternate mixes, demos, rehearsals, unreleased tracks, in-studio performances, radio interviews, and home movies.
The trio of vocalists/guitarists Gerry Beckley, Dewey Bunnell, and Dan Peek (1950-2011) formed in London in 1970 and their debut album, America, was released in 1971. The #1 single "A Horse with No Name" was added to a re-release of the album, which then topped the charts; "I Need You" hit the Top 10.
America won the 1972 Grammy for Best New Artist and followed with a string of best-selling albums and hit singles including "Ventura Highway," "Tin Man," "Lonely People," and another #1, "Sister Golden Hair." 
After Peek left in 1977, Beckley and Bunnell carried on and in the early '80s scored hits with "You Can Do Magic" and "The Border." Their first box set marked the group's 30th anniversary in 2000. 
"I can't remember who first mentioned the idea (of another box set), and though you obviously wouldn't want to do one yearly, 50 years is a true milestone," said Beckley.
"(Producer) Jeff Larson did all the heavy lifting – going through old hard drives, transferring old analog tapes, cassettes, ADATs. We had multi-track stuff on eight-track from home studios and things like that," Bunnell added. "We also had a lot of Super 8 footage on these three-minute reels. I kept a lot of stuff – posters from the gigs, backstage passes, itineraries from the road. I have graphic-y stuff and the visuals. Gerry, on the other hand, because he's a studio guy, had a lot of the audio stuff. We tapped into his hard drives and boxes of tapes."
Going through their archives brought back memories for both guys. Beckley is especially partial to the demos recorded in London in 1970, but Bunnell also loves those tracks.
"I do remember virtually all the songs we've ever recorded," Beckley said. "My favorites are usually the unreleased demos. I'm reminded of the spark that ignited the song." 
"Most artists have a soft spot for the earliest demos of a song," Bunnell added. "There's something lost when you take the demo into the studio and re-cut everything with better mics and technology. You're tainted by that demo that locked the song into your brain. You can never exactly repeat it." 
Those demos highlight the primal power of just human voices and acoustic guitars. How did they come up with their guitar arrangements?
"I always was simply a six-string rhythm player," said Bunnell. "Gerry and Dan would decide who'd play 12-string. Most of the licks, like the very important lick in 'Ventura Highway,' was Gerry, with Dan playing harmony. Gerry plays the solo on 'Riverside' and those earlier songs. We'd jam and do things where we all played single-note stuff. I sing a lot of the leads, so I always concentrated more on vocal parts including harmonies if I didn't sing lead. That was the formula. It really was about the songwriting and getting the songs, the choruses, and lyrics locked in."
Over a five-decade career, Beckley and Bunnell have played countless acoustic and electric guitars.
"That's a much longer topic," said Beckley. "We've used countless models in the studio and onstage. For the last 20 years or so, most of the stage guitars are made for us by Taylor. They're beautifully made and also durable, which is vital for road instruments. Electric guitars are also numerous, though Dewey and I are now often playing Gretsch Duo Jets. I have quite a few Bill Nash custom six- and 12-string electrics, which I also love. My personal locker has over 70 guitars, and I do love to mix it up. None of that could happen without the talents of Travis Jamison, our tech who works endlessly keeping them all playable."
"I've had some nice guitars over the years, and stayed abreast to a degree, but I'm not a super-collector," Bunnell noted. "We made the first album on Yamaha acoustics – FG-180s, I think. Relatively inexpensive, but they sounded good. For acoustics on stage over the years we've gone through Ovation and I played a Guild D-55 for years when we were just miking guitars. Gerry had a beautiful Martin. We had to move on to electrified acoustics and for awhile used Alvarez. Now, we play Taylor Grand Auditoriums, and we've been endorsees for them since they were introduced."
---
This article originally appeared in VG April 2021 issue. All copyrights are by the author and Vintage Guitar magazine. Unauthorized replication or use is strictly prohibited.
---