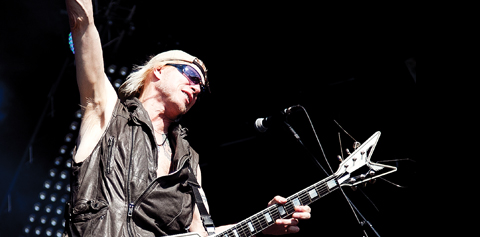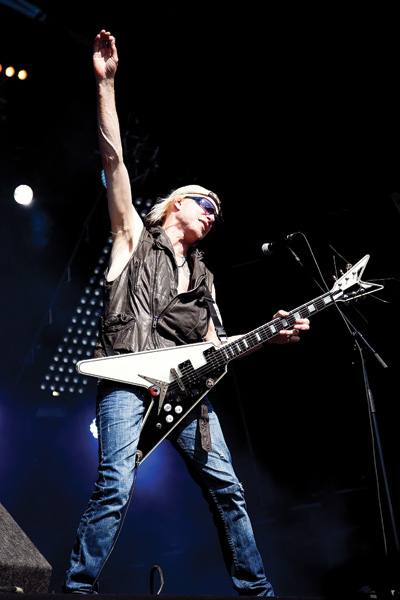 Michael Schenker has had the kind of stormy past that could give Keith Richards a run for his money. He will forever be tied to iconic bands such as The Scorpions, UFO, and The Michael Schenker Group, but he's his own man.
Along with newfound sobriety, Schenker's latest solo album, Temple Of Rock, ushers in a new beginning. It's a very strong effort showcasing epic songs, muscular chops, and the type of guitar tones that have made him a guitar hero for over 30 years. The album also features some of his closest friends – Leslie West, Carmine Appice, Simon Phillips, Rudolf Schenker, Robin McAuley, and William Shatner. VG met with Schenker to get the story.
You're in the middle of a tour right now. How's that going?
It's great. I'm a guitarist and my audience specializes in guitar. I have a critical audience, so I have to come up with the goods (laughs)!
What keeps you inspired to go out on stage night after night?
It's basically the excitement of life itself – being creative, developing, moving forward, and making new discoveries. Life opens up, the world becomes bigger, and surprise is around the corner.
Any artists inspiring you musically right now?
Rather than copying people, which means you're doing more or less the same thing that other people are already doing, I personally like to stay away from music as much as I can. Consuming stuff that's out there is very draining. If my choice is to be creative and stick with my own point of view and express that, I have to stay focused on that.
You don't listen to music from other artists because you want to maintain your originality?
Yes. I have to, because it's draining. I'm not a consumer and there are lots of consumers out there. I create, and consumers consume. If I did both, I don't think I would be doing well.
But you had guitar influences…
Absolutely. When I heard people like Leslie West, Jimmy Page, Eric Clapton, and Jeff Beck, that's when I said, "This is how I would do it… if I knew how!" (laughs) I decided, "I think I understand now how it works, now I'm going to figure out how I would do it."
Temple of Rock has some of your best playing in a long time and features some amazing guests. How did it come together?
It all started with, "Michael, it's time to make an album." I went to Michael Voss and put down the songs I had written. I needed guide vocals, so I asked him to do them. When he was singing, I was like, "S**! You can sing! Do you want to do the album?!" He always wanted to work with me, so we started writing lyrics and working on vocals.
I decided to add musicians from my past, and most were available. Michael did an intro with a voice speaking and I said, "Wow, this sounds great! It would be great if we could find an actor with a big voice." At the same time, I get a phone call asking me to play guitar on William Shatner's album. I said, "That's the guy!" I played on his album, and he spoke on my record, and it went one thing to the next.
Leslie West is on the record.
Leslie played on one of my albums, same with Doogie White and Robin McAuley. Over the past few years, we've been doing little things together. Leslie and I have been doing things for 10 years.
You've been sober for a while. How has it influenced your art?
I'm growing out of all this stuff and I'm becoming stronger. Thankfully there is such a thing as growing out of bad habits because certain things are not needed anymore. I'm very grateful for those kinds of turnarounds. Instead of hard working at torture, life has some great things in store.
Talk a bit about your Dean signature model guitar.
The Dean guitar is great. It's very solid and sings in every fret. I'm not good in technical analyzing, but it's all good. Dean comes up with stuff and I come up with stuff, and they put it all together. I basically approve say, "This is it! I like it!" I don't ask questions about pickups because I don't care. If it sounds good and plays good, let's do it.
What amplifiers are you using?
I'm using the Marshall 2205s. I'm actually working on a Michael Schenker model. I'm just looking for a suitable company. So that's going to be the next big thing for me.
How about effects.
I use a Boss chorus and delay. I use it for a little color on the intros for "Lights Out" and "On And On." I use two of each. One is set with a little less, and one is set with a little bit more, so I only have to switch one in order to get more or less. I also use the Dunlop Dimebag Wah. It has a lot of interesting depths and possibilities to sound bigger, smaller, or more trebly, and it has a boost switch on top. It's really interesting.
What happens next?
I just take it as it comes. I'm very much an in-the-moment person these days – open to all sorts of things, like The Scorpion's farewell tour, which will happen sooner or later. UFO may decide they want to do something in a bigger way and we'll do something together. I'm touring around the world and I have other things coming up that aren't even in my book right now. I take it as it comes.
---
This article originally appeared in VG August 2012 issue. All copyrights are by the author and Vintage Guitar magazine. Unauthorized replication or use is strictly prohibited.
---