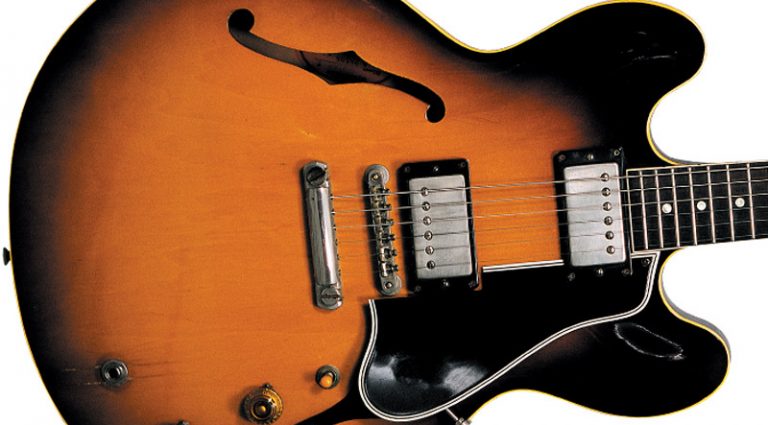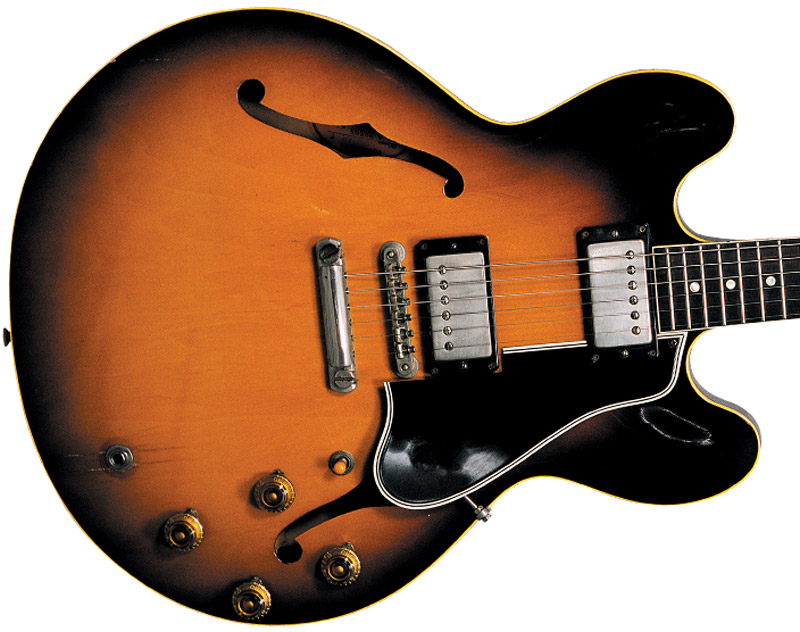 The Redoubtable "Dot-Neck"
Early every guitar conceived or designed by Ted McCarty during his tenure as president of Gibson (1948-'66) is
today seen as exemplary of the company's best work.
McCarty, who launched the Les Paul model in 1952, followed with many more ideas that kept Gibson at the forefront of the industry, especially among jazz, big-band, and blues players. One of the more remarkable spurts of creativity occurred in 1958, when McCarty brought the world the Flying V and the Explorer. But along with these futuristic "failures," that year also saw the introduction of the McCarty-conceived ES-335T – the guitar that would ultimately serve as one of the company's most enduring models, with steady sales through the company's well-publicized ups and downs. And it is still strong today.
A true benchmark, the 335T (the T denoting "thinline") was the result of inspiration derived from the willingness to listen to player complaints about acoustic-electric guitars like the Gibson ES-150, ES-135T, 225T, Byrdland, and others being difficult to amplify at stage-volume levels. McCarty, knowing that certain hollowbody elements did work well, wanted to offer a guitar that resonated like a hollowbody while sustaining like a solidbody and producing high-frequency response somewhere between the jazzer favorite L-5 and the pop-rock-preferred Les Paul. In developing the answer to these evolutionary steps, McCarty and his team invented a new style of guitar – the semi-hollowbody.
The concept was to put hollow "wings" on a solidbody instrument. More precisely, it was based around the use of  a block of maple  glued to the guitar's top and back. The block also served to anchor several key components that made solidbodies superior in terms of sustain and overall tone, including Gibson's stud (a.k.a. stop) tailpiece combination from the Les Paul, along with the company's Tune-O-Matic bridge and spiffy humbucking pickups, which had been introduced in '57. Additionally, it served as the base for Gibson's "solid-fitting" neck joint, which could not be used on true hollowbodies.
Combine all those factors with Gibson's first-ever double-cutaway body shape, and the company had an amalgam that proved immediately and hugely popular priced at $267.50 in standard sunburst finish. In fact, it proved popular enough that by the following year, Gibson was offering upmarket versions called the ES-345 and 355, with fancier hardware and options like stereo wiring, Varitone circuitry, parallelogram or block fretboard inlays, split-diamond peghead inlays, and multi-bound bodies, necks, and headstocks.
Eventually, the 335/semi-hollow double-cutaway shape became Scotch-tape ubiquitous, as today semi-hollow guitars, regardless of their make or detail, are called "335-type" guitars.
Further Facts
In late 1959, the ES-335T's official designation was changed to ES-335TD to reflect its dual-humbucker layout.
In late 1960, Gibson shortened the 335's pickguard, perhaps to bring it in line with the company's hollowbody guitars (except the Byrdland).
By the early '60s, custom-order 335s were being shipped with Bigsby or Vibrola tailpieces, Varitone circuitry, and other features, though none were "official" options.
In 1962, the dot fretboard markers were replaced with pearoloid blocks.
In late 64, the 335's stud tailpiece was changed to a trapeze-style, effectively marking the end of what is today regarded as the "classic" 335 era.
Unbound f-holes play into the utilitarian ethos of the 335.
The stud tailpiece was borrowed from the Les Paul and made possible on the ES-335 by its internal maple block. Other carryover parts include humbucking pickups and the Tune-O-Matic bridge. All hardware is nickel-plated.
The rounded-double-cutaway shape was new to Gibson starting with the 335.
One-piece mahogany neck joins the body at the 19th fret.
Dot fretboard markers were used from the model's inception until '62.
Fretboard is rosewood with 22 frets. Scale length is standard Gibson 24¾".
Tuners were standard Klusons with plastic buttons. These are prone to deterioration over time, so if you find a 335 with the original tuners, the buttons are likely very fragile.
Headstock dressing is basic, with no binding and pearloid logo and crown/"flower pot" inlay.
Input jack is top-mounted.
Pickguard is five-ply plastic with beveled edge.
Pickup selection is handled with the ubiquitous Gibson three-way, which activates the neck pickup or bridge pickup independently, or both of them in the middle position.
Controls are standard Gibson two-pickup arrangement; one Volume and one Tone for each.
As Played By:
Larry Carlton
Eric Clapton
Freddie King
B.B. King
Chuck Berry
Eric Johnson
Alvin Lee
Lee Ritenour
Buddy Guy
Keith Richards
Warren Haynes
Robbie Krieger
Alex Lifeson
John McLaughlin
Clarence "Gatemouth" Brown
And many more…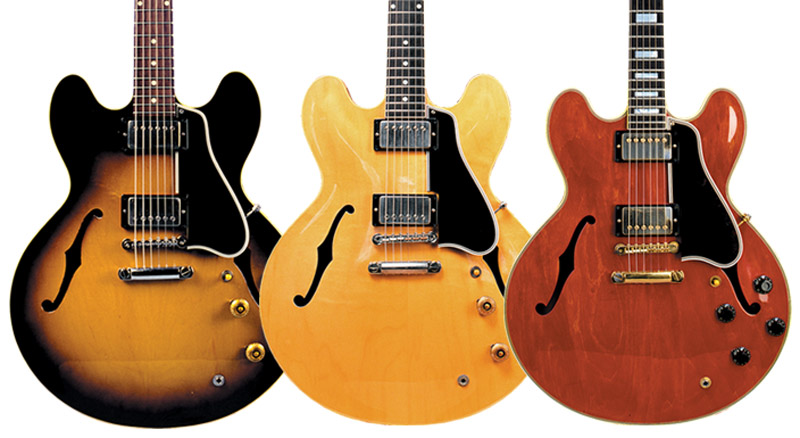 ---
Special thanks to Walter Carter. For more info, check out Gibson Electrics: The Classic Years, by Andre Duchossoir, and Gibson Guitars: 100 Years of an American Icon, by Walter Carter.
This article originally appeared in VG's January 2008 issue. All copyrights are by the author and Vintage Guitar magazine. Unauthorized replication or use is strictly prohibited.
---