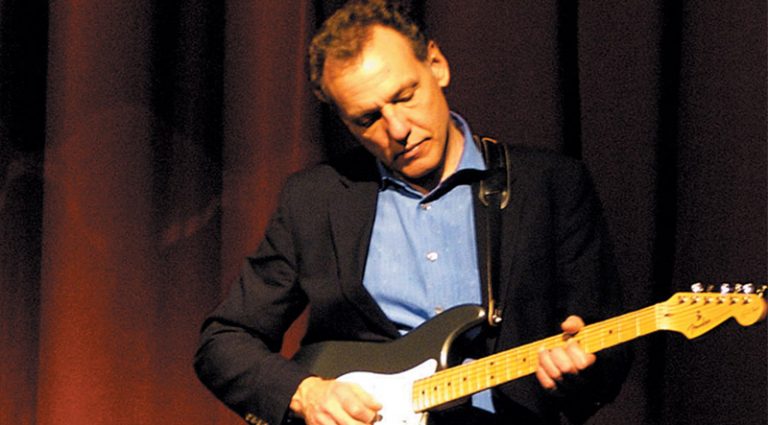 Despite spending three-quarters of his life as a professional musician, singing and playing blistering lead guitar in various groups, until very recently Mark Knoll hadn't done a record full of original recordings. The reason, he says, is pretty simple. "I'm a procrastinator! I've wanted to do an all-original record for years. I've had the opportunity to play so many different gigs and love so many different styles that it took me awhile to figure out that I really needed to focus on what I love the most – guitar-driven rock and blues."
The new release from Knoll, High Time, serves up a good sampling of just that. The guitar is big and bold and right-in-your-face. The sound might bring to mind a mix of Robben Ford, Larry Carlton, and Eric Clapton when they're really thinking guitar.
While there's tons of guitar on the record, Knoll was looking for more. "I listen to a lot of records where I love the guitar playing and grooves, but it's the same old 'Came home this morning, my baby left me' kind of throwaway lyric. So I was going for depth in songcraft, and feel very good about the result."
A good example of how much went into the songwriting is "Fall Blues," a poetic expression of the singer's distaste for autumn with music based on Miles Davis' "All Blues" with a I-VI-II-V at the end. "You just let the music kind of take you places," Knoll said.
Knoll, who has been writing songs for 15 years, has only been performing them for a few. "A lot of the earlier stuff was too personal or not universal enough," he said. "It's a learning process. I think it was Lennon and McCartney who said you've got to write a hundred or 200 songs and throw them away."
Knoll's band includes Michael Pilhofer on drums and Charles Fletcher on bass, and he isn't shy about expressing his luck getting Hammond veteran Ricky Peterson to play. "I was incredibly fortunate. He happened to have a week open between doing a John Mayer tour and a Stevie Nicks tour. His playing is amazing!"
High Time was made at Makoche Recording Studios in Bismarck, North Dakota, where Mark says the room and engineer David Swenson really helped capture the sound he was after. The trip to Bismarck took Knoll back to growing up and playing guitar in bands in neighboring Mandan. Like many, he was in front of the T.V. the night the Beatles played on Ed Sullivan.
"That was it for me," he said. "I was hooked, and my ear has been glued to those fabulous records ever since – the sound of the electric guitar on 'Day Tripper' and 'Nowhere Man'… It seemed almost magical to me."
Eventually, the Beatles led Knoll back to the music of Carl Perkins, Chuck Berry, the Everly Brothers, and Little Richard. Those influences coupled with having an older brother showing him the blues pentatonic scale got him off and running. He spent his teens discovering the blues through bands like the Rolling Stones, Allman Brothers, Johnny Winter, and ZZ Top, and points to a couple of pieces of music as really pointing the way. "I learned the Allman Brothers "You Don't Love Me" note-for-note. Both Duane Allman and Dickey Betts' parts. "Can't You Hear Me Knockin'" by the Stones, too. Those really helped me start digging into where all that old stuff came from."
Knoll moved to Los Angeles in 1977 and attended the Guitar Institute of Technology (now Musicians Institute) during its first year of operation. "That's where I discovered Larry Carlton. I used to watch his quartet at Dante's. He was absolutely blistering – the first guy I ever heard combine bebop lines with that blues passion."
After finishing at GIT, he moved to Minneapolis where he landed a gig with local blues legend, the late Doug Maynard.
"That was a high-profile gig that opened up opportunities for me with local and regional bands like Lamont Cranston and T.C. Jammers. I also had the chance to back lots of oldies acts from Chuck Berry and Little Richard to the Drifters, Platters, and Coasters. So I've had the pleasure of meeting and making friends with lots of interesting music people."
Mark's instruments of choice include a '59 Gibson ES-345 and a '69 Gibson Les Paul goldtop that's been with him for quite awhile. "I bought it new when I was 12, and I put in Schechter mini-humbuckers awhile back." He also has a custom-made Valley Arts offset-double-cutaway he obtained in 1988, and an Eric Clapton signature Fender Strat he really likes because of the versatility offered by its TBX mid-boost pot. His list of amps is sure to please any vintage-sound hound. He uses a late-'50s Fender Champ, a '55 tweed Twin, a '65 Gibson Invader he says is especially nice-sounding with its combination of 12″ and 8″ original Jensen speakers. He also has an early-'70s Ampeg V2 head ("think Stones' Exile On Main Street sound") and a Mesa Boogie Mark IV combo. He has recently started using a Vox Valvetronix AD-60VT modeling amp. "It's the older model with the open back, and it's really handy for gigs that require a lot of tonal versatility and effects. It does a nice model of the tweed Deluxe. So, what I use depends a lot on the gig, and it'll vary." His effects include a Luxury Drive from TC Jauernig that he says, "sounds great with the vintage amps. You can slam the front end of them really hard if you want a little more breakup."
As for the future, Knoll just plans to just keep playing. "I just want to go out and play my guitar." With a laugh, he adds, "I'm gettin' old, you know? There's still plenty of time, but you don't wanna waste any of it."
---
This article originally appeared in VG's Jan. '08 issue. All copyrights are by the author and Vintage Guitar magazine. Unauthorized replication or use is strictly prohibited.
---