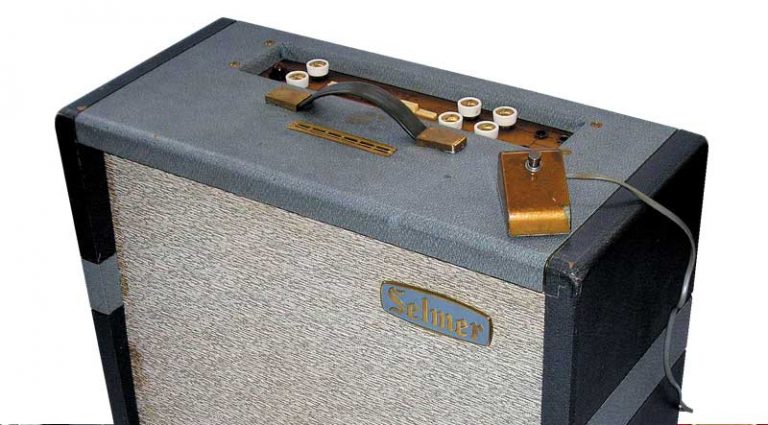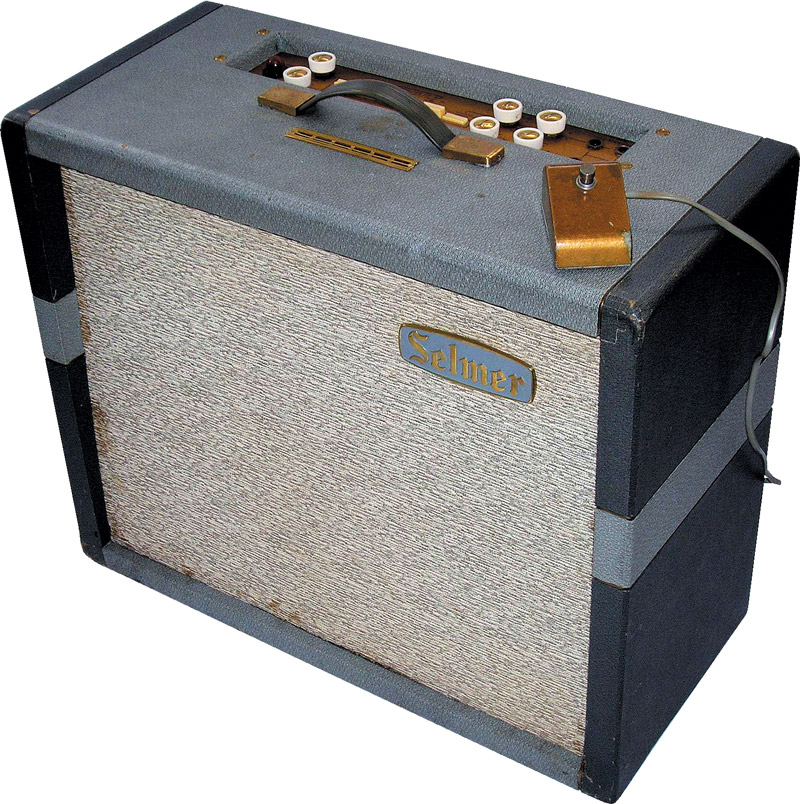 Selmer Truvoice Selectortone Automatic, ca. 1961
Preamp tubes: one ECC83, two EF86
Output tubes: two EL34, cathode-bias
Rectifier: GZ34
Controls: Channel I: Volume, Tone. Channel 2: Volume, Tone, six pushbutton tone selections, tremolo Speed and Depth
Speakers: one 15″ Goodmans speaker
Output: 30 watts RMS
The more one digs into British amps from the formative years of tone – the late 1950s and early '60s – the more one comes to realize that those English engineers really had it going on.
Sure, major U.S. companies like Fender and Gibson laid a lot of the groundwork, and Chicago ampmaker Valco deserves a nod for its many funky models that were rebadged for other brands. But for originality of design and outright sonic virtue, it's hard to beat what the seminal Brits were cranking out, pre-Plexi (and definitely pre-Hiwatt and Orange), in slightly shadowy corners behind the well-lit story of the early years of Vox or how Jim Marshall copied the 5F6A Fender Bassman circuit. Contemplate briefly, if you will, the exotic wonders of Watkins, WEM, Elpico, Fenton-Weill, and – this month's featured artist, the glorious Selmer.
In recent years, the Selmer brand has started to get some of the attention it deserves, partly because of skyrocketing Vox and Marshall prices and collectibility, partly in the wake of Jack White's use of a Selmer Zodiac 30 to record the White Stripes' Elephant album, and partly because people have finally realized just how cool these amps are. Although sometimes ghettoized as a B-list brand, Selmer is far from the Vox wannabe it is too often labeled as being. Many Selmers pack a degree of Vox jangle, crunch, and chime, certainly, while others come close to some Marshall chunk and roar, but they are an entity unto themselves. In fact, Selmer preceded original Vox manufacturer JMI in the instrument amplification business by nearly 20 years, having manufactured PA amplifiers at a premises on Charing Cross Road, London, since the mid 1930s (the RSA and Truvoice names were also used from the mid 1940s into the '50s). By the mid '50s – just as Vox was being founded, and well before Marshall amps were a glimmer in a young drummer's eye – Selmer had moved firmly into guitar amplifiers and was one of the leading amplifier brands in the UK and Europe. Deservedly so, given the many rugged, efficient and great-sounding units that survive in working order today. Before they were lured on to endorse the sexier and better-promoted Vox range, The Beatles, The Animals and The Shadows all made much of their early noise through Selmer combos.
While models like the Thunderbird Twin 30, Zodiac 30, and Treble'n'Bass 50 are more common on the vintage market today, the '61 Truvoice Selectortone Automatic, here in its blue and gray rexine covering, is a prime example of what Selmer's amplifier facility was achieving at the peak of the guitar boom in Great Britain. It's a quality piece of workmanship by any standards, a clever and versatile design, and sounds fantastic for a wide range of playing styles. Rather than the four EL84s that Vox elected to use in the AC30, Selmer employed a pair of EL34s, perhaps a more obvious choice, which produced about 30 watts in this model. The output tubes are cathode-biased with no negative feedback, so they produce that classically rich, harmonically resplendent tone commonly referred to as "class A," but do it a little differently than the archetypal AC30 template, given the EL34's low-end raunch and high-end sizzle, and the wide, full bark of the big ceramic 15″ Goodmans speaker. All in all, it's its own puppy, looks, tone, and design-wise, and a sweet-and-funky little growler for anything from blues to classic Brit-rock to cranked roots-rock in a small-/mid-sized club. It carries a great, sweeping, broad tremolo effect and screams alternative mojo from every angle.

A glance at the control panel tells you right off the bat that this is something different, the six pushbuttons in Channel 2 that inspired the Selectortone name being the most alien feature. A look inside the back of the amp further emphasizes its unusualness. If anything, it's reminiscent of some late-'40s/early-'50s American-made amps that had separate preamp and power amp sections (positioned at the top and bottom of the cab respectively), but the similarity ends there. The preamp section carries an ECC83 (a.k.a. 12AX7) and two EF86 pentodes in a circuit that uses one of the ECC83's two triodes as the first gain stage for each of its two channels, with an EF86 for gain make-up after the tone stage in each channel. Channel 1 has a fairly traditional treble-bleed tone pot, which is also an option in Channel 2's unusual EQ stage (the pushbutton labeled "Rotary Control"), but alongside it are pushbuttons for High Treble, Treble, Medium, Bass, and Contra Bass, which tap a range of capacitors in series with a small choke to provide preset Vari-Tone-like voicing options.
In addition to the duet of EL34s, the power amp section carries another ECC83 (half of which is employed as phase inverter, the other half as tremolo oscillator) and a GZ34 rectifier tube. Although it's a cathode-biased output stage, it's worth noting that the rectifier is feeding a robust 445 volts DC to the grids of the EL34s, give or take a few volts, which makes for a punchy, firm sound, and more potential volume than many contemporary cathode-biased two-EL34 designs, which often tend to run the tubes at a softer and slightly browner 350 to 400 volts. Also, the rugged Partridge output transformer, a make most famous for its use in the classic Hiwatt designs, helps make the most of this potential wattage, being a "firmer" and somewhat more high-fidelity OT than those used in the majority of guitar amps. Be aware that early Selmers weren't wired for U.S. voltages.
Blistering volume, class A chime and dimension, great touch sensitivity and thoroughly original features and styling: the Selmer Truvoice Selectortone Automatic – a real dark horse of a scream machine.
---
Dave Hunter is an American musician and journalist who has worked in both Britain and the U.S. He's a former editor of The Guitar Magazine (UK). This article originally appeared in VG's Jan. '08 issue. All copyrights are by the author and Vintage Guitar magazine. Unauthorized replication or use is strictly prohibited.