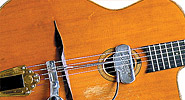 In the 1930s, the quest for volume was the Holy Grail of guitar construction, as guitarists sought instruments to slice through the sound and fury of a jazz band. And when Django Reinhardt began playing his revolutionary jazz, he played it on a revolutionary new jazz guitar.
Django's novel Henri Selmer & Compagnie Modèle Jazz guitar was France's answer. Designed by Italian luthier Mario Maccaferri, it featured techniques borrowed from violin and mandolin construction; the steel strings of a mandolin, a bowed soundboard affixed under pressure, and a unique resonating soundbox hidden within the body to boost volume while retaining tonal purity. Soon, following Django's lead, the Selmer became the jazz guitar of Europe, launching a style as predominant – and widely copied – as Lloyd Loar's Gibson L-5 archtop or Martin's dreadnought.
Mario Maccaferri learned his craft as an apprentice to famed Italian luthier Luigi Mozzani, building violins, mandolins, and Mozzani's own prize creation – an early harp guitar. In 1928, Maccaferri moved to London and set up a lutherie in the back of a furniture shop. Here, he crafted a prototype gut-string guitar. He brought his creation to Ben Davis, manager of the largest instrument shop in Britain, Selmer's London branch. Impressed, Davis introduced Maccaferri to Selmer, who charged ahead to begin production of a range of guitars initially destined just for England.
In '31, Maccaferri established an atelier in a wing of the immense Selmer factory in Mantes-la-Ville, north of Paris, where Selmer also made its clarinets, saxophones, and other wind instruments. Maccaferri designed and fabricated all of the tooling, set up an assembly line, and instructed a team of carpenters in guitar construction. Metal-working machines in the main factory stamped out special brass tailpieces and Maccaferri's novel covered tuners to the luthier's design.
The first Selmer guitars were made in France in 1932 and shipped back to the London branch. By mid '35, the French guitars were finally available in France, and Django played his first riffs on a Selmer. He began using a Selmer-Maccaferri gut-string guitar, but soon Maccaferri launched his louder steel-string version that proved perfect for jazz. With large soundholes (better for projecting sound), these instruments became known as grande bouche guitars – literally, "large mouths." Or better yet, "loud mouths."
Maccaferri's solution to the quest for volume was old-fashioned, yet ingenious. His guitar's soundboard was arched at the bridge with the tailpiece attached to the back, aiding his patented interior soundbox in amplifying volume. This volume was pronounced in the treble registers, giving Django a tone that cut through the powerful voices of accordions and horns – and made it ideal for the era's recording sessions; Django's guitar stood out from the rest of a jazz band's sonority, yet was also sweetened and smoothed by the recording process, sounding clear and warm when reproduced through a phonograph's speaker. In addition, the guitar featured a cutaway on the upper bout, allowing Django easy access to the high frets. And a fretboard extension ran partially over the soundhole, offering a full two-octave range on the high E string alone. Django now had a broader palette of notes under his fingers.
Later in 1936, Django began playing an updated Selmer with a small soundhole and a longer neck with 14 frets to the body, offering him an even greater array of notes. With their elegant oval soundhole, these became known as petite bouche guitars – "small mouths." And it was around this time Django and Henri Selmer joined in a promotional arrangement, likely a handshake agreement whereby Selmer provided Django all the guitars he required in exchange for his endorsement. Django reportedly visited the Selmer shop and tried every guitar as soon as they arrived, choosing the best-sounding ones for himself.
When Django traveled to New York City in 1946 to tour with Duke Ellington, he left his Selmer behind; he believed American luthiers would present him with their guitars like keys to the city. There was no welcome committee, however; Django was forced instead to buy his own Gibson L-5. When Django's manager, Charles Delaunay, arrived a little later carrying Django's guitar, Django swooned over his Selmer while cursing the American guitars: "Mon frère, all the Americans will wish they could play on this guitar!" he told Delaunay. "At least it's got tone, you can hear the chords like you can on the piano. Don't talk to me any more about their casseroles – their 'tinpot' guitars! Listen to this, it speaks like a cathedral!" Artist endorsements have rarely been so vehement and heartfelt.
By the late '40s, there was a new route to volume – electric pickups and amplifiers, both of which arrived in France later than in the United States. French radio engineer Yves Guen and his brother, Jean, unveiled their first guitar pickups in 1946, baptized the Stimer P46 and R46. The 46 Series Stimers may have been prototypes, but they were followed by the real deal – the 1948 S.T.48 pickup and six-watt Stimer M.6 amplifier. These were followed by the S.51 pickup and 10-watt M.10 and 12-watt M.12 amps.
To promote Stimer, the Guens naturally turned to Django. In a 1952 photo session, Django was shown in his Samois-sur-Seine cottage, beaming with joy as he played his new electrified Selmer. He used a similar setup performing with American beboppers – saxmen James Moody and Don Byas and drummer Kenny Clarke – at Paris' Club Saint-Germain. After years pounding out his acoustic jazz with a muscular right wrist, Django must have rejoiced at the glorious ease of this sudden volume, playing his new bebop with a loud, overdriven sound reverberating off the club's stone walls.
---
This profile is an adapted excerpt from Michael Dregni's new book, Gypsy Jazz: In Search of Django Reinhardt and the Soul of Gypsy Swing (Oxford Univerity Press).
---
This article originally appeared in VG's July 2008 issue. All copyrights are by the author and Vintage Guitar magazine. Unauthorized replication or use is strictly prohibited.