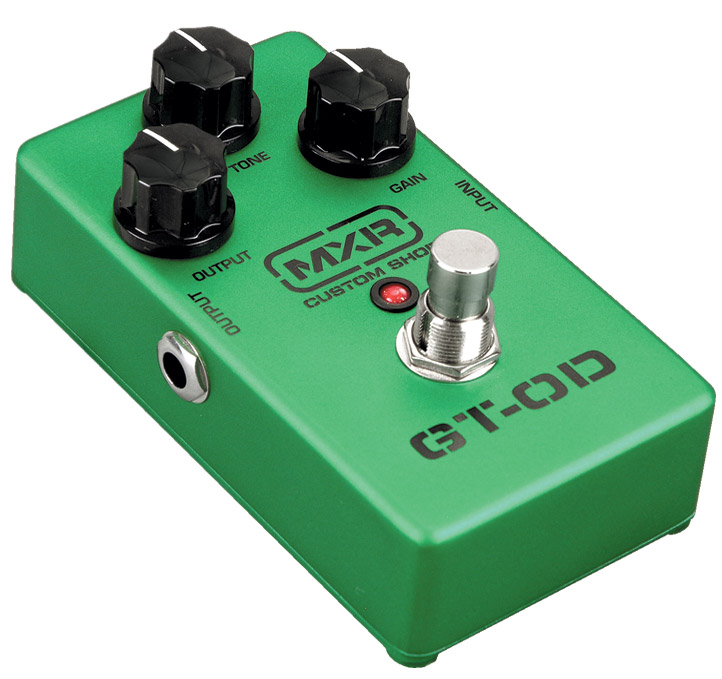 From its early days with the script-logo Distortion + to the modern Zack Wlyde overdrive, MXR has been a mainstay in the overdrive/distortion pedal market for the past 30-plus years.
The latest from MXR/Jim Dunlop is the Custom Shop GT-OD pedal. Housed in MXR's familiar 4.25″ x 2.25″ x 1.25″ heavy-duty die-cast box and finished in a super-cool satin metallic green paint, it features the brand's old-school black-plastic knobs with glow-in-the-dark pointers, chassis-mounted 1/4" in/out jacks, a heavy-duty classic stompswitch with red LED status indicator and circuitboard-mounted 9-volt adaptor jack. Controls on the GT-OD include Output level (overall pedal output when engaged), Tone and Gain (amount of overdrive/distortion).
We taste-tested the GT-OD with a humbucker-loaded PRS SE Singlecut and a Fender '60s reissue Stratocaster plugged into a Koch Twintone II 1×12″ tube combo.
Starting with the GT-ODs Gain and Output controls set between the 7 o'clock and 12 o'clock positions, the pedal offered everything from a transparent, slightly dirty clean boost to a good, solid overdrive with nice, abundant musical overtones. As we set the Gain control between 1 o'clock and 5 o'clock, the pedal produced a slightly more aggressive, but still very color-free, crunchy distortion with an abundance of gain – probably not over-the-top enough for most metal guys, but plenty for most classic rock/blues players. Even when cranked up, the pedal never lost its transparency or added unwanted noise or uncontrollable feedback. The well-voiced Tone control worked very well to compensate for different pickups, taking a bit of the harsh edge of the Strat's single-coils and adding high-end snap to the Singlecut's humbuckers.
The GT-OD also performed well as a solo boost in front of the overdrive channel of the Koch, adding not only a ton of sustain, but some harmonic clarity, making the notes jump out.
---
This article originally appeared in VG's May. '07 issue. All copyrights are by the author and Vintage Guitar magazine. Unauthorized replication or use is strictly prohibited.