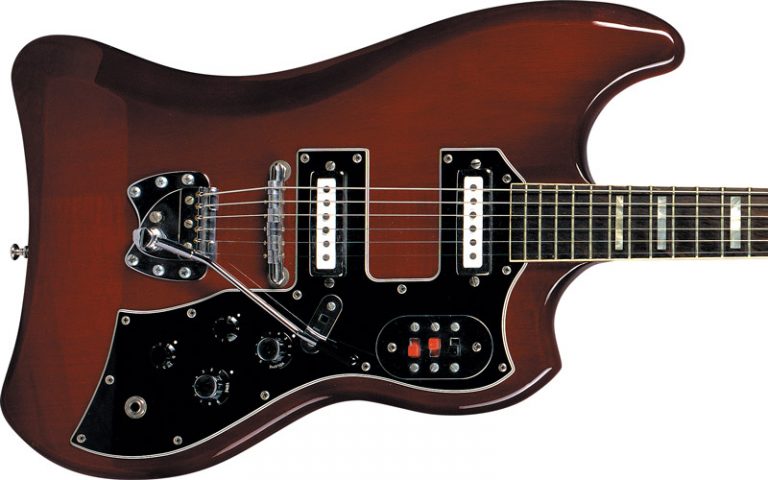 Back in 1958, when Gibson introduced its revolutionary Explorer, Flying V, and mysterious Moderne, the public – rather like Queen Victoria – was not amused. Although a few bold players embraced them, the public apparently wasn't ready for such a radical look.
Which makes it all that much more strange that Guild should introduce a design as radical as the S-200 Thunderbird in 1963, several years before most Americans began hearing reports of widespread use of psychotropic substances. Indeed, it could be argued that Guild Thunderbirds didn't become popular until babyboomers began getting high (though "popular" might be too strong an adjective)! But that doesn't keep the Guild Thunderbird from being a bona fide American guitar classic!
Prior to introducing its first solidbodies, Guild had been known for its acoustic flat-top guitars and jazz archtops favored by notable players such as Johnny Smith ("Walk, Don't Run"), George Barnes, Charlie Byrd (Mark classicals), twangy Duane Eddy, and Richie Havens. The company was created in 1952 by New York jazz guitarist Alfred Dronge from the ruins of the old Epiphone company. Epiphone had labor problems and faced a strike, and rather than yield to worker demands, Epi Stathopoulis closed up shop and moved to Philadelphia, leaving its union labor in New York. In 1957, Stathopoulis sold Epiphone to long-time competitor Gibson, which is how it became Gibson's budget brand. Seeing opportunity in the ready supply of skilled guitarmakers, Dronge started Guild – the choice of names was significant! – employing many of the old Epiphone employees.
After a decade of establishing a reputation for making excellent guitars, Guild decided to get into the solidbody game in 1963 with the Thunderbird S-200, the Polara S-100 and the Jet-Star S-50. At first glance, '63 seemed to be a strange time to introduce solidbodies. Young babyboomers, the driving factor in the demand for instruments, were still heavy into folk music. Bob Dylan and Joan Baez were darlings of the coffeehouse scene. Peter, Paul, and Mary were riding high in the pop charts, although there was this catchy harmonized pop-rock sound from overseas beginning to invade the radio airwaves.
At second glance, the designs of Guild's first solidbodies seem even stranger than the timing. At a time when Fender's flagships were the Jazzmaster and Jaguar, and Gibson's money was on the SG, Guild came up with some guitars that seemed to have more in common with Gumby than the competition! Indeed, Tom Wheeler once described the lopsided Thunderbird as looking like "a melted Hershey bar!" All three of Guild's new solidbodies had glued-in necks, with a groovy asymmetrical "Florentine" headstock design on the Thunderbird and Jet-Star and a reverse six-in-line on the Polara.
While all three of these first Guild solidbodies are interesting, it's the top-of-the-line Thunderbird that usually captures the hearts of most collectors, with good reason. In many ways, it was ahead of its time. Initially, the S-200 was equipped with small Guild "Anti-Hum" humbucking pickups. How long these were used is unknown, but at some point (probably early on) Guild switched to "Frequency Tested" single-coils manufactured by DeArmond, as seen on the guitar shown here. The controls were fairly sophisticated, with two tone circuits, each with its own volume and tone control. These were controlled by a circuit sliding switch that changed from a fatter, rhythmic sound to a more trebly lead sound, each circuit using different-value capacitors. In the down or lead position, another sliding switch activated in or out of phase when both pickups were engaged. This may have been the earliest production guitar with a standard phase switch.
The Thunderbird was also equipped with a version of the Hagstrom knife-edge vibrato. Whether Guild licensed the design and made its own or obtained them from Sweden is unknown.
While the wiring is probably the most interesting feature of the S-200, the part most collectors love is the built-in stand; Thunderbirds had a foot-long, hinged, chrome-plated bar set into the back. Play your set, and when it's time for your break, pop out the bar and set the guitar down on stage… though how much you'd want to trust this little stand with your guitar is another matter!
Before 1964, Guild guitars had a headstock design that was very similar to Gibson's open-book shape. That year, Guild switched to a new center-humped shape for its acoustics and archtops, and at some unknown point close to this, Guild ditched the Florentine head for the new standard shape seen here, possibly as early as '64. We have to be a little vague here because Guild never bothered to change the Florentine art in its catalog through '68, though the majority of Thunderbirds that show up have the standard head. Thunderbirds were available from '63 to '68 in cherry or sunburst finishes.
The downscale Polara and Jet-Star were a little more conservative in shape and sported the "Frequency Tested" DeArmonds, but did not have the fancy electronics or built-in stand. Curiously, the single-pickup Jet-Star put the unit right in the center, rather than at the neck or bridge. A one-pickup Jet-Star Bass, with the Thunderbird shape, was also produced at least from 1965-'67.
Everyday garage-band musicians did not rush out to buy Guild's solidbodies, but there was some curious uptake by pros. Muddy Waters played a Thunderbird on his Electric Mud album. Zal Yanofsky of the Lovin' Spoonful played one, as did Lowell "Banana" Levinger of the Youngbloods. And Jorma Kaukonen played one on Jefferson Airplane's Surrealistic Pillow.
It's not known exactly how many of these early Guild solidbodies were made, but probably not many. Records indicate about 90 Thunderbirds were produced; the serial number on this '66 Thunderbird is SC 120, SC being the Thunderbird prefix. Knowing that 90 are accounted for, this number suggests consecutive numbering that reflects actual production totals. If so, there were probably 30 or so made in '63-'64. Add a few more for '68 and the total output is likely 150 or fewer, qualifying the Guild Thunderbird as being of the rare variety that never really flew. So, even if players never really warmed up to the Guild Thunderbird, they're now prime real estate for collectors.
---
This article originally appeared in VG's November 2006 issue. All copyrights are by the author and Vintage Guitar magazine. Unauthorized replication or use is strictly prohibited.
---
1965 Guild S-200 Thunderbird