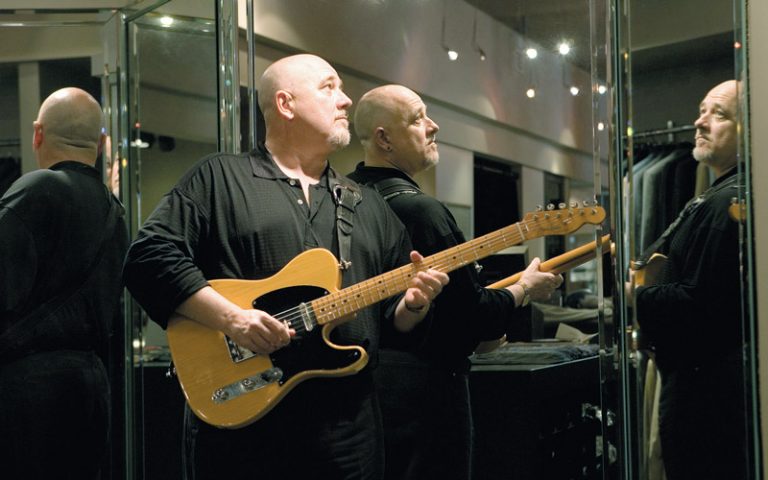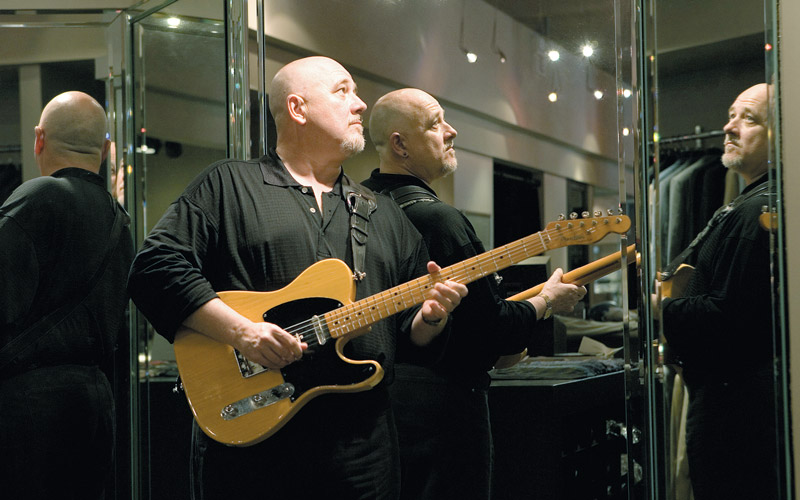 Walter Jr.'s blend of soul, funk, R&B, and everything-in-between never wanders far from home. It's not hard to tell from his accent, his music, and his laid-back style that he's home in Louisiana. "Nobody gets up and boogies like the people from down here."
Born in Mermentau 54 years ago, he ended up in Lafayette in 1966. Being in the area, he says, is important to his music. "I'm passionate about the guitar. I'm in love with it," he said. "And, I love to sing. But the songwriting is the main priority and inspirational thing for me. I've always had the intuitive knowledge that a lot that comes from here in Louisiana."
Walter's two records, the recent Back on the Bayou Road and 1998's Louisiana Soul are potent gumbos, both produced by Johnny Sandlin with lots of Muscle Shoals folks helping out. With a laugh, Walter says his home state plays a large part in that, too. "They're all great musicians, but they're also such wonderful cats. Over the years just going up there and hangin' and makin' music and cookin'. I go up there in a big van, and you'd think it's full of musical equipment, but actually it's full of stuffed chickens and sausage! We make gumbos and stuff, and everyone comes over. It's easy to get cats to play on your record if you can cook that stuff up!"
Walter says the first heavy influence for him came from a musician his cousin was married to, Charles Mann. "He had a guitar player named Dale Owens, and he dated my sister. This cat is really just a good player; he's still around. But I was just a teen, and I thought they were the coolest thing around. They taught me about zip-up boots, ducktails, and Stratocasters and blackface Supers."
Clubs along Highway 90 helped, too. "Jukeboxes were a primary source down here 'cause there were so many clubs out on the highway. It was a lot different than mainstream radio. One of the epiphanies I had early was hearing Slim Harpo's 'Scratch My Back.' That was a cat named James Johnson playing that guitar, and I thought, 'Okay, it's time to put the pick down and get into some hard soul and fingers.'"
Walter plays a Telecaster, so it's not surprising he lists Roy Buchanan and Albert Collins among his influences. He's also a fan of fellow Louisianan Sonny Landreth. "I love Sonny. Not for licks, not for chops, or technique, 'cause God only knows what he's doin'. But I listen to him for inspiration of a spiritual nature. Sonny has followed his own voice and that's a very, very different road. He has stuck by that and that's an inspiring thing."
Most of the guitarists he likes are his contemporaries. "Like a lot of cats our age, I believe we done heard the best. Nothing against young players, but if I go to the shelf, I still gotta grab me some Albert Collins,"
While his records are finely produced works with a lot of southern styles, complete with horns, keyboards, and background vocals from the likes of Bonnie Bramlett and Scott Boyer, Walter prefers to keep it simple in a live setting.
"Mostly, I do three-piece," he said. "I call it Lo-Fi Electric. Robert Nash plays bass – he moved down from New York to get some grease after playing with symphonies. And my drummer is Mike Burch, who's an incredible player. We get a good sound at a nice volume. To play down here, you got to play a lot of different kinds of things. We have a pretty wide repertoire."
His main guitar these days is a Fender Telecaster '52 reissue. "The sauce is provided by Seymour Duncan. I love those Antiquity pickups, man." He also put those in a 1969 Gibson ES-340 that he uses mostly for rhythm tracks. "It's Blond. I got it at a pawn shop down here by the underpass." Years ago, he used a '69 Fender Tele Thinline that he still has, but doesn't play much.
As for amps, he says he's found a keeper. "I've been through a bunch of amps through the years, but I've come home to something that has just blown my mind. A good old friend of mine for over 30 years, came to my house one day and said, 'Junior, you know it's time to tone up, man.' And he dropped a Carr Rambler on me. I got to playing this thing, and I'm going to tell you, it was just love at first bite! The Telecaster was plugged in, and you just wake up a couple of days later, you know?"
Walter says the response from the Carr is incredible. "It's got this lo-fi funky tone at low volume. It gets the real funky stuff without having to be all up in everybody's face. It's got a lot of soul," Fender Blues Juniors serve as backups. And Walter is a no-effects guy, saying he prefers the guitar and amp tone without anything getting in the way. A quick listen to either of his albums displays his mindset.
Though it's obviously cliché to say it of a guy from Louisiana, he really does serve up a musical gumbo. That, he says, is the result of sticking close to home all these years. After all… "It's a buffet down here. If you can't find something down here, you ain't hungry!" – John Heidt
Learn more at walterjr.com.
---
This article originally appeared in VG's November 2006 issue. All copyrights are by the author and Vintage Guitar magazine. Unauthorized replication or use is strictly prohibited.
---
Walter Jr. – Back On the Bayou Road