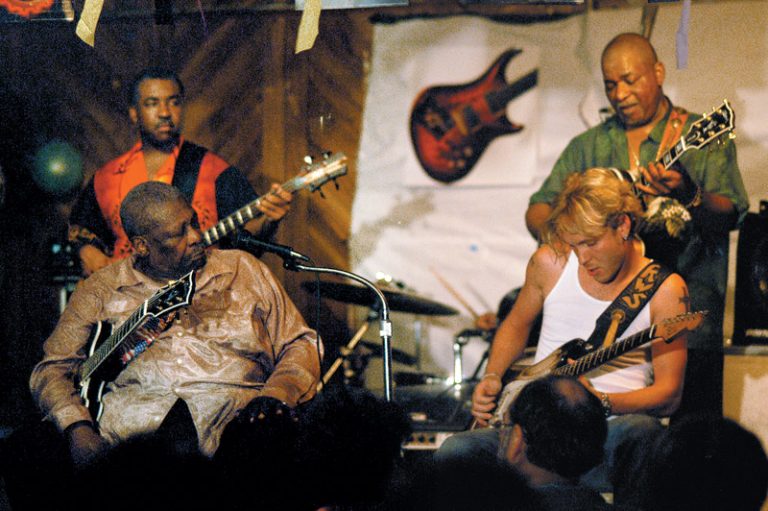 Stepping into the spotlight to play the blues with the classic bands that backed Muddy Waters and Howlin' Wolf, most guitarists would sweat bullets. Not so Kenny Wayne Shepherd. He had itchy fingers. The opportunity came to hand as part of Shepherd's latest CD/DVD project, 10 Days Out: Blues From the Backroads (Warner Brothers/Reprise Records). Shepherd, his band comprised of Double Trouble drummer Chris Layton and bassist Tommy Shannon, a film crew, and a portable recording studio traveled the South, jamming with some of America's best-known and little-known blues artists, including B.B. King, Clarence "Gatemouth" Brown, David "Honeyboy" Edwards, and more. The journey culminated in a concert, Shepherd getting that itch out of his fingers, playing the blues loud and proud with Muddy Waters' and Howlin' Wolf's bands.
Ask Shepherd about that show now and he's still jazzed with the buzz.
"It was just amazing!" he says. "When I was a kid in middle school, I'd play that Johnny Winter-produced Muddy Waters album Hard Again, cranking it up and imagining myself as that white, blond-haired guy playing guitar along with Muddy. This project fulfilled that childhood dream."
But wasn't he at least a little nervous? After all, these were the bands that made electric blues.
"Well, I am not normally a nervous guy, but, yeah, this got to me a bit," Shepherd admits.
The project grew out of Shepherd's long-time love of the blues and the music's history. With two Grammy nominations and millions of blues and rock albums sold, Shepherd had the power to realize that dream.
The 10 days on the road were chalked up in June of '04. Shepherd's fully loaded bus left New Orleans for Shreveport, Louisiana, then turned toward Mississippi, Alabama, and North Carolina before the finale concert in Kansas. Along the way, they stopped by to chat and play with Flying V-man Bryan Lee, harpist Jerry "Boogie" McCain, Piedmont bluesmen Cootie Stark and Neal Pattman, Etta Baker, and Henry Townsend, who himself played with Robert Johnson way back when. Most of the musicians were in their eighties and nineties – some six or seven decades beyond Shepherd. In sum, it was a trip that would give any blues fan the blues out of envy.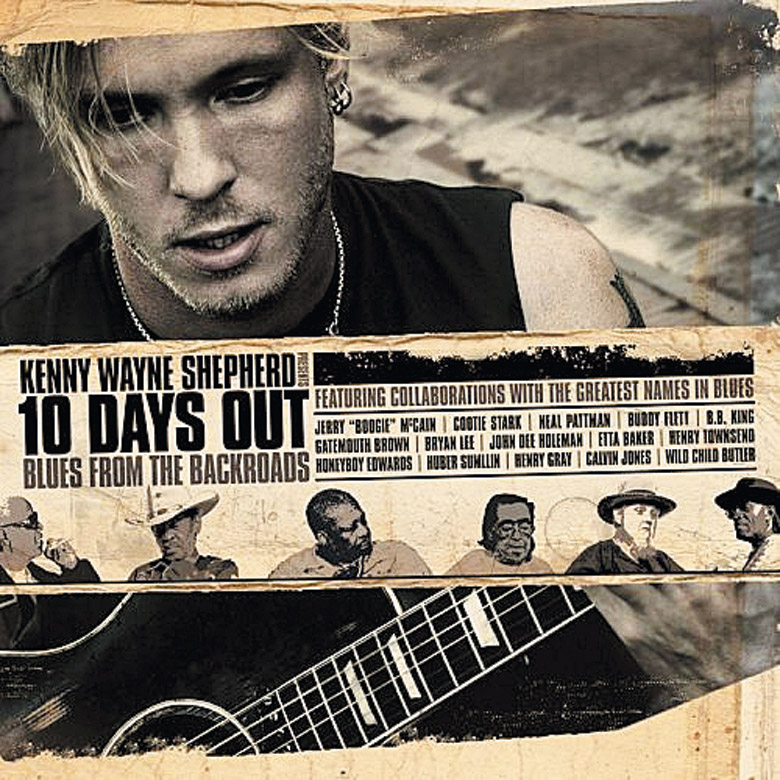 "A project like this, with all these people, it's not about me – it's about the music and about the people who inspired me to pick up an instrument and make music," Shepherd explains.
The resulting DVD is a blues masterpiece. With stylish direction by Noble Jones, this is not your typical concert film. Instead, it's both a music film and a documentary chronicling the living blues tradition in the United States. Yet sadly, six of the featured musicians have since passed away – including Gatemouth Brown – sealing this film as an important historical document.
"I wanted to get people in contact with the eternal spirit of the blues," states Jones. "As long as there's a struggle, there will always be a voice – the blues – that comes out of human beings."
The concert CD is also hot stuff. Produced by Jerry Harrison, lately of the Talking Heads and a blues fan in his own right, the 15 tracks here are live shots from the concert or intimate jam sessions in kitchens or on front porches. The music features no overdubs, no studio repair work. "Live as it went down," says Shepherd. "What happened is what you hear. We kept it as real as possible."
Keeping it real for Shepherd meant a stripped-down gear setup. He used his 1961 Fender Stratocaster and traded between his 1964 Fender Vibroverb and a '65 blackface reissue. The only effects were a TS808 Tube Screamer and a chorus pedal from The Analog Man. "Playing with some of these guys in small clubs, I had to keep my amp turned down lower than I like, where it wouldn't break up. So I used the chorus pedal to cover for that."
Several of the tracks were acoustic jams, a surprise standout being "Honky Tonk," featuring Shepherd in duo with Shreveport blues man Buddy Flett, one of Shepherd's own mentors. They make their music seated around Huddie "Leadbelly" Ledbetter's gravestone. Flett's singing and acoustic slide work is stunning.
And there was another side to Shepherd's project: he hopes the exposure will boost interest in the blues, in general, and musicians like Flett, in particular. "Throughout my career, I've tried to do what I can to give something back to these guys," Shepherd notes. "I believe they deserve more recognition."
But what about playing with the bands we all recognize – Howlin' Wolf and Muddy Waters' groups? What was that like?
The surviving members of the Howlin' Wolf band that took the stage with Shepherd included guitar man Hubert Sumlin, Henry Gray, Calvin Jones, and Wild Child Butler. The Muddy Waters group featured Pinetop Perkins, Willie "Big Eyes" Smith, and guitarist Bob Margolin.
Shepherd thinks for a moment about the differences playing with Double Trouble and the classic blues bands. "Tommy and Chris, they lock in and lay down a rhythm that's as tight as a knot," he explains. "Willie 'Big Eyes' Smith has completely his own approach to drums. He's like an abstract artist; he takes a canvas and throws paint all over it. These guys played abstract – loose, but perfect.
"I kind of knew what to expect when we played together because I had played along with their albums when I was a kid. If I closed my eyes, I was back in my dad's living room playing along to the records – except now it was the real deal." – Michael Dregni
---
This article originally appeared in VG's April 2007 issue. All copyrights are by the author and Vintage Guitar magazine. Unauthorized replication or use is strictly prohibited.
---