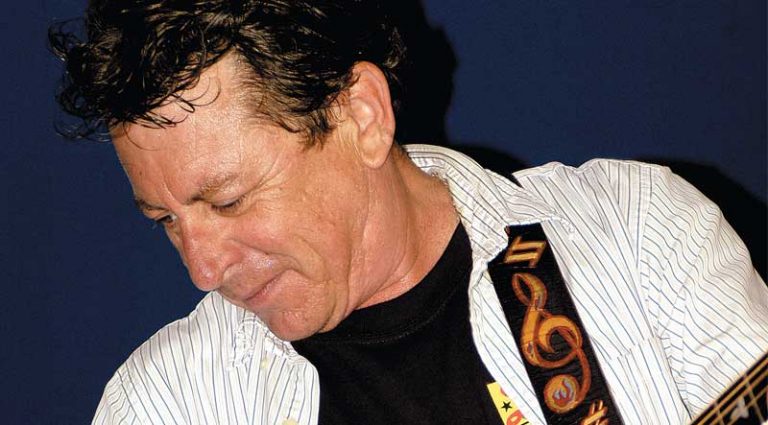 Joe Ely's new record, Happy Songs From Rattlesnake Gulch, is full of just what you've come to expect from the Texas singer-songwriter. • His classic mix of country, rock, and folk, along with some of the cleverest lyrics you'll hear this year are all in full bloom. It's how this all came about that's a little bit surprising. The record is a companion piece to Bonfire of Roadmaps, a book being published by University of Texas Press. The book, Ely says, is a sort of journal of the road.
"I was looking back at all these notes I had and they were like slices of time, with different bands and different configurations," he said. "I remembered I had songs that went along with certain times. So I started digging through it and found some real interesting tracks that I had laid down. One track went back 20 years! So I started taking these tracks and just working through them."
That means the "new" record has 11 tracks that come from different periods of time over the past two decades.
Besides the songs, another nice aspect of this way of making a record is the appearance of numerous guitarists Ely's worked with through the years. And he's worked with some of Texas' finest. Charlie Sexton hit the road with Ely at the age of 13.
"My guitar player broke his hand in the middle of a tour and we had to go out on the road with Tom Petty and the Heartbreakers. I heard Charlie play at this tough old blues club in Austin. He was 13, and his brother Will, who was playing bass, was 11! I asked Charlie if he could learn our set in two days and hit the road with us. He said 'sure' and we actually had to bring a guardian along because we were playing places it was illegal for him to be in. The band thought I'd lost my mind, but he really stepped up and played the s*** out of the guitar!"
David Grissom is another player who Ely latched on to after seeing him play at an Austin club. "We were about to go to Australia for a three-week tour, and whoever I was playing with – I think it was Mitch Watkins – couldn't go. So I had four days to find someone. I was listening to Lou Ann Barton at the Continental Club, and Grissom was sitting in with her. I thought, 'Man, here's a guy who can really play.' And what impressed me the most was not his lead playing. It was his rhythm playing. It was immaculate. He was just dead-on and played some interesting riffs. I think we had one rehearsal before we jumped on a plane and flew 40 hours across the ocean, walked on the stage, and played the show."
Longtime fans will be happy to know that Ely plans on working with Grissom again. He has recently worked with David Holt, including gigs with Holt and the Double Trouble rhythm section, Tommy Shannon and Chris Layton. Ely calls Holt "a monster guitar player," and adds that he would like to do a record with them in the future.
Though he is surrounded by great lead guitarists, Ely says he was never bit by the bug to be out front, playing killer solos. "I've always just tried to form and arrange the songs to where it works around guitars." He started learning to play fiddle when he was a kid in Lubbock, Texas, but switched guitar in the late 1950s. "Buddy Holly had just died and everybody in Lubbock played a Strat. So I put the fiddle away and started writing songs."
The song "Miss Bonnie and Mister Clyde" is an expression of Ely's thing appreciation for outlaws, with "Me and Billy the Kid" being one of his fans' favorites from past years. "I was always fascinated in the outlaw songs because of Woody Guthrie. Of course, he wrote about Pretty Boy Floyd and Jesse James. Mine are pretty tongue-in-cheek, with me climbing back into history and changing things. I've got two, and now need a third one for the trilogy." With a laugh he adds, "I'm thinking maybe about Dick Cheney. He's the only guy I know who shot a lawyer and got away with it."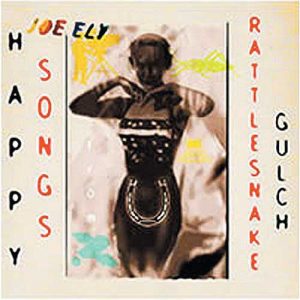 Ely has two main guitars. His big acoustic is a Gibson J-45 he bought in 1966 on the coast of California for $5. "It's a late '40s or early '50s," he said. "The guy who was playing it had a pocket comb for a bridge and a nut. It had a couple of holes drilled in the side of the neck for a harmonica holder he had made out of a clothes hanger! But the structure was fine. I bought it and, with some tender lovin' care, that thing plays so good I've used it on every recording I've ever done."
When he plugs in, Ely uses a '60s Tele bought from David Grissom. He also has an old Newman guitar that Texas guitar-maker Ted Newman Jones built for him that he says has a unique sound. "He built me one in the '80s. It's a real interesting guitar… a five-string. He doesn't make them anymore, but people are always finding them somewhere in Austin."
These days, Ely has a lot on his plate. Also set for release is Silver City, a CD of old recordings that captures him at his folk-singing/songwriting best. And he is on the road with John Hiatt, Lyle Lovett, and Guy Clark in a sort of round-table performance by the songwriters. Plus, he started his own record label.
Even as he approaches the age of 60, Ely doesn't expect to slow down. "I'm always moving kind of fast, and in doing so I leave stuff behind. The label will help me keep up."
---
This article originally appeared in VG's May. '07 issue. All copyrights are by the author and Vintage Guitar magazine. Unauthorized replication or use is strictly prohibited.