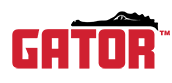 May marks Gator's official 20
th
 birthday.
While Gator couldn't celebrate in person, the close-knit team wanted to do something special for its CEO and Founder, Crystal Morris, and surprised her with a special Zoom performance during the company's fun, costume-themed Town Hall.  Gator's own talented band of musicians and vocalists recorded a special rendition of the Beatles' "Birthday."  The outcome was nothing short of hilarious. Check out the video.
Gator Co. started as an idea cooked up in a family kitchen 20 years ago and is now an industry-leading powerhouse.
Founded in 2000 by father-daughter team Jerry Freed and Morris, Gator launched with a small offering of molded plastic guitar cases. From there, they expanded the product line to include case and bag solutions, accessories, gear and stands for multiple markets and industries. Gator has now grown to be the parent company of multiple successful brands – GatorCases, Gator Frameworks, Gator Rackworks, Levy's, Levy's Outdoor, Protechtor Cases, and Slappa.
"With everything going on, what the team did meant the world to me and was the perfect gift," said Morris.  "I couldn't stop laughing and smiling.  I'm constantly inspired by this team.  They rise to the occasion day-after-day with positivity and commitment.  Twenty years is a major milestone, and we got here because of the talent and dedication of this Gator family and all the great friends, customers, and partners we work with.  Thank you to everyone for a fun and outstanding 20 years.  I can't wait to celebrate another 20 and more with you."