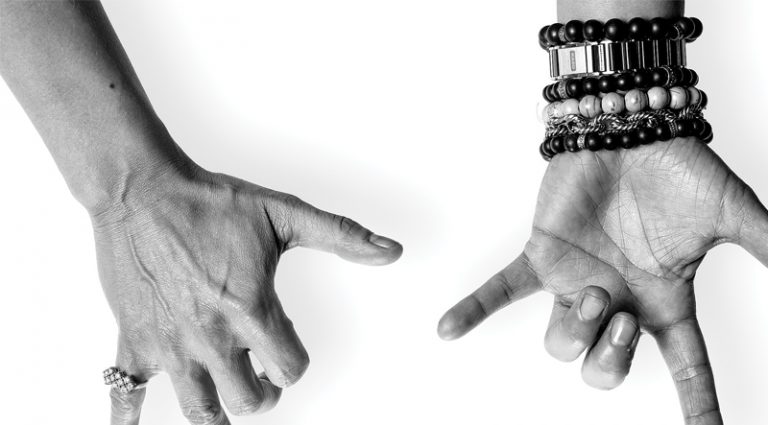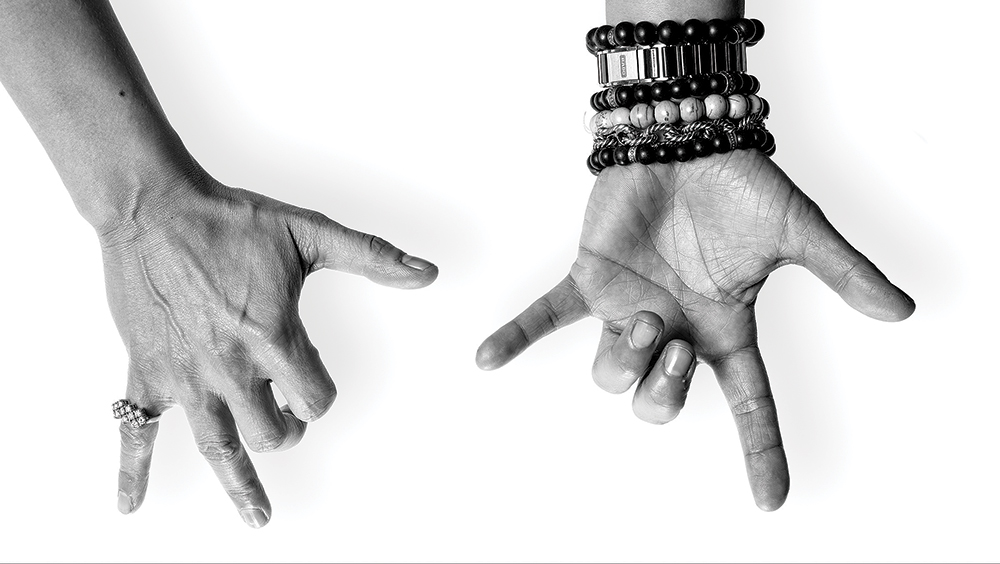 In 2012, photographer Marc Mennigmann conceived of shooting musician portraits in a very different way – looking beyond faces and instruments. The result is the Hands Project, a growing collection of images focused on phalanges.
Also a pianist and Chapman Stick player, Mennigmann realized that most casual fans don't realize the role played by their hero's hands. So, when the opportunity arises, he takes his beloved Leica Monochrom, a small outboard flash, white background, and a few minutes to position each subject's hands a few ways. For each pose, he pushes the shutter once or twice. So far, more than 200 have taken part including guitarists Joe Satriani, Mike Stern, Al Di Meola, Ike Willis, and Pat Martino, as well as bassists Lee Sklar, Billy Sheehan, Rhonda Smith, Stu Hamm, and Bakithi Kumalo (to see a list, visit hands-project.de/participating-artists).
Mennigmann has auctioned prints signed by the musicians, exhibited at galleries in Germany and Portugal, and is looking for a publisher to release a book highlighting the work.
What spurred you to start this?
I thought it was a great way to connect photography with my love for music. I'd been thinking about something deeper than the musician's face or them with an instrument – which every photographer can do – and thought about what makes a musician special, unique, or outstanding. For guitarists, bassists, pianists, and other instrumentalists, the hands are the last piece of their body through which music is transported to the instrument. They are the gateway to a player's own sound. Plus, the huge amount of time a musician spends practicing and playing affects their hands, from string marks on fingertips to bent fingers and deformed bones. Nobody else has documented it in such detail.
When and where did you shoot the first set of hands?
The first was my daughter, Lia, who's a bass player. My first professional was Julie Slick, bassist in the Adrian Belew Power Trio. I shot them same day, in my living room, while we were recording their band, SAM. The idea came to me when Lia and Julie were comparing hands and talking about how practicing was affecting them. I experimented with light, background, and depth of field on a simple setup. The pictures were really bad, but it was a beginning. A few years later, I did a re-shoot of Julie's hands with Adrian and drummer Tobias Ralph.
What is the typical reaction amongst performers you approach for the project?
They're mostly excited, and it helps when I show them a mock-up of the book, which illustrates the quality of the pictures. The reaction to their photo is always touching even though the display on my camera is very small. These are portraits, and in them musicians find themselves in a new, very private way because the hands tell their stories.
Not every musician has a clear visual of the result, so I talk to them about their style – if they use a pick, which fingers they use, position of their fingers. Within a few minutes, we sculpt a picture. Billy Sheehan knew his pose right away, others need guidance. In those moments, I don't see myself as the artist; I'm more a catalyst. David Rhodes liked his shot so much he used it on his new homepage. Drummer Peter Erskine wrote a touching e-mail in response to his picture; he really understood the concept, so I asked if he could write a foreword for the book, which he did.
I could do several books with all the great musicians out there. It's so much fun working with them and giving them something back with their portrait.
---
This article originally appeared in VG March 2018 issue. All copyrights are by the author and Vintage Guitar magazine. Unauthorized replication or use is strictly prohibited.