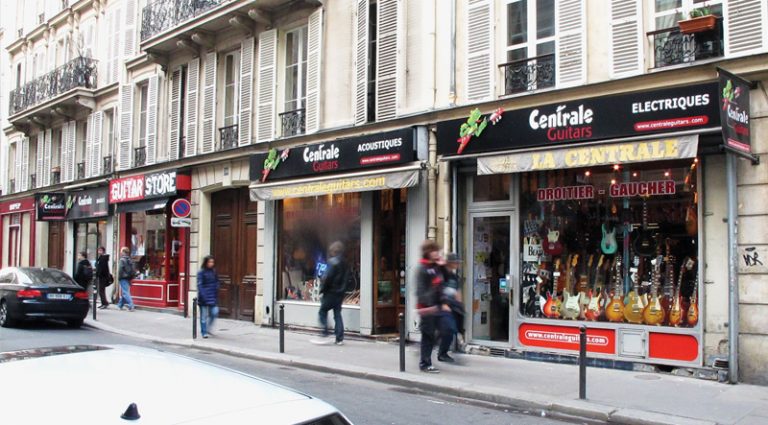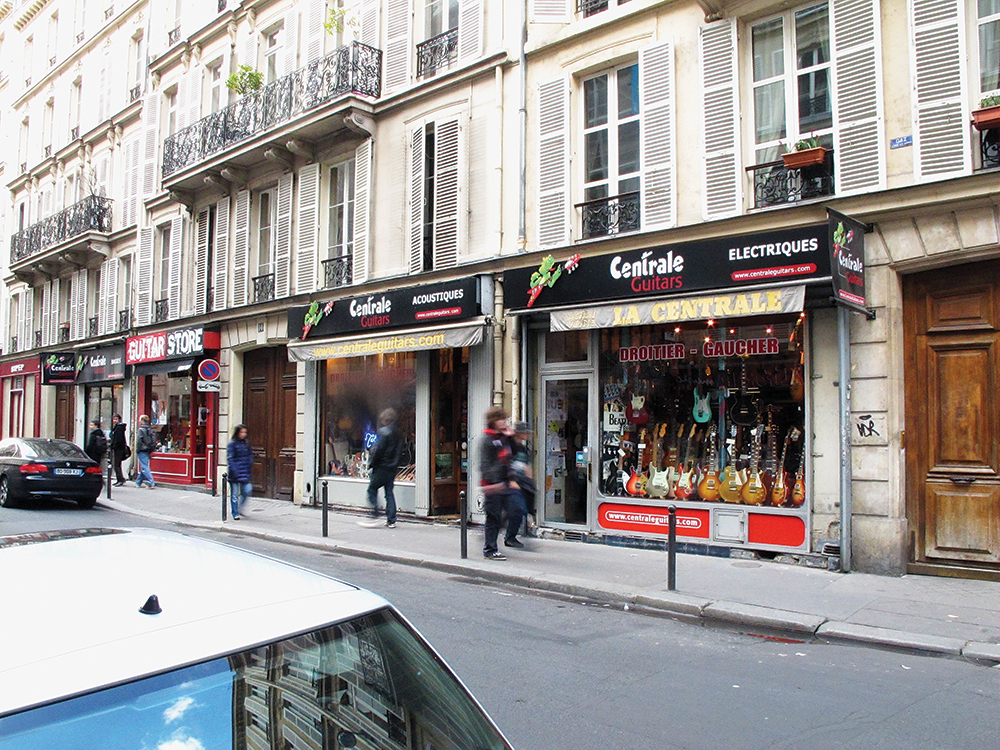 On your way to Paris for a romantic getaway? Wanting to see the sights in the City of Light? Then take this advice; forget Rick Steves, think Stevie Ray.
Skip the Eiffel Tower (don't they have one of those in Las Vegas, anyway?). Make a detour around the Arc de Triomphe (ditto). Catch a quick glimpse of Notre Dame and Sacré-Cœur (you've already seen them in Woody Allen movies).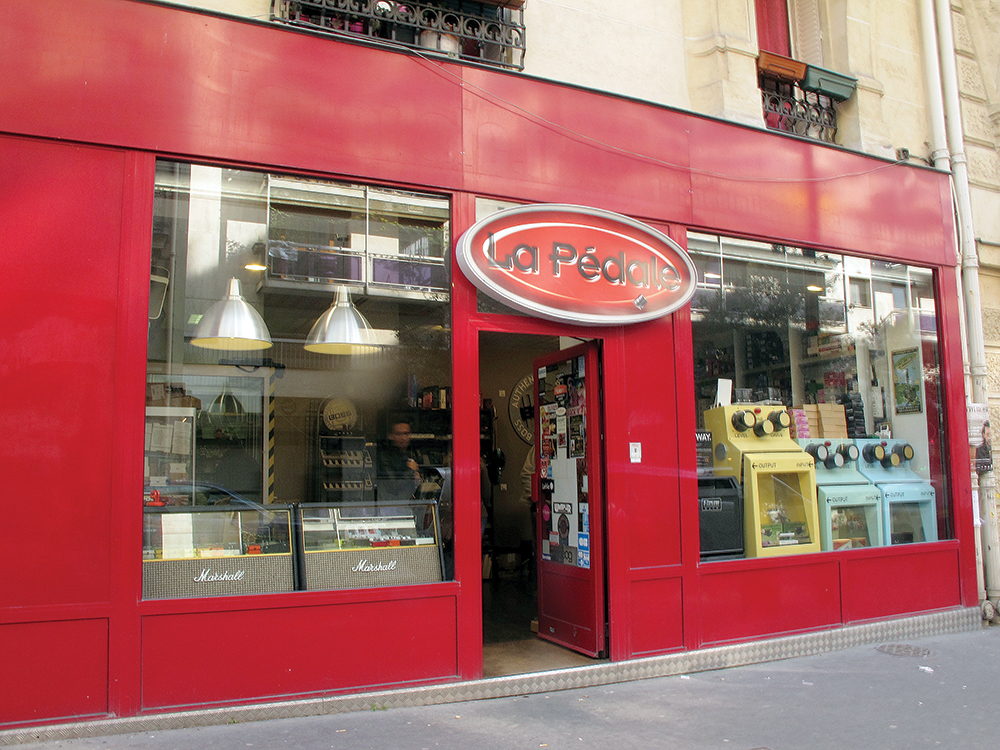 Instead, direct your feet to Rue Victor Massé in the Pigalle district of the 9th arrondissement. There's nothing quite like it anywhere in the world: A street of guitar shops running as far as the eye can see.
Talk about a sight worth traveling halfway around the globe.
Pigalle is the site of the Moulin Rouge cabaret of can-can dancing fame, a red-light district of seedy sex shops and suspicious bars. During the Jazz Age of the 1920s, Pigalle and its neighboring Montmartre district was home to many a loud nightclub, the destinations of Ernest Hemingway, F. Scott Fitzgerald, and their Lost Generation.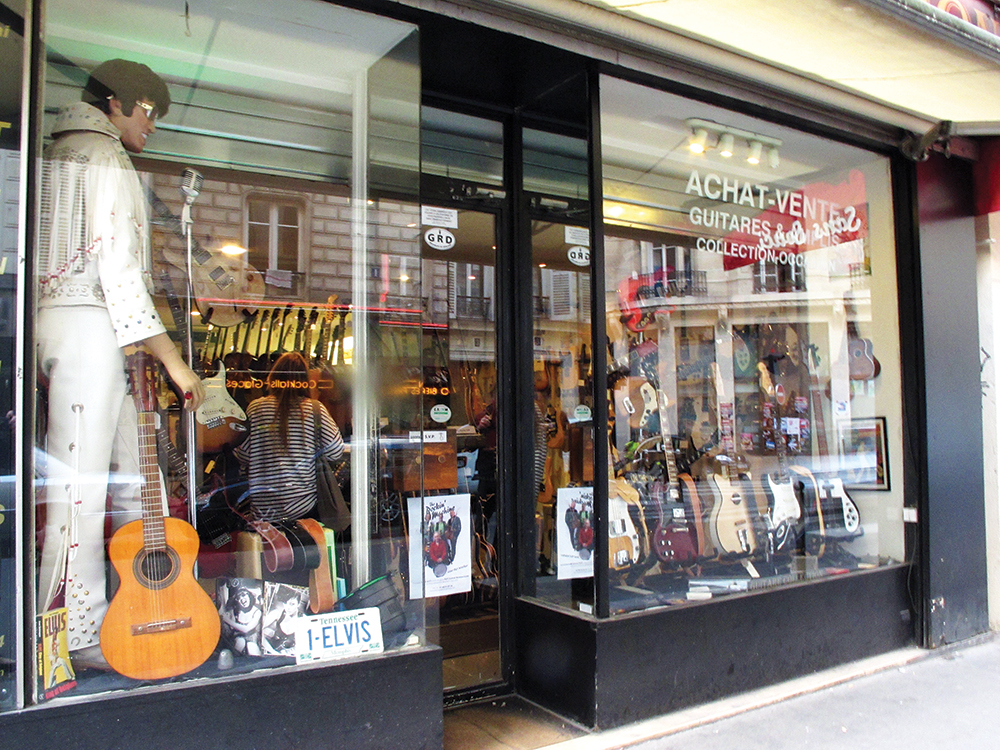 It was homebase, too, for Django Reinhardt and the Hot Club de France from the 1930s through the early '50s. In the ancestors of these Pigalle shops, Django and fellow Gypsy musicians picked up their Selmer guitars and the surrounding cabarets where they played their hot jazz. During World War II, it was where German soldiers came to hear the American-accented swing and, after the Liberation, where GIs made pilgrimage seeking wine, women, and song in Gay Paree's infamous "Pig Alley."
Pigalle remains a tourist destination today, monstrous charter buses unload tour groups to gawk at the Museum of Eroticism, strip clubs, and drag bars. But most visitors sadly miss out on the best part – those guitar stores still lining Rue Victor Massé.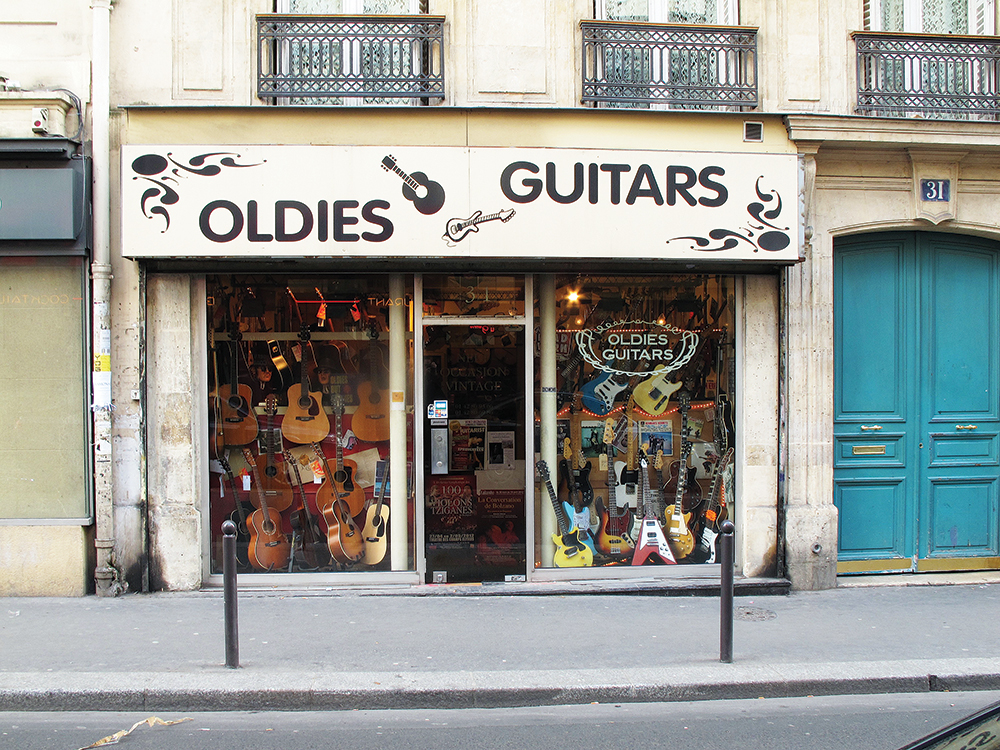 In a half-mile stretch are more musical-instrument stores than you can count, catering to vintage and new guitars and basses, amps, several shops devoted just to effects or custom-made cables, drums, sheet music, repair shops and luthiers, and miscellaneous bizarre instruments from French musette bagpipes to bouzoukis to Theremins.
Paris remains today a global capital for world music. On any given evening, you can see bands in nightclubs, theaters, coffee shops, or cave-like underground bars playing everything from Django's Gypsy jazz to that special French rock and roll, African blues to flamenco. And it's to this grubby street the musicians all come to buy strings and things. When in Paris, do as the Parisians do.
"It's historic," explains Philippe Turpault with a Gallic shrug of the shoulders, describing the street's wares. 
Turpault is owner of one of the best shops on the street, Oldies Guitars (31, rue Victor Massé). His shop may be a small boîte – or "box," as the French like to say. Yet it's a world of wonders for vintage instruments.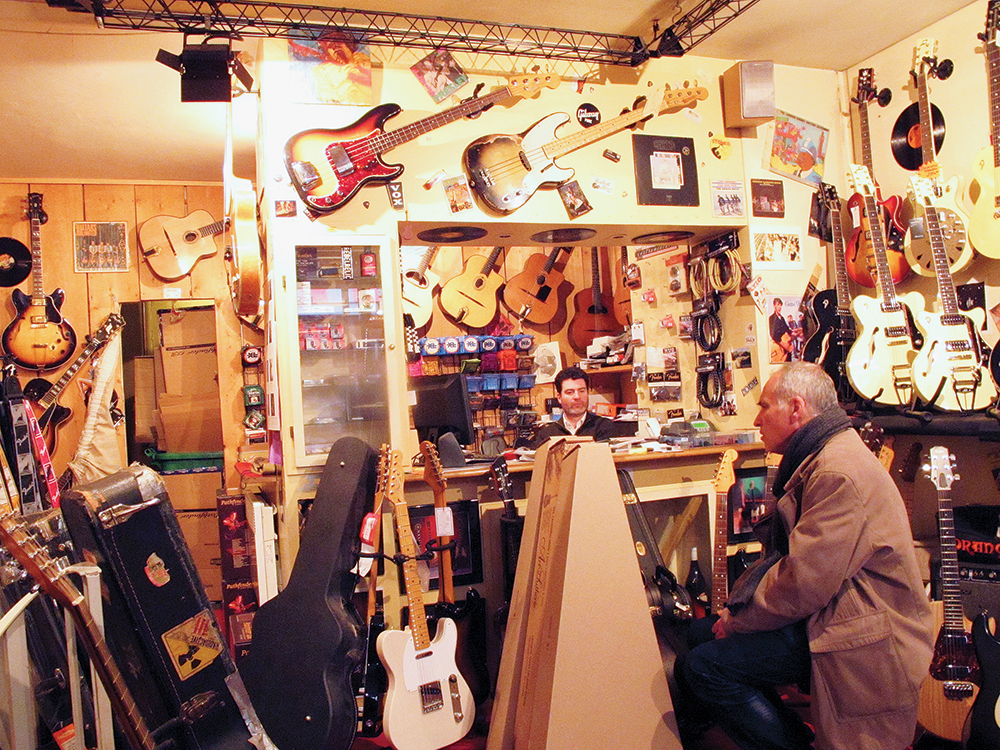 Among numerous other guitars, Oldies' inventory recently included a '30s National Duolian, a Model 65 Dobro with etched-wood body, a '20s Weissenborn Hawaiian, and a '57 Gretsch 6120 in front of a line of well-traveled '50s Fender tweed amps. But it was the rare Euro contingent that was most fascinating: an exotic Höfner archtop with more pickups, knobs, and switches than a '50s Mercedes-Benz; a stylish archtop made by Parisian luthier Jacques Favino; an acoustic by Henri Miller with a black-painted body and white Bakelite trim dressed up like a tuxedo; and a whole nook full of Gypsy guitars by Maurice Dupont, Busato, Patenotte, and a gorgeous-sounding '50s D-hole by Antoine Di Mauro.
And Oldies Guitars isn't even listed in your Fodor's travel guide.
Stretching away down the street are too many other shops to name. The windows of Guitare Collection (2, Rue de Douai) are highlighted by a full-size mannequin dressed like a French Elvis in a white leather Vegas suit. But there's also two blond bombshells – a '57 Esquire leaning against a '63 piggyback Bassman in blond tolex. In addition, there's a '59 Gibson BR-9 amp and '75 Strat, and a wonderfully worn Mustang Bass.
California Guitars has several shops down the street, including its Gaucher store (4, Rue de Douai) devoted only to left-hand guitars. Major Pigalle has two stores as well, including its shop at 5, Rue Duperre that offers just flamenco and classic guitars.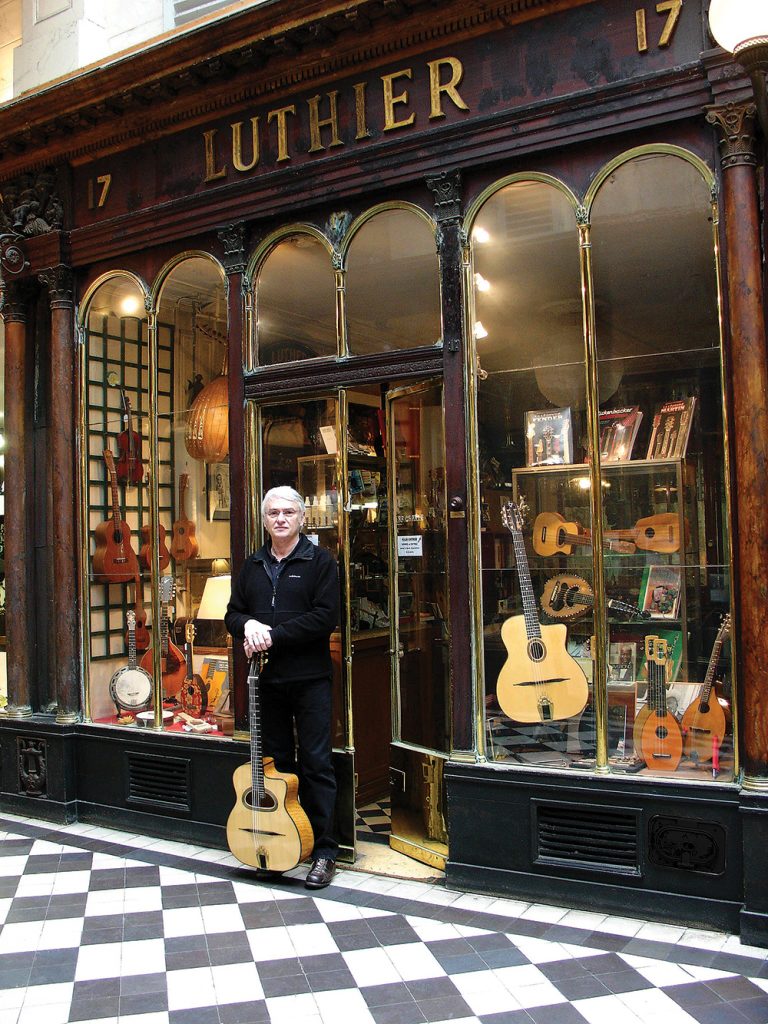 But the street's not just about guitars. Strolling happily down the sidewalk one finds a half-dozen shops devoted to basses, one home-studio shop, Master Wave (14, Rue Victor Massé) devoted to vintage synths, Le Microphone packed with vintage and new mics including a window full of vintage Shures. From the street, you can hear and practically see the whole of Bass Center (22-24, Rue Victor Massé) vibrating with a righteous bottom-end. La Baguetterie (36-38, Rue Victor Massé) is all drums, from digital pads to ancient Morroccan goatskin hand drums.
A good tour of Paris music shops would not end in Pigalle, however. Travel up to the Gare Saint-Lazare in the 20th arrondissement to Rue de Rome. This busy street is the nexus not of French rockers, but of classical musicians: there are numerous violin makers workshops here, sellers of brass and woodwind instruments, and piano showrooms. In their midst are several guitar makers.
Rome Instruments (54, Rue de Rome) is the workshop of luthier Pierre Fontaine, maker of solid Gypsy jazz guitars plus acoustic guitars.
Jacques Castelluccia has his luthier shop at 3, Rue de Constantinople. Started by his father before him, Castelluccia guitars has for four generations been well known among both Gypsy jazz, flamenco, and classical guitars. The shop oozes the smell of wood and mysterious glues.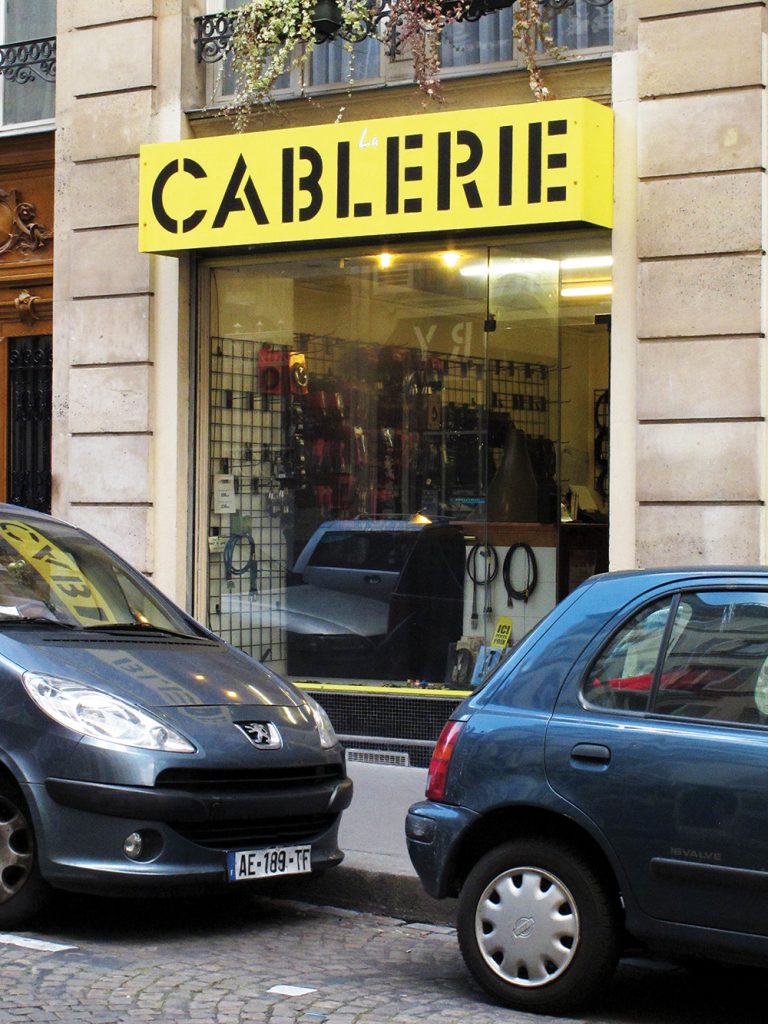 Still, the best awaits. Hidden away in the backstreets near the Louvre is the historic Galerie Véro-Dodat, an elegant covered walkway full of artists' shops. You might skip the Louvre, but it'd be a shame to miss François Charle's guitar shop and lutherie (17, Galerie Véro-Dodat). Labeling this just a "guitar store" is akin to calling Paris just a "city."
The gallery itself is to thank, in part. This passage dates from 1823, and is one of the only Parisian galeries surviving in original period condition. A floor of black-and-white checkerboard tiles leads up to dark-wood storefronts of ornate designs and opulent style.
Charle's shop is museum-like in its beauty. The walls, rafters, windows, and mezzanine are hung with harp guitars, violins, banjos, Hawaiian guitars, and more. There's a repair room in the back, ripe with a fug of exotic animal glues of secret formulae for keeping these old instruments together.
For decades, Charle's shop has been a destination for guitarists from Marcel Dadi to R. Crumb to David Grisman. He stocks an incredible selection of historic American acoustics. But he's also known around the globe as the foremost expert on Selmer-Maccaferri guitars. In fact, he wrote the book on the subject.
Charle's shop is without doubt the most beautiful guitar store in Paris – which probably makes it the most beautiful guitar store in the world.
---
This article originally appeared in VG March 2018 issue. All copyrights are by the author and Vintage Guitar magazine. Unauthorized replication or use is strictly prohibited.