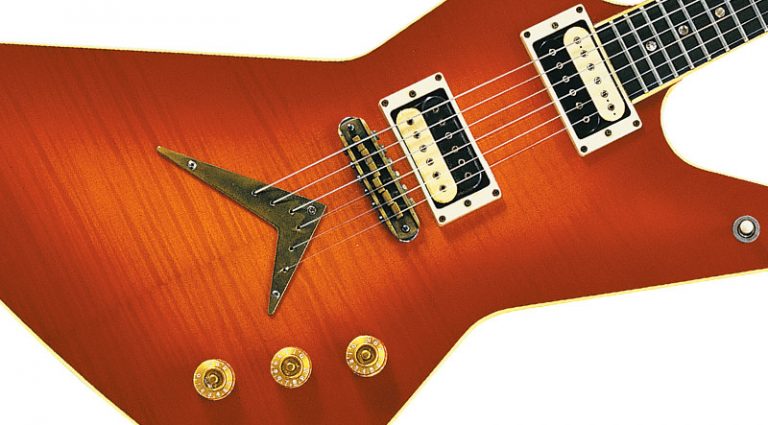 The mid 1970s were a turbulent time in guitar history. The American guitar establishment – at least Gibson and Fender – was owned by big corporations that tended to run them as profit centers.
At the least, quality control was less than perfect, leading Japanese manufactures to capitalize with excellent "copies." But imports weren't the only to take advantage of poor quality – real or perceived. Several Chicago-area guitar enthusiasts had become enamored of vintage American guitars and conceived of creating upscale guitars inspired by these classics, with top-grade timbers and excellent workmanship. These included Dean Zelinsky, namesake of Dean guitars, whose 1978 Dean Z is shown here.
Zelinsky had always preferred Gibson's exotic designs and decided to wed those with high-end appointments. In late 1976 he set up a small factory in his hometown of Evanston, Illinois, and at the beginning of '77 began producing the Dean Z (based on the Explorer), which was followed shortly thereafter by the V (Flying V) and ML (a hybrid of the two designs), all pretty similar except for the shape.
This 1978 Dean Z is typical of early Deans. It has a solid mahogany body with bound, highly flamed maple cap. These were flat, not carved. The mahogany neck was glued-in with a unique, large winged V headstock. Fingerboards were bound ebony with abalone dots. As with other early Deans, this Z sports a pair of early DiMarzio Super Distortion humbuckers, one of the earliest uses of DiMarzios on production guitars. Electronics (and hardware) were modeled on the Gibson Les Paul, with a three-way and two volumes and two tones. The strings load through the body to increase the sustain. This example is finished up in one of Zelinsky's favorite finishes, a robust cherry sunburst.
These guitars are easily dated: the stamped serial number includes the date in the first two digits.
There's not much to say about this guitar that isn't praise. It plays like butter with a perfect balance, the pickups roar to life, and if you have anything bad to say about the killer flamed-maple top, we'll have to step outside! About the only weak point is the headstock. Many got into arguments with mic stands, and required repair.
The Dean concept was very well received by pros and became very popular at the end of the '70s. The line proliferated with more downscale models, as well as new shapes, and a line of smaller Dean Babies. In the early '80s Dean was a big player in the emerging metal sweeps, adopting vibratos early on, and with the Bel Aire, a candidate for producing one of the first Superstrats.
Success led to increasing reliance on offshore sources. Alas, it also led to the demise of Dean's original idea. The last original American-made Deans rolled out in 1984, and by '85, all were imports.
Dean eventually went into hybernation, only to be revived in recent years. But it's these early up-market Evanston Deans that mark one of the high points of American guitarmaking from a time of turmoil.
---
This article originally appeared in VG's April '04 issue. All copyrights are by the author and Vintage Guitar magazine. Unauthorized replication or use is strictly prohibited.
---