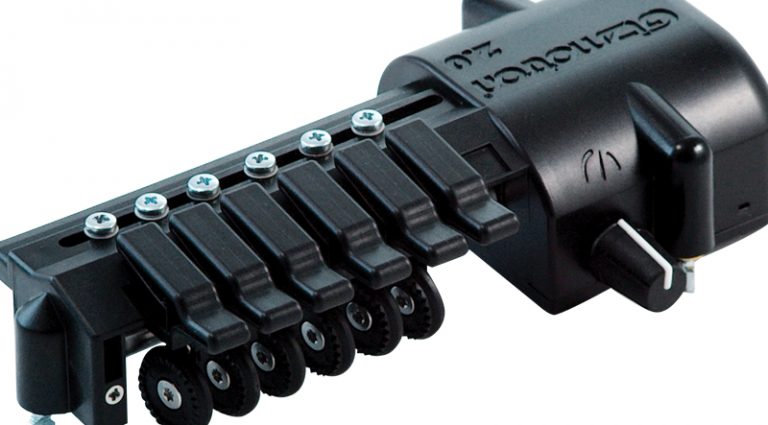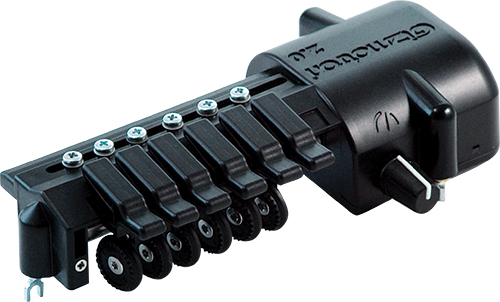 In the Bizarro Effects Hall of Fame, perhaps none was stranger than the aptly named Gizmotron of the late '70s designed to make a guitar or bass sound akin to a violin. Now, all hail the Gizmotron 2.0, a revised and updated version of the classic.
Back in the day, Jimmy Page and other players shanghai-ed violin bows to coax eerie drawn-out and sonorous sounds from their electric guitars. With more elevated ideas in mind, Lol Creme and Kevin Godley of 10cc developed the mechanized Gizmotron using miniscule revolving wheels fitted with the equivalent of dozens of tiny plectrums. Then they enticed famed American effects brain trust Musitronics Corporation to produce their vision starting in 1978.
As the ads pledged, "by pressing a few strings… you can sound like a guitar, a group – even a symphony orchestra." Unfortunately, the original gizmo was too fiddley (pun intended) and its failure took Musitronics down with it.
Resurrecting the Gizmotron from the dustbin of history has been a decade-long labor of love for Aaron Kipness, who began collecting originals, restoring them, and offering replacement parts. In 2013, he assembled a team of engineers armed with original patent drawings to reverse-engineer the new and improved Gizmotron with modern materials.
The 2.0 attaches to most electric guitars or basses to provide electromechanical "bowing" to individual strings, allowing the player to produce endless sustain and organic violin sounds, and create polyphonic chord arrangements. Or so goes the promise.
The big question is, does it work?
Fitting the Gizmotron to a Stratocaster or Les Paul is relatively straightforward. It sits atop the bridge and doesn't require mods or screw holes in your precious baby. Mounting pads screw into existing pickguard holes or stick to the pickguard or body top, and they're removable without damaging the finish.
Getting everything perfectly aligned, though, requires patience; the picking wheels must be spot-on. Adjustment screws dial in the spacing. It's not difficult, just exacting, but the company provides instructions and online videos.
The Gizmotron is not a permanent attachment. It can be removed thanks to a locking quick-release system. But because of the detail involved in setting it up, you probably won't swap it on and off at random. You can play your guitar normally with it on, though it can get in the way depending on how you hold/use your picking hand.
Once set up, playing is easy. Simply fret the string and press down the Gizmotron's levers – one for each string to move the corresponding revolving plectrum wheel into place. Yes, it's that simple.
As with a Theremin, The Gizmotron can create sounds instantly. The trick, though, is making music with it. This requires practice, but no more than with most other effects or implements such as bottleneck slide or, yes, a violin bow.
Because the Gizmotron is an electromechanical device, it offers endless player input. This is where one's artistry comes in – you can control the attack, timbre, and sustain of each note or chord based on the nuance and touch-sensitivity of the levers. And the Speed control allows fine-tuning volume and tone on the fly.
Since the Gizmotron requires no special pickups, midi interface, or – lord help us – mobile app, it's entirely outside of the signal chain, meaning other weird effects and funky stompboxes will work in concert with it.
---
This article originally appeared in VG March 2017 issue. All copyrights are by the author and Vintage Guitar magazine. Unauthorized replication or use is strictly prohibited.