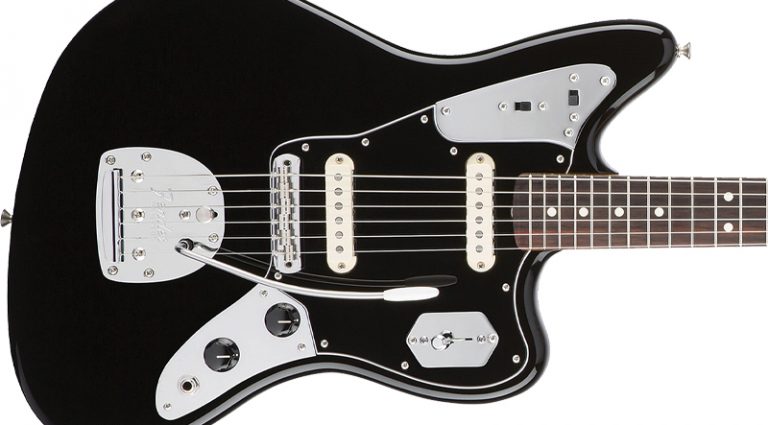 Nostalgia can be a confounding thing. When most fans think of Johnny Marr, they remember him flailing on an array of Ricks, Gibson semi-hollows, and Strats during his days with the Smiths. But this Fender signature model isn't about the Smiths – it's about Marr's 2006-'09 stint with Modest Mouse and the Cribs, when he made a Jaguar wail.
With the Smiths, Marr was a master of the hook – he rarely played a solo in the Claptonian sense. And once he latched onto the Jaguar, it was a match made in guitar heaven.
Presented with the opportunity to head to the drawing board and design a signature Jag, Marr hot-rodded certain elements, fine-tuned others. The result is a super Jaguar that transforms this classic model in much the same way that The Edge refined his signature guitar into a near-perfect Strat.
Marr based his ideas on his beloved '65 Jag. For the signature model, he had Fender deepen the alder body's back belly scoop and add more chamfer to the front – features copied from a fave '50s Strat. The result is a more comfortable Jag that retains the beautiful balance for which the model is known.
The Marr signature has the Jag's usual short-scale neck, but Marr asked to duplicate the thicker, more-substantial profile of his '65. The result is a solid, powerful neck with a rosewood fretboard.
One major change Marr dictated was replacing the classic Jag/Jazzmaster "synchronized floating tremolo" bridge/vibrato with a Mustang bridge – a common mod among serious players – and a taller arm with a new nylon sleeve to prevent it from swinging away at inopportune moments.
The other key refinements lie in the pickups and electronics. Marr asked Fender to model the set on a '62 Jag in his collection, resulting in the custom-wound Bare Knuckle pickups.
The control switches are also modified. A four-position blade switch on the lower horn replaces the good old sliders, saving on the usual duct-tape mod employed to avoid accidental pickup changes. The first three positions are as usual on a Jag, but the fourth runs the two pickups together in series, resulting in a humbucker-like sound that cranks output dramatically. A treble boost on the upper horn works in concert with that "humbucker" setting.
The Jag is finished in a classic nitrocellulose lacquer – choose from Olympic White or Metallic K.O., both with three-ply white pickguards, or go all out for the new limited-edition black-on-black.
---
This article originally appeared in VG March 2017 issue. All copyrights are by the author and Vintage Guitar magazine. Unauthorized replication or use is strictly prohibited.