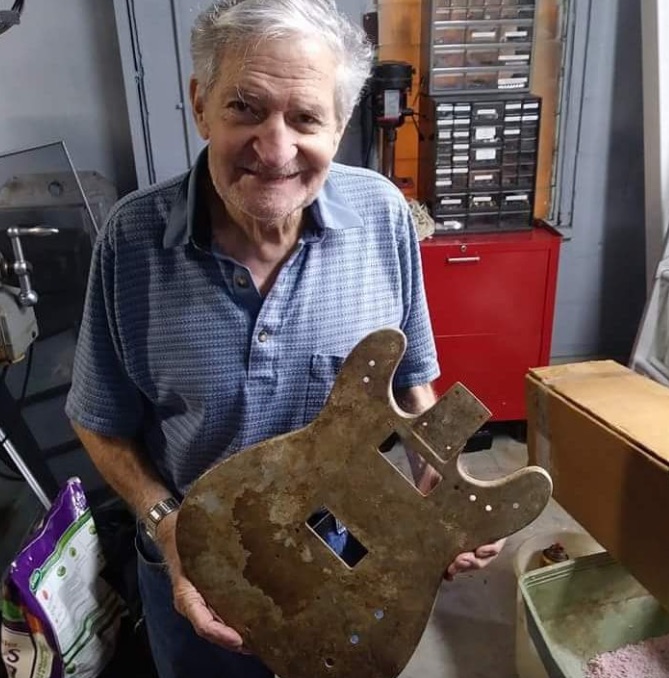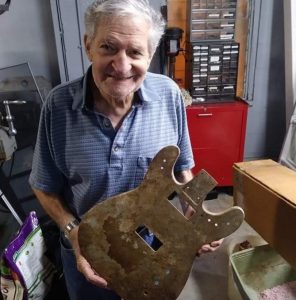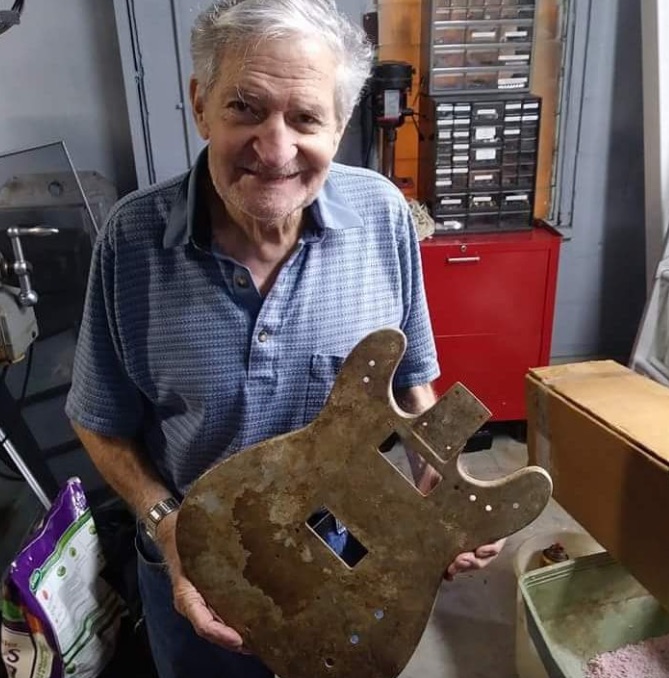 John Veleno, a machinist whose all-aluminum guitars became noteworthy among rock and blues players in the early/mid '70s, died September 10. He was 84 and battled pancreatic cancer.
As a teen and through his early 20s, Veleno played in Boston-area bands while teaching guitar for three music stores. After becoming a journeyman machinist, he moved to Florida in 1963 and went to work for Universal Machine Company, which made housings for components used in early manned spacecraft, including the lunar excursion module.
Wanting a guitar with a strikingly different look, in 1965-'66 he made one for himself with an aluminum body and neck. Five years later, he refined the design and made four others using cast aluminum before he began using a TruTrace machine to carve solid aluminum (numbers 7 through 16 were carved on a CNC machine on which Veleno rented time before buying a TruTrace). He then took the guitars to local music clubs, hoping to sell them. Finding little interest, a friend suggested he take one to show members of the James Gang before a local performance. Shortly after, he also showed it to Jorge Santana (Carlos' cousin), who suggested improvements including a different headstock shape. With input from his children, he devised the trademark "V" head design with a ruby set in the middle, inspired by his wife's birthstone. 
Veleno's first sale was to Marc Bolan, of T Rex, who bought two – one for himself, the other for Eric Clapton. The purchase spurred a snowball effect as stars lined up to get a Veleno; subsequent buyers included Johnny Winter, Todd Rundgren, Mark Farner, Ace Frehley, Dave Everett, Pete Haycock, Ronnie Montrose, Ray Manet, Jeff Lynne, Gregg Allman, and contemporary celebrities like Cher, who bought Original #10 as a birthday gift for Sonny Bono (after Dan Ferguson, guitarist for "The Sonny and Cher Comedy Hour," bought #9). 
In April of '74, Veleno suffered a brain aneurysm that very briefly left him paralyzed. While he recovered quickly, a second stroke that June limited his physical abilities and affected his eye-hand coordination. Nonetheless, he continued to build and sell the Original for $600 each; all told, he made 143 of them.
Veleno later built a miniature version of the Original, called the Traveler, after B.B. King asked for one that could easily be carried on a plane or stowed on a bus. In '77, he built three of a model designed by Rundgren shaped like (and named for) an Ankh, the Egyptian symbol representing perpetual life. Later that year, his final guitar was made to fulfill an order for a custom three-pickup Original.
After he stepped away from building, Veleno's son, Chris, used leftover parts to make a dozen or so additional Original models and 10 more Travelers.
Because Veleno were made in low quantities, are highly regarded for their sound and playability, enjoy a high degree of celebrity exposure, and have been displayed at the Rock and Roll Hall of Fame (as well as other institutions), they are now highly collectible. – Ward Meeker
(To read more, visit www.vintageguitar.com/1791/veleno-guitars)