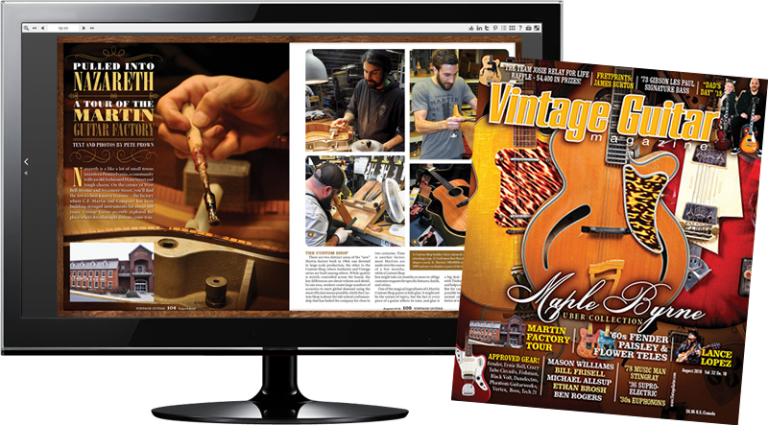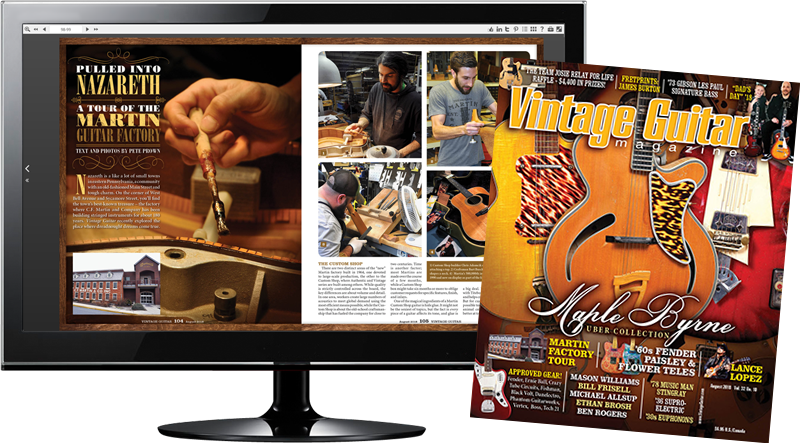 Find what's in this issue, enter the latest exclusive VG contests, or learn the 3 ways to get your Vintage Guitar fix! Don't forget to check out VG Classifieds and the playlist for this issue of VG on Youtube.
Table of Contents
We visit the guitar-laden lair of Maple Byrne, tech/road manager for Emmylou Harris (along with John Prine, Lyle Lovett, Fabulous T-birds, and many others). His 200-plus instruments reflect tastes far more Wandré than Strat! George Gruhn explains the inspiration behind and construction of Fender's Paisley Red and Blue Flower Teles, Pete Prown takes us inside the Martin factory, Dave Hunter details the pioneering 1936 Supro-Electric set, Willie Moseley examines the Les Paul Signature Bass – a rare bright spot from Gibson's Norlin era, and Michael Wright tells the story of Leo Fender's first challenge to his former company, the Music Man Stingray. Be sure to check out this year's edition of our "Dad's Day" photos, and our exclusive interviews with players both familiar and fresh. Our "Hit List" reviews point you to the best new guitar music, and you can always trust our choices of VG Approved Gear. You're sure to enjoy the August issue, available now!
36 Flower-Power Couple
Fender's Paisley Red and Blue Flower Telecasters
In the spring of '67, hippies and flower children flocked to Haight-Ashbury. Inspired by the Beat Generation, they celebrated art, music, literature, and spiritualism. Fender paid heed to the movement with these twists on its classic single-cut. | By George Gruhn and Joe Spann
40 Leo's Post-Boom Shot
The Music Man StingRay
After Leo Fender sold his guitar company to CBS in 1965, most people thought he'd move along, away from guitars. That was not the case, however – not by a long shot. | By Michael Wright
44 Half-and-Half Heritage
The Gibson Les Paul Signature Bass
Gibson's infamous "Norlin era" is known for diminished quality control and new models that failed to inspire. Not everything was bad, though, as proven by this instrument, introduced in 1973. | By Willie G. Moseley
48 When Amp met Guitar
1936 Supro-Electric Set
New guitar/amp technology is almost always fueled by a few significant builders. So it was when the dream of a louder guitar became a reality in the mid '30s, exemplified by this humble set from an iconic brand. | By Dave Hunter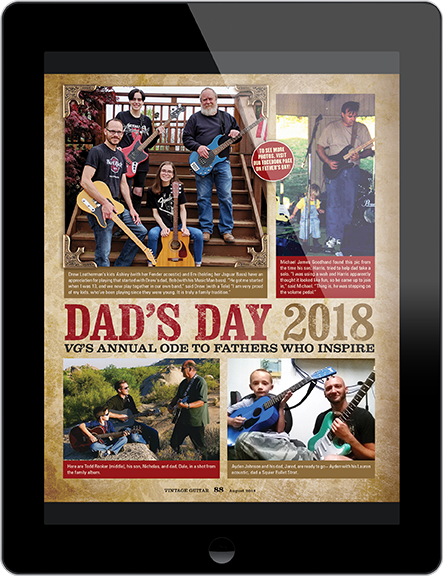 88 Dad's Day 2018: VG's Annual Ode to Fathers Who Inspire
96 Maple Byrne
Star Roadie, Uber-Collector
For 36 years he has been a tech/road manager for Emmylou Harris and also worked with John Prine, Steve Martin, Lyle Lovett, the Fabulous Thunderbirds, and others. Along the way he has gathered more than 200 instruments, with nary a Strat in sight. | By Dan Forte
104 Pulled Into Nazareth
A Tour of the Martin Guitar Factory
Like a lot of small towns in eastern Pennsylvania, Nazareth has an old-fashioned Main Street and its share of tough charm. On the corner of West Bell Avenue and Sycamore Street lies its best-known treasure – the factory where C.F. Martin and Company has been building stringed instruments for 180 years. | By Pete Prown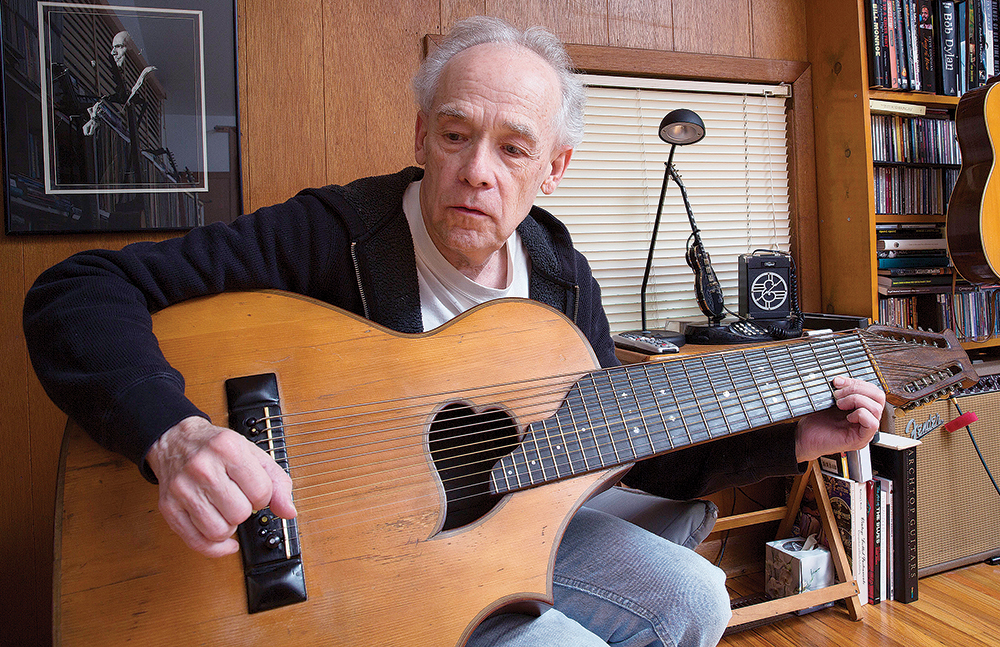 first fret
14 Reader Mail
18 News and Notes
Yamaha acquires Ampeg; Gibson files Chapter 11 bankruptcy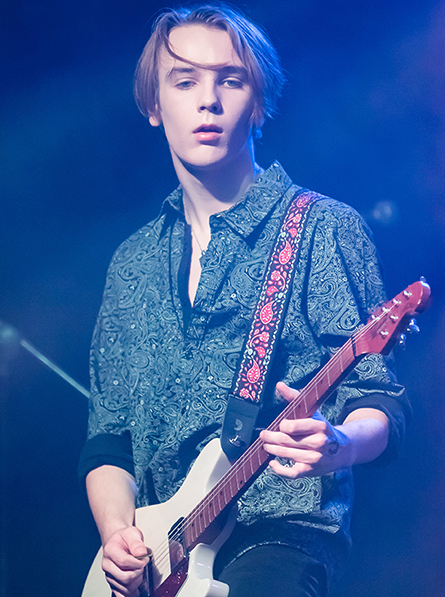 18 Mason Williams
Classical Creativity
20 Ask Zac
20 Dave Cousins
Crafting With The Strawbs
22 Ethan Brosh
Modern Shred
24 Jack Hickman
Dallas Debutant
26 Michael Allsup
Dog Days Continued
28 Lance Lopez
Tellin' The Truth
30 Ben Rogers
Twang Down Under
32 Bill Frisell
Alone Again
departments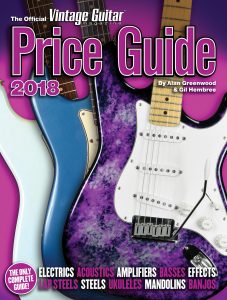 52 Vintage Guitar Price Guide
82 The VG Guide to Accessories
108 Upcoming Events
122 Classifieds
134 Showcase
136 Builder Profile: Mondell Custom Guitars
144 Readers Gallery
columns
56 The (Way) Back Beat
Euphonic Airwaves | By Peter S. Kohman
64 Fretprints
James Burton | By Wolf Marshall
72 Acousticville
Avoiding Guitar-Break Heartache | By Steven Stone
74 Dan's Guitar Rx
With a Little Help From My Friends | By Dan Erlewine
78 Shop of Hard Knocks
Make Your Mark | By Will Kelly
reviews
114 The VG Hit List
Chuck Berry, Nels Cline, Peter Rowan, Robben Ford, Chris Squire, Steve Hackett, Johnny Hiland, Jerry Garcia, more!
128 VG Approved Gear
Crazy Tube Circuits Starlight Fuzz, Ernie Ball Expression Tremolo, Fishman Loudbox Mini Charge, Black Volt Amplification Crazy Horse 12″, Danelectro 59XT, Phantom Guitarworks Brian Jones, Vertex Steel String Clean Drive, Boss Katana Artist 100, Fender American Original '60s Jazzmaster/Jaguar, Tech 21 GED-2112
129 Gearin' Up!
The latest cool new stuff!
FROM READERS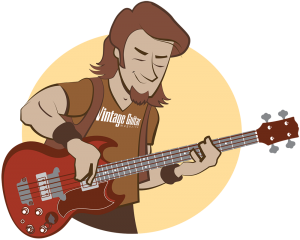 › Reader Mail
Send letters to ward@vintageguitar.com or mail to: Vintage Guitar, Inc. Attn: Reader Mail, PO Box 7301, Bismarck ND 58507.
› Readers Gallery
Check out the current issue Readers Gallery or VG's Online Readers Gallery
Send your photos to: ward@VintageGuitar.com or mail to: Vintage Guitar, Inc. Attn: Readers Gallery, P.O. Box 7301, Bismarck, ND 58507.
Readers submit photos with the understanding that they may be used in any VG, Inc. project. Due to the volume of photos we receive, we are unable to return them, please do not send us your only print.
3 WAYS TO GET YOUR VG FIX!
1. Print › › Receive the print edition by subscribing now. Order print copies of the current issue or back issues in the VG Shop.
2. App › › Download the FREE "Vintage Guitar magazine" app at the Apple app Store or Google play. Subscribe to Vintage Guitar through the app or Digital Subscription Service for access to a downloadable version of VG.
3. Browser › › Read for FREE in a web browser (Chrome, Firefox, Safari, etc.). The browser edition works on most computers or hand-held devices.