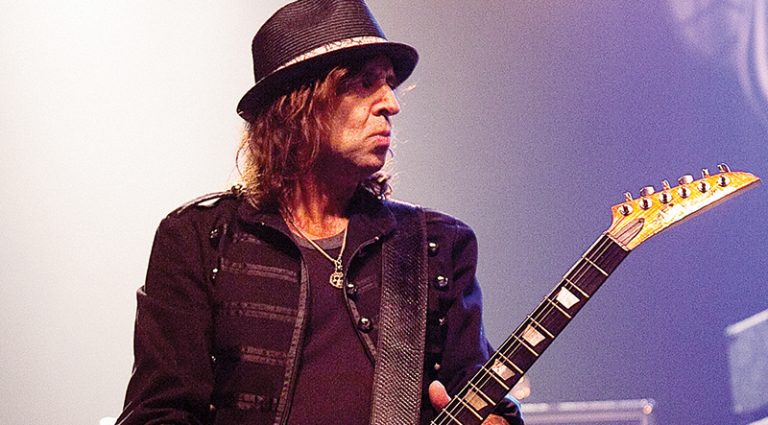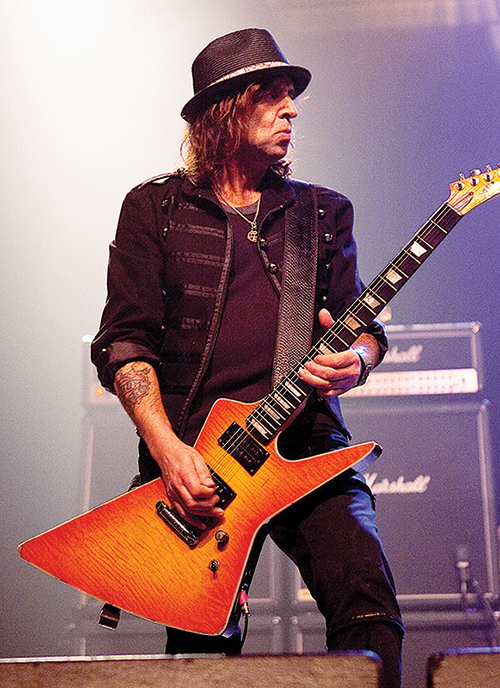 From 1984 through 2015, Phil Campbell was the guitarist in Motörhead, and for the last 20 years of the band's existence was its sole guitarist, appearing on classic releases such as Orgasmatron, 1916, and Bastards, among others. With the 2015 passing of Lemmy Kilmister, the band came to an abrupt end.
Instead of retiring, Campbell has continued with music, forming Phil Campbell and the Bastard Sons, which actually includes his three sons and recently issued a self-titled debut EP.
The new band is mostly family…
Yes, it's my kids except the singer. My son, Todd, has been playing since he was four or five and knows my playing back to front. All my kids have played drums and guitar and a bit of bass since they were four, five, or six years old and they're all very musical. Playing together is just one of those good-chemistry things, so it's great. Apart from my wife and my dog, I'm the worst musician in the family (laughs).
How does it compare or contrast to Motörhead?
Recording-wise, it's a little bit quieter. Musically, I have my son, Todd, on the other guitar, so we can do a few more things. We're experimenting with stuff at the moment, and it all seems to be going down really well. The concerts have been good and we're really happy with the EP.
Motörhead was just a unique thing. It's difficult to put it into words, actually, but it was something special. This is special, but in a different way. It's the same soul and the same feeling at heart is definitely there with the music. My kids grew up coming to Motörhead shows and hanging out with Lemmy.
Which amps and effects do you use?
I've been using Marshall amps, a Bogner as well in the studio, and Laboga amps. I also use Gurus amps, which are made in Italy.
Effects-wise, I use delays and wahs. I just jumble them together and see which one I fancy playing. Some stuff is better for live work, and some you don't want to throw in a van.
Of your guitar collection, which is your favorite?
My wife bought one for me for our anniversary about five years ago – a '57 Les Paul Custom Fretless Wonder with a Bigsby and Alnico pickups. That's my favorite guitar, but I can't take it on tour because it means too much to me. I've donated a lot of my guitars to charities, but still have 20 or 30 vintage guitars, about 100 in all.
One of your main guitars is an Explorer-shaped model from LAG.
I was at Frankfurt Music Fair… must have been in the late '80s, when one of the guys from LAG showed up. He took the guitar out of the trunk of his car and said, "Check this guitar out, Phil." It was a one-off for some guy who ordered it; it was either that he didn't show up or didn't like it. I tried it and said, "Nobody's going to get this one back." I've been playing it ever since. It's a workhorse, and they've done a signature model for the last eight years.
Which Motörhead album are you most proud of from a guitar-playing standpoint?
Bastards was pretty good – that's my favorite. I remember using a Nashville tuning on the acoustic ballad, "Don't Let Daddy Kiss Me." Howard Benson was producing and he showed me that tuning. To this day, I'm still not quite sure what it is. On the second and third verses, if you listen to the bits in between, you hear me blasting away.
I tried my best on all the records. I'm not a heavy-metal player, never have been. I'm a rock-and-roll player and a blues player, basically, but I like to play it loud.
Who are a few of your favorite players?
My favorite players… You've got Satch and Vai and everyone, and Pagey is amazing, and Iommi. But I kind of lean towards Alvin Lee – fast blues. And Johnny Winter. Stuff like Billy Gibbons on "Thunderbird" is what gets me off. I can't play it as well as those cats, but that gets me off much more than playing a doom riff. I try to achieve some way up to these guys. I get close on a good night. It's fun trying to get close after all these years.
---
This article originally appeared in VG March 2017 issue. All copyrights are by the author and Vintage Guitar magazine. Unauthorized replication or use is strictly prohibited.
---